Jesuit Without a Principal: How the Vice Principals are Fulfilling the Duties of Principal for Second Semester
Earlier this year, Paul Hogan stepped down as principal of Jesuit High School. In an email sent out on November 2, 2021, Jesuit announced that there would be no interim principal. This decision was made in light of the experience and expertise of the vice principals who would ensure the effective and efficient functioning of the school during the interim period. 
"I would say that Jesuit High School is not just functioning well, it is functioning exceptionally well," President Tom Arndorfer said. 
Arndorfer noted three obstacles the current administration has been able to manage exceptionally well: 1) there is no current principal, 2) we are in the middle of a pandemic, 3) how long the pandemic has lasted. 
Considering that Jesuit has been high-functioning without a principal, however, begs the question on how the vice principals are managing and executing the duties of principal. 
"If things are working well here, and I think they are, it starts with the vice principals," Arndorfer said. "They are doing a phenomenal job. I wish you could see them behind the scenes the way I do. The intentionality in which they work is impeccable— so much collaboration. A lot of it is personal sacrifice. The role they have is 24/7/ 365."
According to a document labeled 2022 Principal Functions Flowchart, Mr. Maxie, Ms. Tormala, Ms. Hagelgans, and Mr. Powers are continuing to perform their usual vice principal functions but are jointly managing all of the academic and administrative responsibilities for the school in collaboration with Mr. Arndorfer.
Vice Principal Alyssa Tormala stated that when the administration became aware of Mr. Hogan's departure, the vice principals, Mr. Hogan, and Mr. Arndorfer came together and divided up the responsibilities of principal.
"It was November 12th that we got together with Mr. Hogan and Mr. Ardnofer, and we all talked through what the principal role looked like," Tormala said. "What tasks are coming up over the next semester, what needs to be done daily to keep the school functioning, what things require supervision, and what tasks focus on  communication. We put them in each other's buckets together as a collaborative team based on what we were already doing and what made the most sense given our skill sets and our already created buckets."
Mr. Hogan helped the vice principals transition into each principal role they were taking on, but Ms. Tormala emphasized that the closeness and collaboration between the vice principals and Mr. Hogan made it an easier transition. 
"The five of us have always worked together closely so we were already clear on what his role was, and it was more of just getting the details from him," Tormala said. 
According to Ms. Tormala, not having an interim principal in charge is an unusual model, but one that is made possible by the teamwork between the vice principals.
"We are such a strong team," Tormala said. "We are so collaborative, and we work together so well that it made a lot more sense for us to do this as a team."
Ms. Tormala pronounced that the successful execution of the principal role is grounded in communication. 
"It's definitely communication and collaboration making sure that everyone is on the same page as much as possible. And we pitch in for each other when we need to," she added. 
Mr. Arndorfer expressed a similar sentiment by praising the high caliber commitment and dedication among the vice principals.
"What the VPs do incredibly well is they are like 'what do I need to do' and no  one's complaining saying 'that's not on the flowchart.' There's not a  bullet point for that, but the mission's not done and none of them hesitate," Arndorfer added, "I'm in awe of my teammates. They're incredibly resourceful in what they do." 
With the absence of a principal, more specifically a principal like Mr. Hogan, Mr. Arndorfer stated that the administration needs to go above and beyond their normal duties to make sure the school continues operating at a high level. 
"We miss Mr. Hogan, unbelievably well, but our philosophy is that all of us need to do a little bit more," Arndorfer said. "It's about who's doing the mission of the school. Where are we aligning? Where are we going strategically together? Where are we serving the needs of our students? So if everyone does a little bit more, we're fine." 
Mr. Stewart, Director of Human Resources, and Ms. Tuenge, Vice-President of Communications and Public Affairs, are the co-chairs of the new principal search committee who are spearheading the process. 
"The search committee is made up of 3 board members, 4 faculty members, and myself and Ms. Tuenge," Stewart said. 
"The committee is involved very heavily throughout the process in a very collaborative, Ignation, and discerning way. There aren't specific roles per committee member. Everyone is involved with every aspect during this process," Tuenge added. 
The two mentioned how having professional consulting and a Jesuit perspective on this project was of paramount importance. 
"We felt it was important to have a Jesuit presence on the committee. We are also being aided by a consultant firm that specializes in searching for Catholic school principals and presidents, and then we also have a local consultant that knows the Portland area," Stewart said. 
According to Mr. Stewart and Ms. Tuenge, there will be a public announcement by the end of March or April. 
Students can look forward to candidates coming into school to see the campus and meet with students, parents and faculty members to get a better sense for the Jesuit community. 
President Arndorfer explained the qualities the administration is looking for in the new principal.
"We need a unifier who understands our Catholic and Ignatian heritage and charism and quite frankly who loves leading the faculty and staff and who loves being with 14-18 year olds," Arndorfer said. "We need a student-centered leader that fits in a collaborative way who is focused on teamwork, and who is not interested in ever saying that it is all about me because I guarantee you it is never about any of us individually." 
President Arndorfer reflected on the influence of the past two principals at Jesuit, and expressed his desire that the next one sustains this high level of leadership. 
"Jesuit High School had the very first woman principal of 61 Jesuit High Schools across the country. And Ms. Satterberg set the academic foundation for J High and Mr. Hogan built upon that. Whoever is next is going to bring it to a whole new level," President Arndorfer said. 
About the Contributors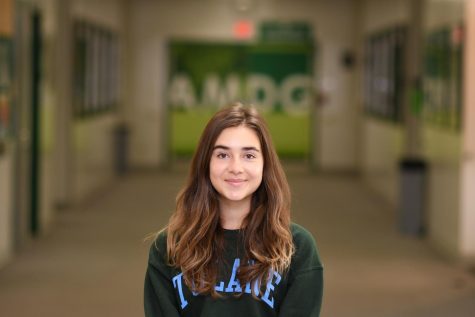 Isabel Crespo, Editor-in-Chief
Isabel Crespo is editor-in-chief for the Jesuit Chronicle. She is a senior at Jesuit High School and is excited to pursue her passion for writing on a deeper level through her second year in Journalism class. In 11th grade, she served as the junior executive editor and podcast manager and covered general news, diversity, technology, features, and opinion pieces. Essentially, for the past year she has extended what began as a simple pastime to a career-oriented goal that she intends to pursue in college and beyond. Her favorite things to write about are ethical issues, fashion, music, education, Gen Z, and advocating for mental health awareness. Some of Isabel's favorite mainstream media platforms are The New York Times, The Washington Post, and Fareed's Global Briefing through CNN. Outside of the classroom, Isabel enjoys competing in tennis, hiking, traveling, and spending time with family and friends. A fun fact about her is that she is half Ecuadorian and a quarter Chilean with experience living abroad for a summer in Ecuador.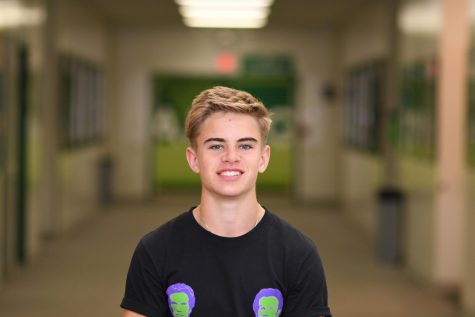 Spencer Carle, Staff Writer
Spencer Carle is a first year writer for the Jesuit Chronicle. As a member of the class of 2022, Spencer decided to take Journalism primarily because of his uncle Neil, who studied journalism at the University of Oregon and is now an anchor on the late night show: SportCenter on ESPN. Spencer has a true passion for sports, especially soccer, and has committed to play collegiate la at the D1 level at Gonzaga University. One of his essential inspirations for sports journalism is watching early morning soccer analysts on NBC and Sky Sports. His first experience with journalism was as a junior taking the Broadcast Journalism class, where he learnt how to commentate live sports, conduct interviews and display videography skills. This year, Spencer hopes to learn the fundamentals of journalism, and primarily focus on covering the school's Varsity games and pursue stories tied with the sports programs. In addition to writing about sports this year, Spencer would love to write about problems students face at Jesuit, mental health, food and fashion. Outside of the classroom, Spencer is one of the captains for the men's soccer team, a cook, an avid traveler and loves to spend time with his friends and family. A fun fact about him is that he lived in London and Amsterdam between ages six to ten.