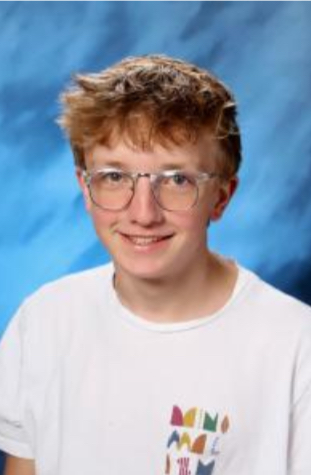 Alex Payne
Alex Payne is a member of the drama and performing arts department at Jesuit. He offers a new perspective to Jesuit, as, after his freshmen year at Jesuit, he spent his sophomore year at Tigard high school. Alex wants to bring back the Jesuit community and spirit he feels we lost through Covid. 
"I want to allow others' voices to come forward," Payne said.
CANDIDATE'S STATEMENT
Hey Jesuit! My name is Alex Payne. As some of you know, I have only spent 2 years here at J-High. I spent my sophomore year at Tigard. Now, spending a year away from Jesuit may seem like a downside, but I see my time away was more of a benefit. My unique experience of pre-pandemic Jesuit as well as a year at public school gives me a perspective that is hard to come by. As a leader, I hope to bring some of that perspective into my suggestions toward school policies and activities. I would also encourage a larger sense of community at Jesuit, allowing upperclassmen to act as role models while also minimizing the division between grades. I hope to create more fun opportunities for students to show their support for each other as well as Jesuit. I want to make next year the best it can be!
HOW WOULD YOU BALANCE THE NEEDS OF THE STUDENTS AND THE INSTITUTION?
I believe that it is important to remain open-minded and considerate of students' diverse beliefs, while also remaining objective in situations of disagreement. I would also make sure that any actions would support Jesuit's mission to create people for others.
HOW WOULD YOU PROMOTE SCHOOL SPIRIT AND COMMUNITY AT JESUIT?
Over the pandemic, Jesuit lost a large piece of its culture that had been built up over the years. As a freshman, I was able to experience this culture firsthand. As ASB president I would make it my mission to rebuild that community of friendship and support that Jesuit was so well known for. I would encourage participation in school spirit as well as showing up and showing out for every Game, Performance, and Competition.
WHAT DO YOU BELIEVE IS THE MOST SIGNIFICANT ISSUE THAT THE STUDENT GOVERNMENT SHOULD ADDRESS?
As a student at Jesuit I find that a majority of students find some of the school policies to be outdated and in need of reform or rewording to create a more accepting environment around Jesuit. Policies such as dress code are a large concern of mine and if I am elected I hope to hear the concerns of students and to be able to act as a voice to present these concerns to the school in an effort to allow all students to feel comfortable here.
HOW SHOULD A STUDENT LEADER RESPOND IF A STUDENT GOVERNMENT RECOMMENDATION IS NOT ADOPTED BY THE SCHOOL?
I believe that if a student leader is passionate about their recommendation and they believe it is truly important, they should suggest some kind of compromise to work out the issue. The student leader should also recognize that the school makes decisions with the intention to make Jesuit a fun but also functional learning environment and if they disagree with a suggestion, and are not willing to compromise, the leader should respect that.