Father-Daughter Dance Recap
The annual Father-Daughter Dance was on Saturday, April 23 at Hilton Portland's Grand Ballroom. From 8-11pm, fathers and daughters alike dressed up for an event filled with dancing, pictures, and lavish desserts. 
For senior Maria Naval, her favorite part was the dancing and getting the chance to spend quality time with her father.
"It was my first time going with my dad and I had a really great time," Naval said. "It was a good way to spend some time with my dad. I've honestly never seen that side of my dad before. It was really fun seeing him dance and let loose a little bit."
To keep with tradition, there was an engaging and spirited dance competition which was separated into three categories: swing, decades, and hip hop. Each category champion was decided via a noise level detector, meaning that whichever father-daughter duo received the loudest cheering won first place in that category. This year's winners were senior Daisy Gold (swing), junior Brynn Ensminger (decades), and junior Lucy Maddocks (hip hop).
Similar to Naval, senior Sarah D'Souza's favorite part was the dancing, especially during the competition categories.
"I had a fun time dancing, but my favorite part was actually watching people dance during the competition categories," D'Souza said. "It was really cool watching everyone dance with so much skill and enthusiasm."
According to D'Souza's father, Rohit D'Souza, if he had one word to describe the dance he would describe it as "special."
"From the dinner before the dance with [Sarah's] friends and their dads to picking the affirmation to watching the girls dance with their dads like there was no tomorrow, it was amazing and 'special' to me personally," Rohit said. "The energy and enthusiasm of the contestants during the dance competition brought out the best in all of us."
Aside from the dancing, pictures, and lavish desserts, many fathers and daughters relayed that it is a significant and memorable event because it allows the fathers and daughters to have fun in each others' presence. For Eric Foster, senior Astrid Foster's father, he attested to this sentiment.
"I loved the father-daughter dance," Eric said. "It's a great event, you get to spend a wonderful evening dressed up with your daughter. Everyone has such a great time. It's something I'll always remember."
About the Contributor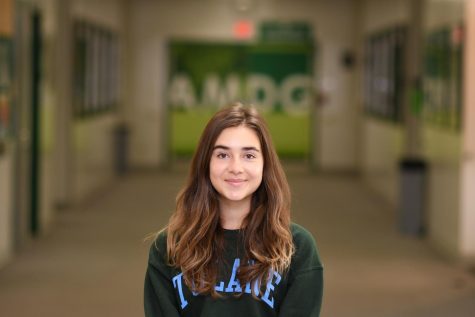 Isabel Crespo, Editor-in-Chief
Isabel Crespo is editor-in-chief for the Jesuit Chronicle. She is a senior at Jesuit High School and is excited to pursue her passion for writing on a deeper level through her second year in Journalism class. In 11th grade, she served as the junior executive editor and podcast manager and covered general news, diversity, technology, features, and opinion pieces. Essentially, for the past year she has extended what began as a simple pastime to a career-oriented goal that she intends to pursue in college and beyond. Her favorite things to write about are ethical issues, fashion, music, education, Gen Z, and advocating for mental health awareness. Some of Isabel's favorite mainstream media platforms are The New York Times, The Washington Post, and Fareed's Global Briefing through CNN. Outside of the classroom, Isabel enjoys competing in tennis, hiking, traveling, and spending time with family and friends. A fun fact about her is that she is half Ecuadorian and a quarter Chilean with experience living abroad for a summer in Ecuador.