How Does Jesuit High School Create a Class?
Each Jesuit High School class is made up of students who excel academically, spiritually, and athletically. So how exactly are such well constructed classes created in the first place? Jesuit High School's admissions program is a complex process, requiring extensive preparation and planning starting a year in advance. Erin DeKlotz, Director of Admissions, has been at Jesuit High School for 29 years, 17 of which were in the classroom teaching Spanish and English and the last 12 being the Director of Admissions.
How do you create a class at Jesuit?
When first considering the process of creating a class, it's important to note that it's a lengthy process spanning around a year.
In the fall, the process begins with outreach events, namely the open house event that garners numerous prospective students. Outreach in the fall season is all about teaching people about Jesuit's mission, culture, and programs. Additionally, a large part of admissions is when Jesuit hosts 8th graders for a "shadow day". For an entire day, 8th grade students get to follow or "shadow" our junior and senior ambassadors to get a better understanding of the Jesuit community. Once these students are in the admissions pipeline, students then take the placement exam and the family interview in the winter. Once those are complete and the application deadline closes in January, Jesuit switches from a marketing standpoint to a selection based process. When speaking with Mrs. DeKlotz, she spoke about the unique position Jesuit holds throughout the admissions process. 
"We are in the fortunate position at Jesuit where we actually can shape a class because we can choose who to accept, and not a lot of schools are in the same fortunate position," Mrs. DeKlotz said.
Lessons learned from past classes
Each class created is a new experience,  resulting in lots of lessons learned over the years.
"When there is a student who doesn't do well here, I try to learn from those cases," Mrs. DeKlotz said. "Whether they can't handle the rigor or the school isn't a match, or there are behavioral issues, I try to take those cases and look back on how we could have predicted better."
The admissions committee and Mrs. DeKlotz constantly looks for evidence indicating that potential applicants will be successful here academically, socially, and spiritually. This evidence is very hard to decipher at times as admissions has to choose between hundreds of applicants who may seem like great fits on paper. Besides being successful at Jesuit, it's also important for students to engage themselves at Jesuit and be open to growth. The Jesuit community is a close-knit family, so being able to give back to the community and impact Jesuit positively is an important factor.
"Our goal at Jesuit is that not only every student thrives, but also contributes to the community," Mrs. DeKlotz said. 
Main Factors of Admissions
Many factors are considered in determining acceptance into Jesuit such as faith background, academics, co-curricular activities, middle school, and family/legacy. 
"Our first priority is serving our Catholic [middle schools] and the qualified Catholic population," Mrs. DeKlotz said. 
The qualified Catholics population are those who do well and find success in middle school academically certifying that they will have high priority in the process. 
Tyler Bodner, a senior who came from St. Pius Middle School, a feeder school to Jesuit, discussed his own positive experience with the admissions process. 
"I was pretty familiar with the Jesuit community coming from a feeder school St. Pius I had attended K-8," senior Tyler Bodner said. "My brother attended Jesuit at the time so his experience and advice helped me become more comfortable with the Jesuit traditions I now love. 
While Jesuit is a Catholic school and is first dedicated to Catholics, Jesuit highly values those of other faith backgrounds as they contribute as much as anyone to the Jesuit community. 
"We cherish our students from all faith traditions and want to have many faith traditions represented in our school outside of the catholic faith," Mrs. DeKlotz said. "Students from all faiths enrich our school. The major faith traditions share many similarities which is why kids of all faith traditions can enjoy school mass—students' positive experience of the Mass is universal. It's bigger than one religion."
One senior, Rishabh Sharma, spoke about his experience joining the Jesuit community as a non-catholic coming from a public middle school.
"Transitioning to Jesuit being a non-Catholic was also daunting at first," senior Rishabh Sharma said. "I was initially under the impression that Catholic values would be forced upon me and that I wouldn't feel comfortable in the theology classes. However, after attending the Shadow Day, I could immediately tell that this wasn't the case and that Theology class exposed all students to a variety of cultures and new ideas and were very welcoming and inclusive."
Another factor taken into consideration is legacy. Many applicants have siblings who currently attend Jesuit or family members who have graduated from Jesuit. 
"If you have an older sibling attending Jesuit, it's a principle for us to try our best to keep families together so that families aren't split up and a parent doesn't have to drive their kids to different schools," Mrs. DeKlotz said. "Jesuit is a family school."
Although legacy factors into the admissions decisions, it's never an automatic acceptance into Jesuit if you have a sibling currently attending. All applicants have to earn their place and spot like everyone else. 
With all of these factors being taken into consideration, an admissions committee is tasked with officially deciding the class. The committee is made up of 3 to 4 staff members who rotate on the committee board every few years, read the applicant files, and use these categories to decide a class. Balancing a class is also a factor to consider as an all girls or all guys class isn't ideal. Mrs. DeKlotz's role is to balance out the class after the committee makes their evaluations. 
"At first, I was very unsure of wanting to come to Jesuit mainly because of the smaller school setting and different demographic," Sharma said. "Since most of my friends were going to the same public school, I also felt anxious about coming to a school where I didn't know very many people. However, I felt the admissions process, including the Open House and Shadow Day, properly showcased the Jesuit spirit and community, and were two events that highly pushed me to attend Jesuit."
How much impact does the Jesuit community have in admissions?
Mrs. DeKlotz is open to all information and is willing to hear anything about potential candidates. For example, if a teacher or coach has a 7th or 8th grade student in their summer class/camp and the student really stood out, Mrs. DeKlotz would take into account their advice and if they would recommend that student to Jesuit in the future.
"The Jesuit community has a sense of trust in each other that they can tell which type of people can contribute to the Jesuit community," Mrs. DeKlotz said.
These recommendations always help in the bigger picture of deciding a candidate as learning more about an applicant can only elucidate the picture as well as potentially breaking a tie with another applicant. 
Placement exam
There are lots of misconceptions about the placement test, namely that it's a competition to achieve the highest percentile. While the 8th graders should give their best effort on the exam, the exam is really just another sign illustrating if a student can succeed at Jesuit. 
"The placement test is really just to tell me whether this student can succeed," Mrs. DeKlotz said. "A lot of people believe the test ranks students based on percentile, but in reality there have been many cases in which students who rank in the 90th percentile don't get in but students in the lower percentile get in."
It's important to note that a lower placement score doesn't tell the full story of an applicant. Many students aren't great test takers and might have other great attributes and contributions to offer that don't show up on the placement exam. Junior Nico Hidalgo spoke on his stressful experience with the placement test.
"The placement exam was a very nerve-racking experience for me because I hadn't taken many standardized tests prior to the exam and it really felt that I was being pitted against my friends in a competition to get the highest score on the exam," Hidalgo said. 
Family Interview
The family interview is a process in which an eight grade student comes to Jesuit and answers a few questions from a Jesuit staff member to learn more about the student. Family members are allowed to sit through the interview but the purpose of the interview is to really get a feel for the applicant. While most interviewers tend to love the applicants they interview, the interview can also weed out applicants who may not understand and want to be a part of the Jesuit community. The interview might reveal which students don't understand the Jesuit mission and purpose.
While the interview is predominantly to learn more about the applicant, Jesuit also wants to get a feel for the applicant's family as well as Jesuit is a family based school. Buy-in from the parents is also integral as Jesuit's mission is very particular so the goal is for parents to feel comfortable sending their child to mass, retreats, and theology class for four years. 
Real Admissions Heroes
While the placement exam, student interview, and faith and academics are large factors in the admissions process, Mrs. DeKlotz wanted to show her gratitude and appreciation for the unspoken heroes of admissions: the ambassadors. Ambassadors have an integral role at Jesuit through helping at open houses, leading orientation, giving tours, being shadow-hosts, and giving presentations on middle school visits or prospective applicants. 
"The ambassadors are the stars of Jesuit admissions and while I think of myself as the chief ambassador of Jesuit, my work is multiplied by 400 because of the ambassadors," Mrs. DeKlotz said. "A student representing Jesuit  is so much more powerful than someone who gets paid to do it, so to have a student personify our community with their actions and reach out to prospective families is golden."
Content of the article changed from the print edition to the corrected version.
About the Contributor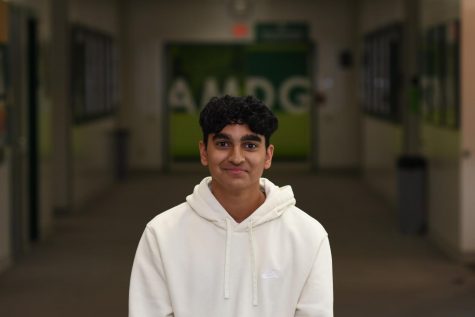 Kavish Siddhartha, Associate Editor-in-Chief
Kavish Siddhartha is a staff writer for the Jesuit Chronicle. Kavish is a junior at Jesuit High School and has been interested in journalism since a young age. Even though this is Kavish's first year writing for the Jesuit Chronicle, he took Broadcast Journalism during his sophomore year, where he found an interest in announcing for JCTV and creating videos. To further improve and expand his storytelling abilities, Kavish took a online summer class at Syracuse university where he learned to write and film stories. Kavish wanted to join the Journalism class because in addition to the news telling he learned in broadcast Journalism, he also wanted to develop his writing. Kavish is also an avid sports fan who is interested in writing about sports storylines in the world, and also covering Jesuit athletics. Besides sports, Kavish is also interested in writing about music, current events, business, and education. In his free time, Kavish enjoys playing basketball, tennis, running, watching movies, and spending time with his friends and family.