ASB President Rohan Varma— Goals and Promises?
Jesuit has changed a lot since last year. With no COVID restrictions, a new principal, and new students, finding ways to connect the community has never been more important than now.  Student Body President Rohan Varma and other student government members are finding ways  to strengthen the Jesuit community in order to enhance connection.
Although Varma is the President, the student government works collectively and often behind the scenes.
"Everybody plays the same role and makes a difference, and continues to serve Jesuit," Varma said.  
According to Varma, members of student government have different roles, such as giving speeches to specific grade levels. Above all, they are tasked with acting as role models. 
"Student Government Members give speeches and are a lot more involved in working with the principal and President Arndorfer on proposals," Varma said.
Many of Varma's campaign promises are still in process, as he has found that  actualizing complex plans is difficult. 
His promise last year of Food Carts is an example of a proposal in process. 
"I think the biggest issue that we're all facing is adjusting back to usual in a way: there's new rules, a new handbook, and some people don't like it.  But they need to realize that our student government is not just about the dress code," Varma said.  
Varma outlined the long process of pitching an idea. 
"First, you talk to the Activity Director and create a proposal where it goes to the party population," Varma said. "You also think about money, logistics, how it fits with our mission, how it will affect the departments, and department policies. Then you bring it to student government class, then administrators, then it goes to a vote."
Similarly, serving Jesuit is also a goal for senior and ASB Cabinet Member Catie Dice. Dice wants to continue to fuel Jesuit's spirit this year and build on the community cultivated during the pandemic. 
"I think that our school spirit was really strong last year and I want to keep that going and of course improve it," Dice said. "I am also grateful for what we do have. We've had tons of participation at dances, plenty of people are showing up in theme." 
Dice also emphasizes the importance of  conversations that Jesuit students have with members of student government, an often overlooked aspect of the government. 
"I think that one of the best parts is that everyone has a voice and everyone's voice is respected," Dice said. "That also constitutes the whole student body. It doesn't matter if you're in student government, or if you're a freshman, your voice matters. And it's our goal to help amplify that and make Jesuit a place where we all want to be." 
Similarly, for Varma serving Jesuit begins with the freshmen and making sure they are feeling comfortable. 
"I try to get to know every single freshman and what they do because that's what I remember from my freshman year," Varma said. "If a senior knew my name it meant a lot." 
He and the rest of the student government are behind many  major events, and get very little credit. They make sure Freshman Fun Night, New Student Barbecue, and Homecoming run smoothly through meticulous planning throughout the year. 
"People need to realize that the student government has a lot of work behind the scenes," Varma said. "It's not just about new policy, it's about serving Jesuit."
Senior Makende Stewart, another student government member, works on the spirit team and thinks spirit needs to be extended to other areas of school activities. 
"I think that we should highlight other aspects of our school besides just sports," Stewart said. "I feel a lot of other clubs and different activities that we do at the school and after school should be highlighted as well because they work hard and deserve the recognition as well." 
For more information on Student President Rohan Varma and student government's plans for this year, check out Kelsey Jones' Q&A  from last spring. 
About the Writer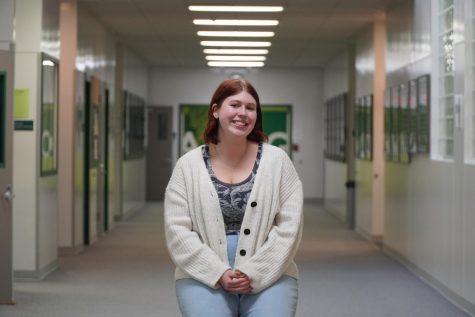 Allie Ruden, Editor in Chief
Allie Ruden is a senior at Jesuit High School and a second-year journalism student. Allie was born in Portland, Oregon, and is an only child. She has a labradoodle named Daisy who loves to nap and sunbathe.  In Allie's free time she loves to read, cook, and listen to all kinds of music. She loves to explore Portland with her friends. Her favorite places to eat in Portland are Bamboo Sushi, JoLa Cafe, and Grassa (highly recommended). Allie enjoys going to the beach, especially Manzanita and Lincoln City, and traveling all around Bend.  She loves writing and her favorite subjects in school are Journalism, English, and Spanish. Allie is interested in writing articles about music, pop culture, and the students and issues of the Jesuit community. She is excited to be able to write about what she is passionate about and delve into issues important to her. Allie is thrilled to be writing for
The Jesuit Chronicle
this year and is hoping to meet some new faces!