Meet Your 2022-2023 ASB President: Q&A with Rohan Varma
What are your ideas to help improve Jesuit next year?
"My first one deals with spirit. Ever since coming back from hybrid and online [learning], spirit just hasn't been the same. It's evident at our assemblies. To me, spirit is what makes Jesuit such a special place, so that's my main focus: to create a place where everyone can come together. 
When I saw Munch Madness, I was honestly really surprised and amazed at how we all came together as a community. Everybody came together to cheer on their teams, and it gave me a sense of nostalgia of my freshman year at Jesuit where everyone had so much spirit. That's why I applied, why I came to Jesuit. 
My second goal deals with our lunch system. It's not been the best since coming back and of course, food has been different. The price has gone up because of Covid. I think it would be great to have food carts on campus. These would be local ones, impacted by Covid. It's a pretty big goal, but it's something I really want to achieve for our school. I know a lot of schools in Oregon, public schools, that do this. It's something that we need. It wouldn't be every day, just a few times a month. I think it would be a great addition to our lunch system."
In your statement, you promised to listen to the desires and needs of the student body. How do you plan to do this?
"First thing is to listen to your voice. I've got to talk to students and get their opinion. I think a suggestion box, as some of the other candidates said, is an amazing thing to do. This can be virtual or just a box we have in a classroom where students can put their suggestions in. The voices at Jesuit is what makes it so special. Our students. Getting to understand what they believe, what they want, while working with the administration in a very reasonable way is what I will do as ASB president. It's one of my biggest goals. That's a responsibility I carry: listening to the student body and working with the administration to make [your ideas] possible."
You said you want to "create a more positive and dynamic community". How do you plan to do this?
"I will start with working with our admissions director Ms. Deklotz. I served as lead ambassador this year making a lot of the events for the freshmen class. It all starts with our freshmen group. Starting from where they are and [getting] to where people do not have to be in these social cliques, but instead be friends with other people. I know people that don't know half of the class of 2023. It's important to meet everybody and get to know each other. I went to different friend groups during lunch, talked to new people, got to know them. That's how I made a lot of friends at Jesuit. I didn't just hang out with one group all day. Kindness is one of the most important things about Jesuit, how we treat each other. There's times when that doesn't happen."
You also mentioned implementing events similar to Munch Madness. What other events do you have in mind?
"If we can, I would love to have a table tennis tournament. I know a lot of people play table tennis for fun, or they have it at their homes. I think it's something that would bring a lot of participation and people would want to come to have a team and play. I think it could be a really fun event to create. I don't know if we will be able to do it, but it's something I definitely want to work on."
In your statement you said, "I will coordinate with our club leaders and the DEI office to ensure entertaining and inclusive programs and rebuild the community builder program to strengthen the spirit within our community." How?
"I'm part of the DEI student council, so I help out a lot with the events and I come to all the meetings, so I have an understanding of what they do and some of the events, meetings, and workshops they've planned. I was a JDOCA speaker, so I've worked with them a lot to come up with that. I really hope to work with them next school year to create inclusive activities that everybody can enjoy at the end of the day. Community builders is something that I started my sophomore year with Ms. Deklotz. In Senior Hall, the Tree of '23 is something that we made over the summer with a group. It represents all of us in a fun and cool way. That's something I hope to rebuild for next school year. 
We just had our meeting for projects for next school year, so I'm looking forward to that. It's something that connects all of our classes. We have one for sophomores, and we have one for rising seniors. With clubs, members have been dwindling recently. It's not been the same as people have activists going on during flex. I think we need to emphasize [club activities], specifically what we do at club meetings. I don't think there's much advertising. What [clubs] do is really amazing. I think advertising that is really important."
One of your biggest goals you promoted during elections was bringing food trucks to campus twice a month for lunch. Why is this so important to you? 
"Lunch is a break from school and stress. It's a time where people talk to friends, and it's a big part of our nutrition. Making sure [lunch] is important is vital to us. We won't get the same education if we don't have a good lunch. So, making sure we have a food truck with sustenance that we can enjoy and love is the most important thing. I know a lot of people have a bit of trouble with the system; they don't like how it's looking right now. As important as spirit is, our lunch system is an integral part of Jesuit."
Edited lightly for length and clarity.
To see live interviews with Rohan, check out Jesuit Media (@jesuithsmedia) on instagram, tik tok, or twitter.
About the Contributor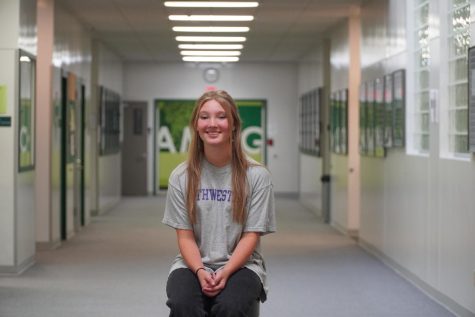 Kelsey Jones, Editor in Chief
A senior at Jesuit High School, Kelsey Jones is a writer and editor for
The Jesuit Chronicle
. She
is excited to pursue her love for writing and news through her involvement in media studies this
year. Although this is her second year participating in Jesuit's media program, Kelsey first
discovered her passion for journalism working as a writer and editor for her middle school's
newspaper,
The Panther Press
. Since then, she has
continued to cultivate her love for writing
through Jesuit's English program as well as writing for fun in her free time. Her writing focuses
on current events and issues, social justice, education, sports, and the arts. Outside of the
classroom, Kelsey is an enthusiastic sports fan as well as an avid reader. She enjoys playing
lacrosse, watching movies, and spending time with her friends, family, and dog.