Cantos: The Best Literary Magazine You Haven't Heard Of
Cantos, Jesuit's literary and arts magazine, is committed to fostering student creativity. This year, Cantos has partnered with Student Government's Creative Competition to increase student participation and awareness.
"Cantos is basically a publication where we get to showcase the talents of our students through poems, short stories, photography, any sort of art," explained junior and Cantos editorial board member Alice Radford Brown. "And it's all student submissions. So you just go ahead, throw your work up there, and maybe you can get it published."
The process of putting Cantos together is largely student-driven, with members of the editorial board working with the faculty advisor to pick the year's theme and featured works.
"There's been a couple meetings where we talk about the vision we want this year's Cantos to have because we find that generally, there is sort of a theme that emerges based on the work that's submitted," Brown said. "You see that something has been somehow developing in the school culture and is represented through the art, and that will kind of guide our direction."
All of the submissions for Cantos are anonymously reviewed by the editorial board before being selected for publication. After the individual submissions are reviewed, the focus turns to creating a cohesive publication.
"It's like curating an exhibition in a book, so we want everything to work together," said Cantos' faculty advisor and art teacher Ms. Danielle Chi.
Chi hopes that the magazine is a place for students to express themselves creatively.
"I think that art really reaches our core as humans. I like to say that art and virtue are the truest expressions of our soul," Chi said. "Oftentimes, the arts can kind of be in the background, but we want it to be celebrated here and shared with the community and acknowledged as part of the students being a whole person."
Junior Holly Courter spoke on the impact of being published in last year's edition of Cantos.
"It was a really big achievement for me because it was the first time my art has been published or acknowledged in a more formal way," said Courter. "I think it brought my confidence in my art up a lot more and really fueled my desire to be a more active artist."
This year, Cantos has partnered with Student Government's first Creative Writing Competition.
"Whatever is submitted to the writing competition will also be considered as a submission to Cantos," Chi said. "The winner of [Student Government's] competition will be published in Cantos; the other [submissions] may be published."
While the winner of the competition will be published in Cantos, all top three finalists of the Creative Writing Competition could be featured on Jesuit Media's website.
Junior Livvy Reger, a member of Student Government and the creator of the Creative Writing Competition, talked about why she feels the contest is important.
"I feel like our English curriculum itself doesn't really have a lot of creative writing, so if you're not in an elective that has creative writing, it's kind of hard to do that at Jesuit," Reger said. "So I thought it would be cool to have this lowkey, very flexible way to show students recognition and the opportunity to write about whatever they want that's not in a restricted essay format."
Reger wanted the criteria for judging submissions to be broad so that the contest would be accessible to all students.
"It was really important to me that the writing wasn't ranked on grammatical ability or sophistication because there's people who are taking different English classes or just don't want their writing to be like that," said Reger. "Obviously that's super important in an English class setting, but this is more just reading it and being like 'Wow this is amazing' rather than 'This one checks all the boxes.'"
The submissions will remain anonymous as they are judged by a panel of teachers who will rank the submissions. The top three finalists and the winner of the Creative Writing Competition will be based on the judges' rankings.
Although submissions for the Creative Writing Competition have closed, Cantos is still accepting submissions here until Monday March 6th (guidelines).
"Anyone can submit work to Cantos, even if they're not in the arts programs," Chi said. "We love to hear voices from all the students on campus."
About the Contributor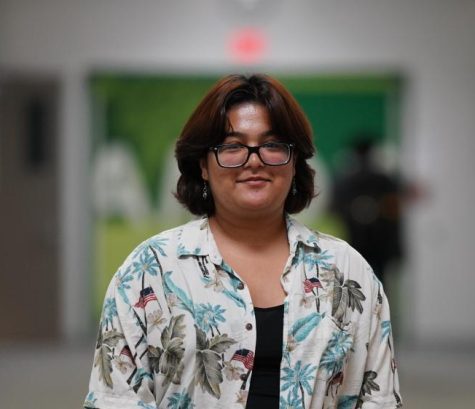 Tanisha Chetty, Staff Writer & Podcast Producer
Tanisha Chetty, a senior at Jesuit High School and first-year contributor to the Jesuit Chronicle, is
excited to branch out and experiment with new journalism skills. While she doesn't have any formal
journalism experience, she enjoys critically engaging with the community around her, and she holds a lot
of love and excitement in her heart. Tanisha is a student leader of both ethics bowl and book club and
participates in Jesuit's Chamber Choir. She has a dog named Jupiter. Her go-to coffee shop order is an
iced chai latte, but her incredibly charming and humorous personality rarely needs the caffeine
supplement. In addition to writing, Tanisha loves all things music, movies, and books. She hopes to write
articles about interesting media, social issues, and events within the Jesuit community.