Lucy Langer A.N.W
Langer sets sight on American Ninja Warrior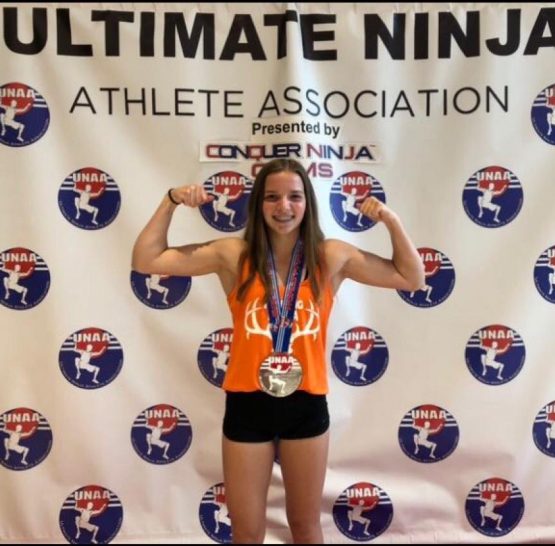 We have American Ninja warrior in training among us, her name is Lucy Langer and her family thinks she can win it all.
Lucy has been all over the United States doing different ninja competitions: she has been to Idaho, Washington, Minnesota, and New Mexico. Most recently she has earned top female at Ninja Warrior Klamath Falls. Lucy also got second the last two years at Ultimate Ninja Athletics Association World Finals.
American Ninja Warrior is a TV show on NBC where competitors compete for the fastest time through a course of obstacles. A sophomore, Lucy has watched the show and started training in the sport during seventh grade, when she received a slackline, which is a tight rope that can be walked across and the one Lucy has she can even hang obstacles on. As Lucy became more involved, she went to a gym in Tigard and eventually took one-on-one classes with a trainer.Lucy also trains at a gym she and her dad made in their garage.
Lucy tries to train every day, when she is not run cross country. Lucy's training includes hanging, balance and gripping different objects. Lucy has also purchased different obstacles for her garage gym. In Lucy's competitions, she competes on most of the same obstacles but never knows what is coming her way.
"People just invent obstacles like they're brand new, but I practice the motions which are normally the same and Grip strength," Langer said. "It's never the exact same setup as I train on."
Lucy has many things planned for her future, but one thing is certain: when she is 19 she will sign up for American Ninja Warrior.
"I think she could totally do it honestly I think she could win," Senior Lilly Langer, Lucy's sister, said. "If she keeps with she'll be on of the top girls on the show."
Lucy Loves being a ninja and training so much. She wants to inspire younger kids to get into the sport. One of her goals is when she is older is to start a ninja gym.
"I really want to keep doing this as long as I can hopefully I will have enough time to keep doing it and maybe like open a gym later on," said Lucy Langer.