Pride and Prejudice
Jesuit Drama's modern re-imagining of Pride and Prejudice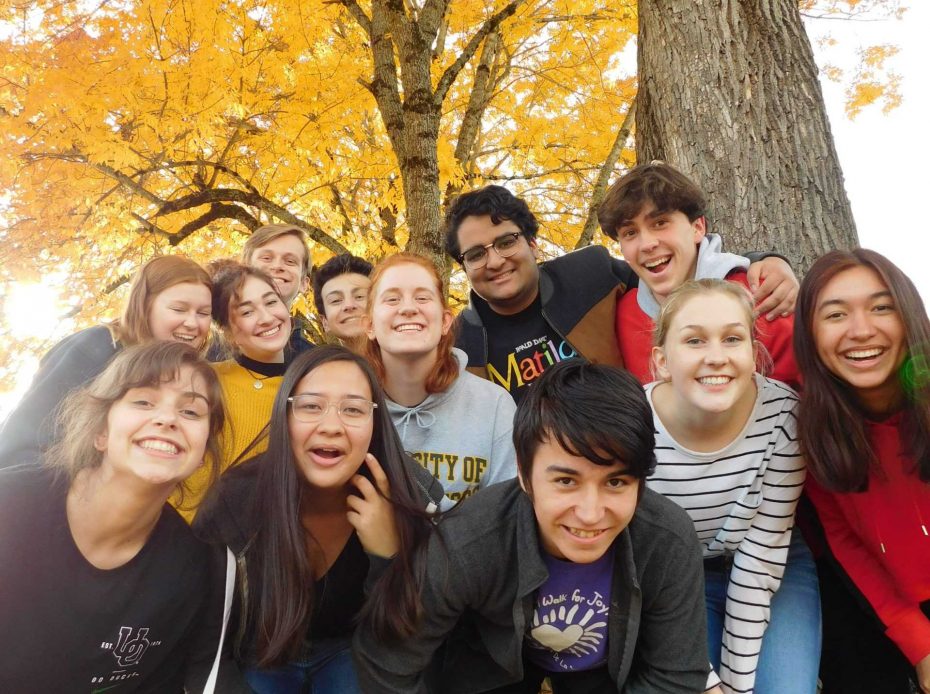 Jesuit Drama's first show this year is Pride and Prejudice, set to open on November 7th. This is the first time the program has performed the show.
The play centers around a young woman named Elizabeth and her endeavors with love, status, and morality, as well as her relationships with family and her love interest, Mr. Darcy. 
The production features senior Eoin McDounagh and junior Mackenzie Jaimes in the lead roles with drama teacher Elaine Kloser directing. 
Playwright Janet Munsil's adaptation of the story caught the eye of Kloser, who had been searching for an engaging adaptation of Jane Austen's novel for years. The script had been performed as an off-Broadway play in 2016.
"I think Pride and Prejudice purists are going to appreciate the show because the storyline is there, but it is adapted in such a way that it moves and feels contemporary," Kloser said.
Jesuit's reimagining of the show will feature a minimal set, one that cast members and Kloser find unique about their production.
"The set is different than other renditions," Eoin McDounagh said, who is playing Mr. Darcy. 
"We're using a pretty minimal set without a lot of props and pieces, which is a different spin than what others might have seen." 
McDounagh and his fellow lead, Mackenzie Jaimes, have both enjoyed their time crafting the show. Jaimes is playing the protagonist of the story, Elizabeth Bennet.
"Rehearsals are fun, as well as getting to know what kinds of things they did in that era," Jaimes said.
"Seeing everything come together with the costumes and the sets will be so exciting." 
Immersing themselves and learning about the time period of the book has been an important part of the process for the cast and crew. Pride and Prejudice was written and takes place the early 1800s.
The production is set to have a rehearsal at an antique home in Portland next week.
"We've gotten to do a bit of studying up on how to age a person and how to carry themselves differently," said Kloser.
"To get someone who's wearing tennis shoes to carry themselves across the room as if they're wearing a gown or slippers… it's a lot different than what we're used to in contemporary society." 
Kloser and the cast are also excited to bring the history and context of the early 1800s out on stage for their audiences. The time period's ideas on love, marriage, and gender are expected to be new for some audience members. 
"We get an opportunity to educate the audience on the 1800s and what life was like, especially for females. They didn't have a lot of rights, and they didn't have a lot of education, and they often had to marry who they were told to," said Kloser.
"I do like this story because Jane Austen was ahead of her time, and making a statement on how women need to control their own destinies."
Despite the show's tweaked adaptation of the classic book, many Jane Austen fans are excited to see the school perform the show.
"This is going to be perfect for Jesuit drama. Because it's an adaptation of Pride and Prejudice, I think it'll be a lot more comedic and modern and fast-paced, and it's going to be a lot of fun." Senior Helen Ratcliff, who grew up watching the 1995 BBC adaptation of the novel, said.
The cast and crew are looking forward to opening night and are excited for people to experience the show.
"We'll be really focusing on the power of the story and what it's trying to say," Kloser said.
"I'm excited for an audience to see the hard work these students have done."
Pride and Prejudice will open on November 7th and will run until November 10th.