March Madness: A Nightmare for I.T.
March Madness is an exciting time of year for college basketball fans. Planning to watch while in school? Too bad: the Jesuit I.T. department ruins it for all of us.  
March Madness is a time where there are ten or more games going on every day, and many students and faculty enjoy the games. Many  students create a bracket and pick the team they think will be cutting down the net. 
  The tournament is a really important form of entertainment to the students and their actions sometimes turn into madness. The students follow the games closely and often desperately to watch them during their classes.
"I dislike that I.T. Blocks all the march madness websites because I look forward to March Madness every year and most good games happen during school," says sophomore John Holman. 
The I.T. Department blocks a lot of websites and apps where the students can watch, including ESPN,Yahoo Sports, NCAA.com, and many more websites.  Upper class students: don't think your apps will save you–the I.T. Department blocks those too. 
 It is understandable that The Jesuit IT Department doesn't want the students to watch the games because they want them to learn and pay attention to school. The I.T. The  department also doesn't want students to watch games because the school has a limited amount of internet access. 
Many students try to get around the blocks with different methods. The most popular method with students is using their phones to watch the games or check the score. Some students try to hide the phones behind their iPads.
"I have seen some kids go on their phones and try to hide them behind their iPad to watch the games. It is too risky for me," says sophomore John Holman
"We see a lot of students trying Vpns or other sites that are a little more obscure and unfortunately streaming traffic for march madness is pretty obvious to see what it is or what they are trying to do. Usually there's one or two that we miss at the start of the tournament, we find those and root them out," says I.T. Director Craig Huseby. 
Even though the games are blocked on the IPads the games are played in the cafeteria during break and both lunches on a big projector.
"Even though we can't watch the games in class it is very nice that we can watch them during break and lunch.  It is always cool to hear everyone cheering in the lunchroom and getting into the games," says senior Hannah Stream 
The tournament is fastly approaching and people are getting ready to make their picks.  The two favorites that I am hearing around the school right now are the number fourteen Oregon Ducks and the number two Gonzaga Bulldogs.  
About the Contributor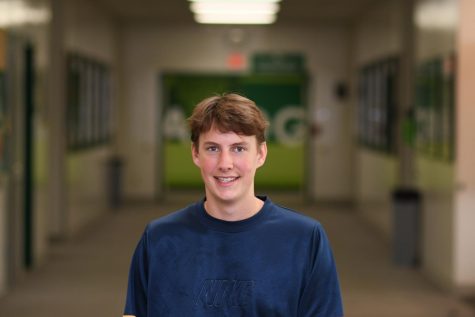 JJ Gray, Managing Editor
JJ Gray is a senior and this will be his third year as  journalism student. He is excited to be in the class and have a great time. In JJ's free time, he reads about sports and listens to many different sports podcasts and radio shows. JJ loves listening to the Ringer Podcast Network every night. He also enjoys talking about and debating sports topics with his family and friends. JJ plays football and he skis at Jesuit high school. JJ is also very into the sneaker and shoe world. He loves to hike and be in the outdoors in his free time. JJ has a cat named Kendrick Lamar and a dog named Reggie and he loves to play with them. JJ has an older sister who graduated from high school last year and was in the journalism class at Jesuit. One of JJ's favorite things to do is travel, his favorite place he ever visited is Amsterdam. JJ loves to read, write and listen to podcasts because they help him take his mind off other things.