How Teachers are Re-Designing Learning for an Online Environment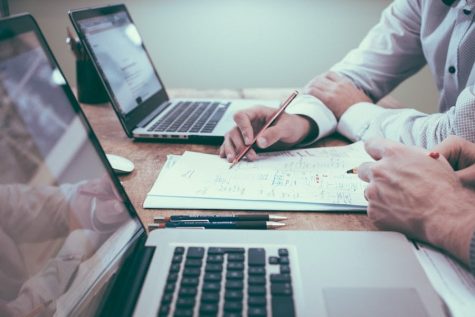 For the past nine months, teachers at Jesuit High School have been challenged with the difficult task of learning how to teach in a virtual fashion. Since digital learning is the new reality for the way education is conducted, teachers have had to redesign their traditional methods of teaching to ones that lend themselves better in an online environment. 
Back in the spring, Jesuit implemented an asynchronous learning model and has since moved away from that approach to a primarily synchronous model in the fall of the 2020-2021 school year. Geoffrey Hunnicutt, a US History teacher at Jesuit, approves of the change, saying that under the asynchronous learning model there was too much inconsistency.
"There was a lot of difficulty and everyone was just doing their own thing," Hunnicutt said. "It was kind of a dynamic period when there was a lot of uncertainty over what to do, and we kept trying to make it better and that was hard to do on the fly because [teachers] had to adapt their curriculum and tests and everything to the new format. Students were having to constantly switch from one platform to another platform."
Laura Schick, a math teacher at Jesuit, agrees that the asynchronous model wasn't sustainable, but stresses the point that no method of learning works for all students because some of her students enjoyed asynchronous learning.
"I know a lot of my students said they [were] actually getting more sleep because they [were] able to work at times where [they] have more energy, they [were] able to work around a schedule that works better with [their] life outside of school," Schick said. "The trade-offs were that until Zoom really became an option, we missed out on a lot of interpersonal connections that we normally would have had. While things were working well, we made some pretty big asks of our students, and it wasn't a perfect learning mode for everybody."
To prepare for synchronous learning in the fall, teachers participated in a robust digital learning training program over the summer taught by fellow Jesuit administrators, teachers, and outside professionals with expertise in the virtual world. For Hunnicutt and Schick, what made the training successful was the teachers instructing each other on how to be more dynamic because it made the learning process all the more interactive and collaborative.  
"One of things that was most useful for me personally was attending something that Jesuit put together," Schick said. "We called it a virtual PD (professional development) conference. That is something Ms. Tormala put together. She had some keynote speakers from outside the school and also had a lot of sessions run from inside the school. I helped lead a session with [Jesuit English teacher] Mr. Villareal on how to use Nearpod and we were able to help other teachers because we had both used it, but we had both used it in completely different ways. We got to share our learning with other teachers and help them, and we also got to learn from other teachers, like I learned how to use Zoom from Mr. Flamoe and got a lot of tips."
"Many teachers, too many to mention, who were skilled at certain aspects of online learning gave classes to the rest of us," Hunnicutt said. "The training over the summer that was most beneficial was auditing Mr. Flamoe's online US History class. He is very skillful in the use of Zoom, Edpuzzles, and other tech wizardry, so I learned much from participating in his class as a student and asking him questions. Lots of questions." 
Due to the extensive training teachers went through in the summer, it is safe to say that many of them are more technologically proficient compared to before digital learning became the norm. For Ms. Schick, she considers herself a tech-savvy individual and uses that to her advantage when teaching, but misses the traditional hands-on activities she used to use in her geometry class on campus.
"I would say that I really love to use technology when it can make our classroom experience better, but I try not to use it just to make the experience flashy," Schick said. "I also will say that this year I really miss out, especially in geometry, doing hands-on labs with shapes. I would say I'm super comfortable with technology and I really like it, but I don't think any of us were prepared for the overload of technology that is happening right now.'
Not only did teachers have to adapt to teaching their curriculum online, but they had to transition from teaching four 55-minute class periods a week to two 80-minute class periods a week.
"What you lose is the cohesion," Hunnicutt said. "You're meeting twice a week instead of four times a week, right, and it's hard to keep students' attention in this format, and I understand that completely. It's very challenging for me and I think it's frustrating for a lot of teachers in this environment, especially if you have taught for a long time and had success and then you are put in a different environment, and it is completely different and you aren't having success, and you can't have success because it takes time to get good."
For junior Karli Lonquist, a student of Ms. Schick, she much prefers learning math four days a week for 55 minutes, but understands that the schedule put in place is what's best for the situation she is in.
"I would definitely say that math is best when you have five classes a week, instead of two 80-minute periods," Lonquist said. "Sometimes in the 80-minute periods I run out of focus and that's hard to regain. Also, I feel like there's the same amount of content but more area for understanding [in the 55-minute schedule].
"When it comes to in-person math education, I really much prefer getting to see my students more times in a week," Schick said. "For example, I was talking to a student and saying, "hey, remember this, it was two lessons  ago" and in a normal week it would be literally two days ago, now it's like a week ago. Especially in math when there is so much skills-based practice. One of things that is better for math education is that daily contact, that daily practice, daily reinforcement, and daily check-ins."
When questioned about the challenges they are facing with digital learning overall, the common trends were a loss of social interaction, communication issues, and especially Zoom fatigue.
"I am a storyteller and doing it over Zoom is very challenging due to the limited feedback from the audience, though my students have been attentive and hardworking," Hunnicutt said.
"I am more than ever relying on hearing from my students and hearing their feedback because as any teacher will tell you, you get really good at sort of assessing, taking in a room and people's responses in a classroom," Schick said. "Like when you're rocking a lesson, everybody's engaged, people are loving it, you can feel it. It's really hard to tell that through a computer screen because the students may be loving it, I just don't know. We are really needing that feedback from our students because we are here for you. It is really hard on zoom to tell what is working well and what is not."
Hunnicutt and Schick have very different lesson plans during their two 80-minute class periods, in part because of the differing subject matter, but also because their personal experimentation throughout their summer training introduced them to different innovative platforms. A common trend, however, is that their classes are a combination of synchronous and asynchronous learning.
"We use a really fun tool called Google Jam Board," Schick said. "It is kind of like google slides but it is shared, and it's a whiteboard. For math it's nice because then one person can write and the others can look at the screen."
"When we are in breakout rooms, we use a lot of the time these things called Jam Boards and each group has a page with warmups on it and they will go through and complete the warmup," Lonquist said. "Everyone is doing something with their group at that time and Ms. Schick will come by, look at everyone's board and make little helpful comments. A lot of the time we will come back, and we will have a discussion about it. It gets everybody engaged and participating at the very beginning of class, which I think is good to kind of wake everybody up."
"I use the whole 80 minutes and it's a combination of Edpuzzles, which are videos that are reading assignments, that breaks [the class] up a little bit," Hunnicutt said.
The remaining obstacle that teachers have yet to tackle in respect to digital learning is final exams. In an email on October 20, Principal Paul Hogan announced the cancellation of an official final exam week in January 2021. Instead, Jesuit students will take their final exams online within the limits of their 80-minute class periods. 
"There will be some written thing," Hunnicutt said. "In the past I have always done a combination of objective multiple choice questions and then an essay, just about 50/50, so I will just do the essay."
When Ms. Schick was questioned about how she will test her students' knowledge at the end of the semester, she said that she is awaiting to make a decision because she is "still learning" about her students and "where their math abilities are."
"One thing I have learned about online learning is that nobody has all of the answers yet, so you have to be willing to learn as you go," Schick said. "My thinking right now is probably a combination of something that asks for them to show me their skills, but also involves some sort of creative synthesis of what they have learned." 
Despite the many challenges online school yields, Ms. Schick managed to find a positive with learning virtually. 
"One nice thing about Zoom is that even people who don't love to unmute and share, can still have a voice and still use the chat function to communicate their ideas," Schick said.
Similar to Schick, Hunnicuttt was able to find some positivity through this entire digital learning experience in an inspiring message.
"As to what works and what does not, I am still learning that," Hunnicutt said. "I am having to follow my own mantra that I tell my students: Don't be afraid to fail because failure is your greatest teacher. I guess I must be learning a great deal."
About the Writer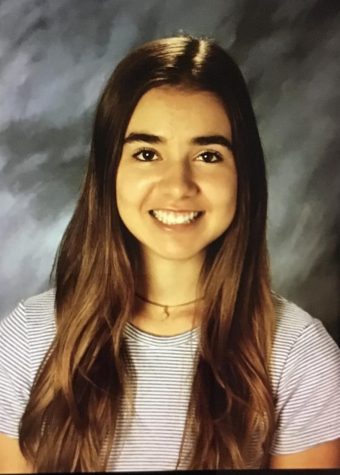 Isabel Crespo, Junior Executive Editor
Isabel Crespo is an editor for the Jesuit Chronicle. She is a Junior at Jesuit High School and is excited to pursue her passion for writing on a deeper...
About the Writer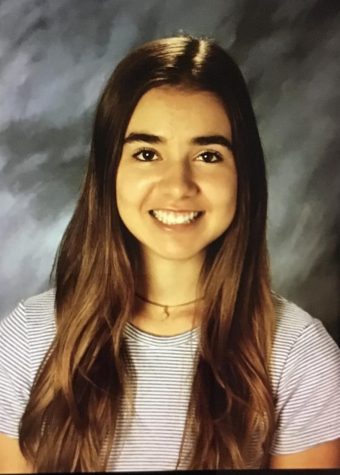 Isabel Crespo, Junior Executive Editor
Isabel Crespo is an editor for the Jesuit Chronicle. She is a Junior at Jesuit High School and is excited to pursue her passion for writing on a deeper...
First Semester Final Exams: Clarifying Cancellation Misconceptions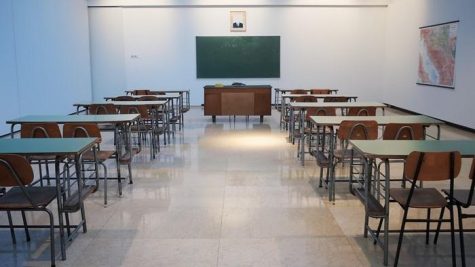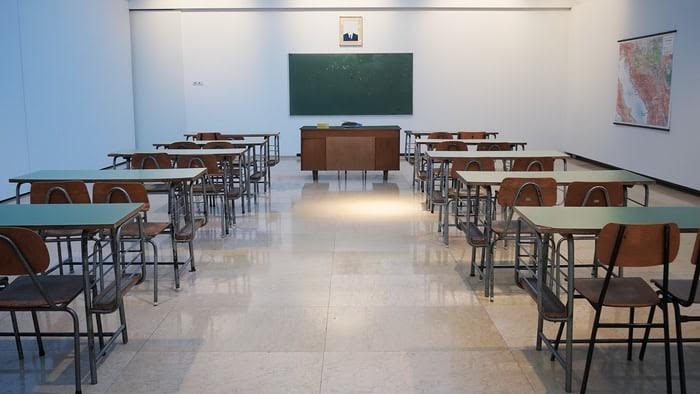 In an email on October 20, Principal Paul Hogan announced the cancellation of an official final exam week in January 2021. Due to COVID-19, it would be difficult to ensure a safe environment for all students and teachers on campus to take and proctor exams. Instead, Jesuit students will take their final exams online within the limits of their 80-minute class periods from either before Christmas Break or between Thursday, January 7 and Friday, January 15. 
Both Mr. Hogan and Emily Hagelgans, vice principal of academics and student life, want to clarify that student knowledge will still be tested, though it will look a little different this semester. 
"Teachers can give a culminating assessment for the semester," Hagelgans said. "We have eliminated our traditional structure of the exam week because all of the classes now are 80 minutes in length, which would lend more flexibility from what our previous structure is to the type of assessment that could be given."
Mr. Hogan wrote that a semester one assessment can take the form of a "research project, oral exam, portfolio, test, paper, video, or other assignment."
When questioned about what led to the consensus on the cancellation of a traditional final exam week, Ms. Hagelgans said it came down to the logistics of the situation and academic integrity.
"We are in communication with a lot of other schools, particularly schools in our province as Jesuit schools, and a number of schools have moved away from a more traditional final exam structure," Hagelgans said. "I think part of it too is exam integrity. You can't really see what a student may or may not be doing so how can we create a more accurate situation of what the student's knowledge is and ability to apply that knowledge?"
The administration asked that teachers' end-of-semester assessments do not have a weight of more than 15% of the students' overall semester grade. 
Ms. Hagelegans believes that this new approach to conducting final exams for semester one "might be really interesting and cool to see because it could lend itself to more creative forms of assessment."
About the Writer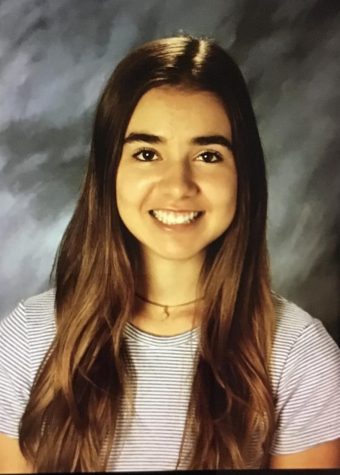 Isabel Crespo, Junior Executive Editor
Isabel Crespo is an editor for the Jesuit Chronicle. She is a Junior at Jesuit High School and is excited to pursue her passion for writing on a deeper...
Student-led Organization Students Tutor Students Grows Drastically
Student-led and founded organization Students Tutor Students (STS) has drastically grown throughout the quarantine, gaining recognition from the greater public such as KGW News.
Students Tutor Students began  as a small group of students aimed to match struggling students with tutors, and now the organization has expanded large enough to develop  a website, prevalent social media presence, summer camp, and soon an app. 
"When we began we were a small organization and all we wanted to focus on was getting kids the tutors they needed so they could succeed in online school," said senior Ziggy Berkoff, Public Relations Director of STS. "Since then, we've…expanded [STS] to more about affecting education in Oregon as a whole and less about getting tutors to people, [although] that's still our main point. We've grown so much that we have over 100 tutors." 
The summer program, titled the Kickstart Summer Program, was developed during  this past summer, with a goal to have  multiple student-teachers from different schools participate in creating a variety of classes, with subjects ranging from art to math
"We were able to work with over 110 students on bolstering their summer education," senior Devansh Khunteta said. "In addition, we were able to create a sense of community through movie nights and these fun activities we continually held [during the summer program]."
Khunteta, the Chief Technology Officer on the executive board for STS, is also currently working on developing an app in order to make education as accessible as possible during this time of social distancing.
"I hope to release the app with the rest of my team sometime later in October, and that's one initiative that we've been focusing on quite a lot," Khunteta said. "The impetus and motivation behind why we want to do it was because we recognize that students oftentimes use their mobile devices a lot more for work. For example, [we]  use our iPads a lot, so it'd be really awesome to have that mobile application where you can automatically be matched with a tutor who can help you out, as well as chat with them all throughout this one interface."
In addition to the app, STS's social media presence brought them to KGW's attention. Through their Instagram profile and email, STS has been talking to KGW, but decided to pause the conversation as KGW was busy covering the election. However, the upcoming feature on STS developed when a photographer from KGW reached out to the organization.
"We had a lot of posts concerning Kickstart and how our summer program went, and apparently they found it pretty intriguing, so they had a photographer reach out to us on Instagram," Khunteta said. "He was sort of just like, 'Hey we saw what you guys are doing and we want to talk more about Kickstart and your future initiatives. Would you mind setting up this interview and discussing?'"
In order to prepare for the interview, the executive board met over Zoom and reviewed key points they wished to make during the interview so  viewers could better  understand their mission and organizational goals. The feature on STS is predicted to air next week, and focuses on STS's future goals as well as current progress.
"I think that STS is an ambitious organization and we are going to try our hardest to impact education in Oregon for the better before we all graduate," Berkoff said.
About the Writer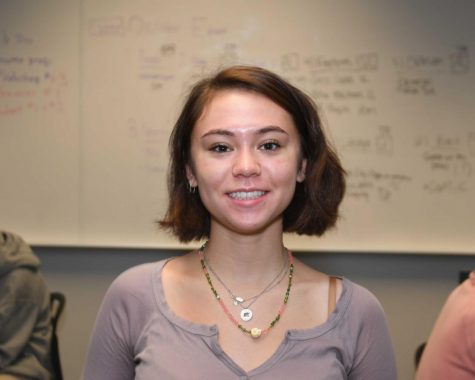 Scout Jacobs, Associate Editor-in-Chief






Scout Jacobs is a managing editor for the Jesuit Chronicles at Jesuit High School. As a senior in high school, this is her third year doing...
About the Writer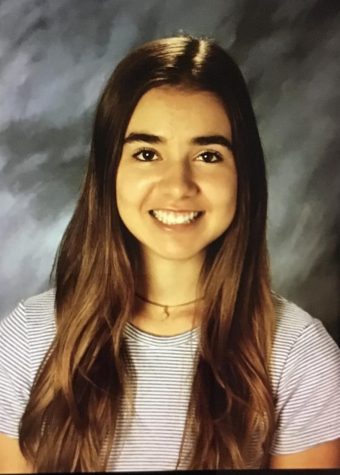 Isabel Crespo, Junior Executive Editor
Isabel Crespo is an editor for the Jesuit Chronicle. She is a Junior at Jesuit High School and is excited to pursue her passion for writing on a deeper...

Digital Learning: The Difference Between Synchronous and Asynchronous Learning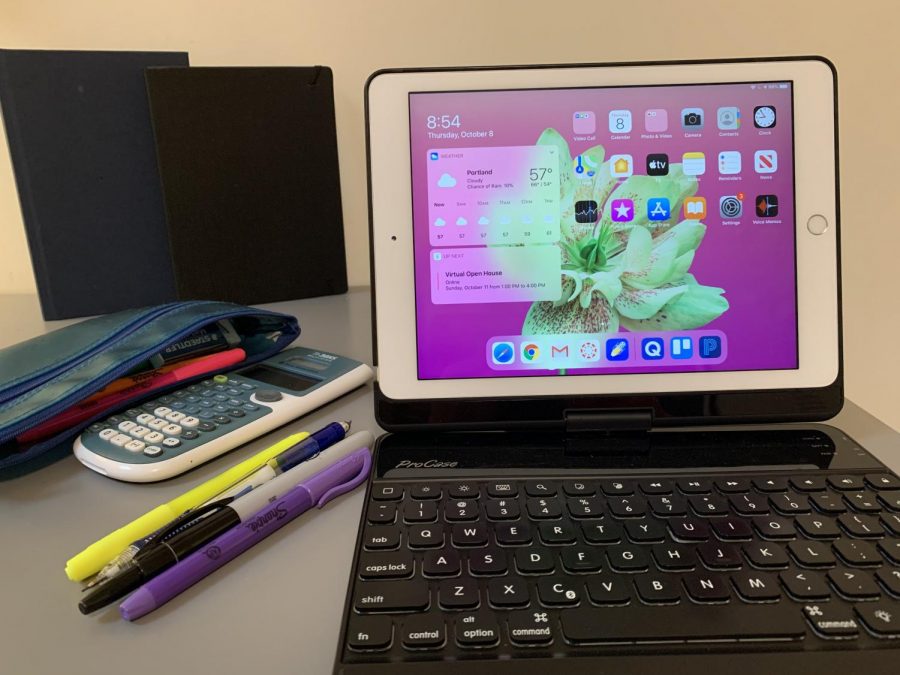 With digital learning becoming the new reality for students due to COVID-19, administrators and teachers have developed new and innovative ways to conduct learning. 
Online learning can be categorized into three learning styles: synchronous, asynchronous, and a hybrid of the two.
At Jesuit High School, digital learning for the 2020-2021 school year is partially synchronous with intermittent periods of asynchronous learning through Zoom calls. In the spring of 2020, however, asynchronous learning was enforced.   
"When we talk about synchronous learning we are talking about activities that students are doing in real-time," Alyssa Tormala, the vice principal of professional development and innovation at Jesuit, said. "It could consist of a class discussion over Zoom or online, as well as group projects as a class or in small groups."
Asynchronous learning is taught without real-time interaction where assignments and instructions are posted online for students to work through.
According to TheBestSchools.org, asynchronous learning can take the form of pre-recorded videos, self-guided lessons, lecture notes, or online discussions. 
Based on the feedback Jesuit collected during the spring, while some students enjoyed the flexibility of self-paced asynchronous work, the majority of students struggled with a lack of structure. 
"There were students… struggling because they did not have that specific structure in the day to help them keep track with where they were and what they were doing in any given time," Tormala said.
Other Portland area institutions, like Lincoln High School, are also online.
For Katlyn Kenney, a senior at Lincoln High School, her teachers' material didn't translate well through an online environment, which impacted her ability to retain information.
"I would rather have someone teaching and lecturing me, or showing me math problems to my face then giving me a worksheet to read," Kenney said. "Watching a video a teacher made or watching a Khan Academy video just doesn't really click." 
Without face-to-face interaction during asynchronous learning, student morale also decreased because of a lack of connection with peers and teachers. 
"We got a lot of feedback from teachers and parents [saying] that they were missing the person-to-person contact," Tormala said. "Students and parents reported that the lack of personal connection with classmates and teachers made students feel disconnected and isolated. Even though Zoom is not the same as being in-person, it still provides a level of connection that purely asynchronous learning did not."
Because the asynchronous model wasn't conducive to learning and mentally sustainable for students and teachers alike, Jesuit switched to a mainly synchronous model in the fall, consisting of three to four 80-minute zoom calls a day through a block schedule.
When asked about what led to the consensus on 80-minute Zoom calls, Tormala said it took a lot of research and communication with other schools nationwide and in the local Portland area.
"Most schools seemed to be moving toward that block schedule and 80 minutes appears to be the average," Tormala said. "If you talk with other Catholic schools in the area, they are all using a similar structure of a block schedule of three to four classes a day somewhere between 65-85 minutes. So are many of our fellow Jesuit schools around the country."
Throughout the 80 minutes provided for each class, whether or not students are required to stay on Zoom the entire period or break-off asynchronously is dependent on the teacher and subject they are teaching.
"If you as a teacher feel it's important that students be in a synchronous learning situation, such as learning a new topic…where you want to keep everyone in the same sequence, you can use the 80 minutes for that," Tormala said. "We trust our teachers to have good professional judgment about what the learning needs to look like at the point that they are in their unit and for a particular content area, and what their students are needing."
Now six weeks into the school year, Jesuit has been gathering feedback from students, teachers, and parents on the new partially synchronous model.
"We all miss being in school with each other in person," Tormala said. "But we have received deep gratitude from many of our students and our parents especially. We've had a lot of students say that they really like the block schedule as long as their teachers keep it interesting." 
Among the students at Jesuit who are embracing synchronous learning is junior Eli Flamoe.
"It has actually gone a lot smoother than I was expecting it to, and it feels more like real school," Flamoe said.
Tormala commented that having 80-minute class periods "gives teachers more flexibility" and a "clear structure so they know what is happening on any given day."
Despite the synchronous model promoting more interactive and structured learning, the challenge that remains is maintaining engagement while spending hours on Zoom.
"It's just so much harder to pay attention online," Flamoe said.
"I think everyone is feeling Zoom fatigue which is kind of to be expected and kind of unavoidable," Tormala said. "Yet we have to encounter each other through this lens. It is the only way we can right now."
There are many factors determining the success of synchronous or asynchronous learning with the main takeaway being that there will have to have a lot of trial and error before consistency and normalcy is established.
"With anything new it takes a while," Tormala said. "Learning is a struggle no matter what it is that we are learning and right now we are learning how to engage in this environment on a regular basis. It will get easier because our brains will build new pathways to figure it out."
About the Writer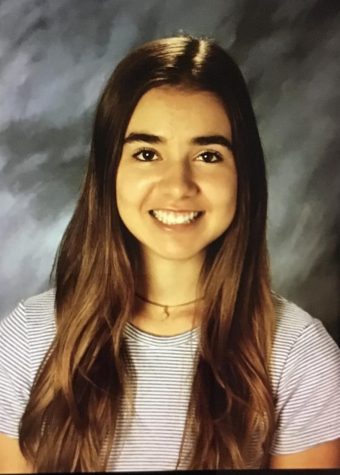 Isabel Crespo, Junior Executive Editor
Isabel Crespo is an editor for the Jesuit Chronicle. She is a Junior at Jesuit High School and is excited to pursue her passion for writing on a deeper...