Breaking News: Magda Skarbonkiewicz Wins Cadet Worlds
On April 4, 2021 in Cairo, Egypt, freshman Magda Skarbonkiewicz won gold at the Cadet World Championships for saber fencing. At only 15 years old, Skarbonkiewicz became the fifth U.S woman to win the championship, and the first since 2009.
"I went to Egypt having high hopes, but I didn't think they would be realistic," Skarbonkiewicz said. "It's a world championship, so it's the best of the best in 17 and under, and I was really nervous but also excited to be fencing a tournament after a year of no tournaments."
Skarbonkiewicz made the USA Cadet World Team last year, but the championship was cancelled due to Covid. This year, Skarbonkiewicz proved her expertise and ingenuity in the sport after prevailing in the competition and striking gold.
"When I won I couldn't believe it," Skarbonkiewicz said. "It was like something you think about, but never actually believe it when it happens. It was a really bewildering trip, and I'm thankful for everyone who helped me get where I am today!"
About the Contributor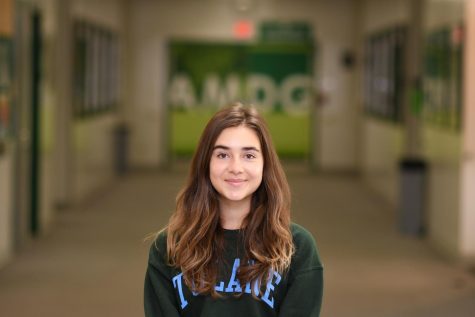 Isabel Crespo, Editor-in-Chief
Isabel Crespo is editor-in-chief for the Jesuit Chronicle. She is a senior at Jesuit High School and is excited to pursue her passion for writing on a deeper level through her second year in Journalism class. In 11th grade, she served as the junior executive editor and podcast manager and covered general news, diversity, technology, features, and opinion pieces. Essentially, for the past year she has extended what began as a simple pastime to a career-oriented goal that she intends to pursue in college and beyond. Her favorite things to write about are ethical issues, fashion, music, education, Gen Z, and advocating for mental health awareness. Some of Isabel's favorite mainstream media platforms are The New York Times, The Washington Post, and Fareed's Global Briefing through CNN. Outside of the classroom, Isabel enjoys competing in tennis, hiking, traveling, and spending time with family and friends. A fun fact about her is that she is half Ecuadorian and a quarter Chilean with experience living abroad for a summer in Ecuador.