ASB Election Results: Baricevic, President; Denny, Alvarez, Fitts, Mayfield cabinet
Last week Jesuit had their annual Associated Student Body election. For the past few weeks, 12 Juniors have been campaigning around school to try to get student's votes.
    Normally the students who are running give their speeches publicly during an assembly, but for the last two years students have had to record their speeches on video. This year students watched their peers' speeches during homeroom. 
    This year students who ran continued to put posters up around the school for their peers to see. They also campaigned around the school by talking to people about what changes they would make to Jesuit. 
    Social media was a big part of the election this year. Almost every student made a poster and put it on their Instagram story. People who supported the candidates would repost to their story to try to spread the support. We saw these social media posts last year as well because of COVID. This is a new rule at Jesuit; a few years ago students were not allowed to use social media as a way to campaign.  
    During homeroom students got to vote for 3 ASB Candidates on a google form. There were five spots students could win, one president and 4 cabinet members. Anton Baricevic was elected to the presidential position and his cabinet members are Grace Denny, Naomi Alvarez, Tyler Fitts and Gracie Mayfield. 
    Before the election happened, future ASB president Anton Baricevic said, "I am feeling good but nervous. I'm super excited to see what happens. It's been a good experience to put myself out there. I'm just grateful for the experience no matter what happens."
About the Contributor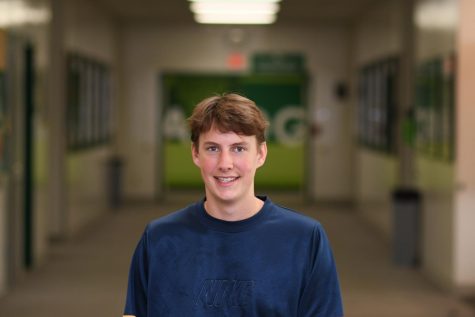 JJ Gray, Managing Editor
JJ Gray is a senior and this will be his third year as  journalism student. He is excited to be in the class and have a great time. In JJ's free time, he reads about sports and listens to many different sports podcasts and radio shows. JJ loves listening to the Ringer Podcast Network every night. He also enjoys talking about and debating sports topics with his family and friends. JJ plays football and he skis at Jesuit high school. JJ is also very into the sneaker and shoe world. He loves to hike and be in the outdoors in his free time. JJ has a cat named Kendrick Lamar and a dog named Reggie and he loves to play with them. JJ has an older sister who graduated from high school last year and was in the journalism class at Jesuit. One of JJ's favorite things to do is travel, his favorite place he ever visited is Amsterdam. JJ loves to read, write and listen to podcasts because they help him take his mind off other things.