New NCAA rule allows athletes to profit
New NCAA rule allows athletes to profit
A new California bill will allow college athletes to profit off their name, image, and likeness. 
The new law runs contrary to the N.C.A.A rules prohibiting athletes against profiting from their sport while in college. 
"I think this bill being passed is a good first step in the change that needs to happen in college athletics," Jesuit alumni and former University of Oregon football player, Doug Brenner said. "However, because the N.C.A.A is still the governing body of college athletics it is unclear what this bill will actually change. I'm hoping this bill starts a conversation about what could be improved for student athletes."
The bill pertains only to California schools, which is one of the reasons that it is unclear how it will affect college athletics in other states. 
"You can't have different rules among different states," athletic director Mr. Hughes said. "So let's say for example, there is an elite basketball player that being recruited out of high school and is being recruited to UCLA and Michigan State, well he knows that at UCLA, he could earn money of his signature, that gives a huge competitive advantage to California schools in the recruiting process. So much so that it will not be allowed to stand."
Even though the N.C.A.A is still coming to terms with this new bill, it sparks the question of whether college athletes should get paid for playing.
Former Oregon offensive lineman Doug Brenner played with the Ducks from 2013-2017 season and agrees with this new change in college sports.
"Every student athlete I have ever known thinks that the N.C.A.A can and should do better," Brenner said. "In the 2015 season we won the pac-12 championship, the rose bowl, and went to the national championship game. Because we had such a successful season, the coaches all received bonuses of about one million dollars. I remember thinking it wasn't fair that coaches get bowl bonuses and performance bonuses but the players can't. That same year Oregon football brought in about 70 million dollars of revenue to the university, and I remember thinking it's not right that student athletes have to live on McDonald's and ramen noodles while the schools, NCAA, and coaches are all making millions."
Jaiden McClellan, a senior committed to playing soccer at Westpoint next year, thinks this bill could benefit college sports as well.
"I think that it should've been made a long time ago, because when you're a student athlete and everyone around you is getting paid like the coaches and staff, they are making a lot of money off your student athletes that are not getting anything," McClellan said. "Especially in college as a student athlete, I know that I have no time to hang out, so there would be no way that I could get a job, so the idea of getting sponsors would benefit me and help me to get through college."
As of now, there is no clear idea of when or if this bill will even get passed. Many people question the fairness this would have to every player that is on a specific team.
"This might be fair to the .5% elite athletes on a team, the Lebron James of the world, I think it can be properly argued that for those elite athletes by going to play college, the university is making a lot of money off of those few rare elite athletes," Hughes said. "However, in my opinion, for 99.5% or higher percent of full scholarship athletes in college, they are getting a spectacular deal. Free college tuition for four years to play college athletics."
This new bill will provoke a conversation about the future college athletics. 
"I hope this will open up the door for negotiations with the N.C.A.A, to make student athletes lives better," Brenner said. On October 29th, the NCAA voted unanimously to implement the new rule of athletes profiting off their name, image, and likeness. The board hopes to get this rule into effect by January 2021. 
About the Contributor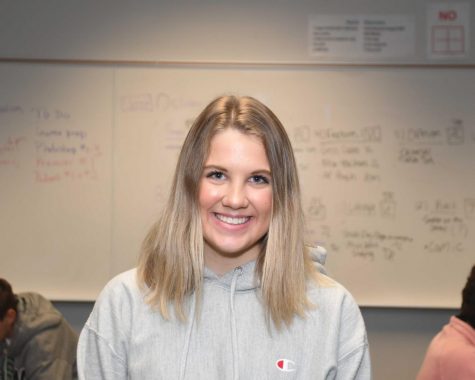 Annie Landgraf, Alumni 2019-2020
Annie Landgraf is a managing editor for journalism. She was born in Lake Oswego, Oregon and went to Lake Oswego schools her whole life before entering Jesuit. She is the youngest out of 3 older siblings who have all graduated from Jesuit. She is a junior and has been apart of the journalism class for a year. Annie's passion for journalism started at a very young age when her older sister was an editor for journalism at Jesuit. She also had another sister who was apart of journalism. Going into high school, Annie wanted to always join journalism and be apart of the newspaper. Annie as a freshman was on the cross country team and as a sophomore she was part of green team and was a jv ambassador. This year as a junior, she is an ambassador and involved in campus ministry. Last year in journalism, Annie would write mostly news, sports, or arts articles. Her favorite part about journalism is being able to get to know the faculty and staff at Jesuit through her interviews for articles. She hopes as an editor she can be a leader in the class and someone that people can go to for help whenever they need it in class.