COVID-19 cancels and postpones Spring at Jesuit
Spring at Jesuit is usually filled with activities and events, but due to COVID-19, all in-person events have been cancelled or postponed. 
Some of the most important events of the school year are now in question, including Graduation, while Prom is already cancelled. 
"The biggest event that we needed to cancel was prom," ASB teacher Dr. Exley said. "Students were pretty upset that their prom was canceled, but seemed to understand the canceling of the event based on us not having school and a need to practice social distancing. We are working on different events and activities for graduation weekend along with administration as a way to celebrate the class of 2020. We also will continue with weekly challenges to get students engaged and involved."
Many seniors do not know what the future will hold to celebrate them, but Principal Hogan hopes to stay optimistic with students and families about an in-person graduation. 
"On May 1, we hosted the first-ever Twilight Parade/college-decision day celebration," Mr. Hogan said. "We will be hosting a series of events on May 29-31.We are getting ready to announce that we HOPE to hold an in-person Commencement on Cronin Field on July 11. Not fully confirmed yet. If we are allowed to do that by the Governor, we will likely also have a Baccalaureate of some kind (maybe livestreamed) that morning."
Although Principal Hogan hopes for a July 11th date for a commencement celebration, Governor Kate Brown has extended large gatherings of more than 25 people through September. 
This could all change if the state progresses to a vaccine or a reliable treatment for COVID-19 earlier than September, according to Governor Kate Brown. 
As for now though, it looks like until a further push for treatments and vaccines come to Oregon, big gatherings in the summer will be restricted. 
Junior Mackenzie Convey will be missing her first prom, and reflects on how she was feeling when she heard the news. 
"I was very upset and sad, because I thought in the beginning of quarantine that there still could have been a prom and we could go back to school," Convey said. "Now I'm still sad, but I know I'll still have a senior prom and that this is not my last dance."
With uncertainty for the future, the student government class is doing its best to  connect Jesuit while in quarantine. 
"We have been trying to keep the Jesuit Community active through our instagram account and keeping the Jesuit Community informed of different activities that are happening even though we are not at school," Dr. Exley. Said. "During the first week of Digital Learning, we started posting two challenges a week on the Jesuit instagram. We also created the Jesuit Senior instagram where Seniors can post about their plans for next year and created cards to be sent to teachers thanking them for their work during Teacher Appreciation Week on behalf of the Jesuit Student Body."
Junior Damon Grim was in student government this year and was recently elected in the ASB cabinet for his senior year. He has been participating in the student government Zoom classes and helping to plan future events.
Once things are lifted, you will see many more things being planned to celebrate the seniors and juniors," Grim said. 
Student government's main goal, while school remains cancelled, is to connect the Jesuit community and remind Jesuit students of the strong community.
"Right now, our main 'project' or focus has been on the Jesuit Community and trying to remind students that we are all in this together," Dr. Exley said. "We have also begun to discuss different service opportunities that we can do to help the larger community as we all deal with Covid-19. [I want] student government to be a place that helps remind Jesuit Students of our strong community and our many different connections to each other."
Also as most student's events and activities continue to be either postponed or cancelled, Principal Hogan shares how students are helping people struggling due to COVID-19 and the importance of volunteering. 
"We had a sandwich drive for Blanchet House and Storm McGraw and our Drama Dept have been making masks and gowns," Mr. Hogan said. "Students like Manavi Thakur have created their own service/fundraising drives." 
About the Contributor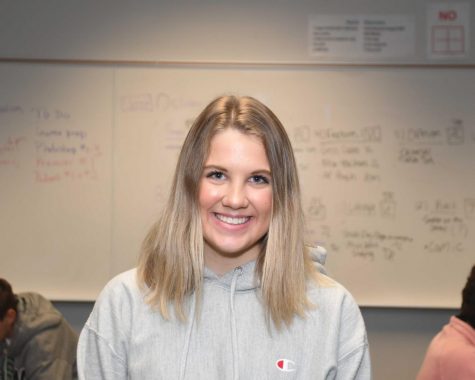 Annie Landgraf, Alumni 2019-2020
Annie Landgraf is a managing editor for journalism. She was born in Lake Oswego, Oregon and went to Lake Oswego schools her whole life before entering Jesuit. She is the youngest out of 3 older siblings who have all graduated from Jesuit. She is a junior and has been apart of the journalism class for a year. Annie's passion for journalism started at a very young age when her older sister was an editor for journalism at Jesuit. She also had another sister who was apart of journalism. Going into high school, Annie wanted to always join journalism and be apart of the newspaper. Annie as a freshman was on the cross country team and as a sophomore she was part of green team and was a jv ambassador. This year as a junior, she is an ambassador and involved in campus ministry. Last year in journalism, Annie would write mostly news, sports, or arts articles. Her favorite part about journalism is being able to get to know the faculty and staff at Jesuit through her interviews for articles. She hopes as an editor she can be a leader in the class and someone that people can go to for help whenever they need it in class.