COVID-19 cancels and postpones Spring at Jesuit
Spring at Jesuit is usually filled with activities and events, but due to COVID-19, all in-person events have been cancelled or postponed. 
Some of the most important events of the school year are now in question, including Graduation, while Prom is already cancelled. 
"The biggest event that we needed to cancel was prom," ASB teacher Dr. Exley said. "Students were pretty upset that their prom was canceled, but seemed to understand the canceling of the event based on us not having school and a need to practice social distancing. We are working on different events and activities for graduation weekend along with administration as a way to celebrate the class of 2020. We also will continue with weekly challenges to get students engaged and involved."
Many seniors do not know what the future will hold to celebrate them, but Principal Hogan hopes to stay optimistic with students and families about an in-person graduation. 
"On May 1, we hosted the first-ever Twilight Parade/college-decision day celebration," Mr. Hogan said. "We will be hosting a series of events on May 29-31.We are getting ready to announce that we HOPE to hold an in-person Commencement on Cronin Field on July 11. Not fully confirmed yet. If we are allowed to do that by the Governor, we will likely also have a Baccalaureate of some kind (maybe livestreamed) that morning."
Although Principal Hogan hopes for a July 11th date for a commencement celebration, Governor Kate Brown has extended large gatherings of more than 25 people through September. 
This could all change if the state progresses to a vaccine or a reliable treatment for COVID-19 earlier than September, according to Governor Kate Brown. 
As for now though, it looks like until a further push for treatments and vaccines come to Oregon, big gatherings in the summer will be restricted. 
Junior Mackenzie Convey will be missing her first prom, and reflects on how she was feeling when she heard the news. 
"I was very upset and sad, because I thought in the beginning of quarantine that there still could have been a prom and we could go back to school," Convey said. "Now I'm still sad, but I know I'll still have a senior prom and that this is not my last dance."
With uncertainty for the future, the student government class is doing its best to  connect Jesuit while in quarantine. 
"We have been trying to keep the Jesuit Community active through our instagram account and keeping the Jesuit Community informed of different activities that are happening even though we are not at school," Dr. Exley. Said. "During the first week of Digital Learning, we started posting two challenges a week on the Jesuit instagram. We also created the Jesuit Senior instagram where Seniors can post about their plans for next year and created cards to be sent to teachers thanking them for their work during Teacher Appreciation Week on behalf of the Jesuit Student Body."
Junior Damon Grim was in student government this year and was recently elected in the ASB cabinet for his senior year. He has been participating in the student government Zoom classes and helping to plan future events.
Once things are lifted, you will see many more things being planned to celebrate the seniors and juniors," Grim said. 
Student government's main goal, while school remains cancelled, is to connect the Jesuit community and remind Jesuit students of the strong community.
"Right now, our main 'project' or focus has been on the Jesuit Community and trying to remind students that we are all in this together," Dr. Exley said. "We have also begun to discuss different service opportunities that we can do to help the larger community as we all deal with Covid-19. [I want] student government to be a place that helps remind Jesuit Students of our strong community and our many different connections to each other."
Also as most student's events and activities continue to be either postponed or cancelled, Principal Hogan shares how students are helping people struggling due to COVID-19 and the importance of volunteering. 
"We had a sandwich drive for Blanchet House and Storm McGraw and our Drama Dept have been making masks and gowns," Mr. Hogan said. "Students like Manavi Thakur have created their own service/fundraising drives." 
About the Writer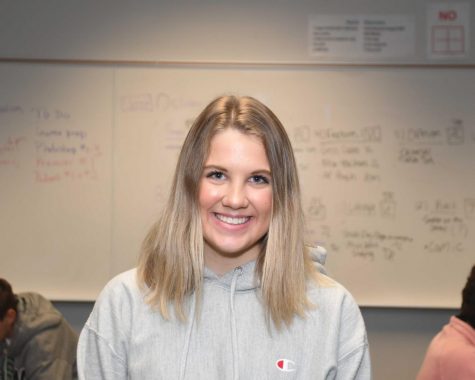 Annie Landgraf, Alumni 2019-2020





Annie Landgraf is a managing editor for journalism. She was born in Lake Oswego, Oregon and went to Lake Oswego schools her whole life before...
COVID-19 changes the course for college admission
COVID-19 changes the course for college admission 
Dozens of colleges and universities are altering their admission process amidst the coronavirus.
Major changes include the onset of test optional admission, adjustments in confirmation deadlines, enhancement of virtual access to campus tours, information presentations, and video/text chat with admission representatives.
These changes were made after  the government's stay-at-home policy due to  COVID-19.
These new alterations to college admission will most likely affect upperclassmen. For seniors, it will affect their final decision on where to attend college.
"I anticipate the change in confirmation deadlines (June 1 rather than May 1 for example) are likely to only impact the class of '20," college counselor Mr. Johnson said. "Broadly, campus visits are cancelled, and some college orientationevents have gone virtual.  I believe that COVID-19 may prompt students and families to rethink their final college decision, perhaps desiring to be closer to home, anticipating changes in what college will look like in fall 2020."
Senior Hannah Stream is going to Colorado University at Boulder. She was one of the few lucky people to already visit her college and make a decision.
"I was lucky I went early enough that I still got my in-person visit, but most schools have been sending constant emails that they can only do virtual campus tours and from what I've heard, it's just not the same," Stream said. "This is when people were going to go on college visits to have that reassurance that they were making the right choice for the next four years, and not being able to walk around and talk to people face to face makes it that more difficult to make an already major decision."
As seniors figure out what college and finalize their decisions, juniors deal with early admission issues due to the coronavirus.
"[Juniors are dealing with] test optional planning, no campus visits, reduction in summer experience (work, service, internship, etc.) opportunities," Mr. Johnson said. "The most impactful is the onset of test optional admission."
Going test optional due to COVID-19 has been notable as the biggest change in college admission. Many well-known colleges have made the change, including but not limited to: University of Oregon, Oregon State University, All UC schools, Portland State University, TCU, Tulane, and many more.
"The onset of test optional could be more long lasting," Mr. Johnson said. "Some colleges are just going test optional for one year and then reevaluating, others are going test optional for three years and then reevaluating, and others are going test optional after significant deliberation, well before the COVID-19 outbreak.  While the motivation to go test optional varies – lack of testing opportunities primarily – many colleges are going test optional for the long term because they believe that standardized testing is not the best predictor of success in college. There are also many equity issues surrounding standardized testing such as test prep, socioeconomic factors, etc."
With many colleges already going test optional and predictably more on the way, a new attitude on going test optional begs the question: Is it even worth it to take the SAT/ ACT?
"Due to the fact that not all colleges will be going test optional, and that the test optional status may be temporary in some cases, I would generally suggest that students should take the SAT and/or ACT in the case that it is required by their prospective colleges," Mr. Johnson said. "It is a good idea for students to talk with their college advisor regarding test selection, and test optional decisions."
Many juniors feel the pressure of having to study and take the SAT/ACT as dates get rescheduled and are for colleges becoming test optional.
"I feel like I am at a disadvantage taking the SAT/ACT right now because if I take it in the summer that means that I would have not been in school for three months," junior Hunter Redding said. "There is already so much going on and I'm also having to navigate online school, so my focus for the SAT/ACT is not as strong as it was."
As upperclassmen experience different struggles with college due to the coronavirus. Mr. Johnson provides advice for college and what people can still do at home.
"Utilize the many virtual tour and presentation options that have been developed by college admission offices," Mr. Johnson said. "Juniors and seniors are encouraged to review the Canvas college planning courses – which include a Module titled "College Planning Info in Response to Coronavirus (COVID-19). There is also a page focusing on "How to "Visit" a College During Campus Closure."  The Visit page includes some great suggestions on how to learn more about a college…at a distance."
About the Writer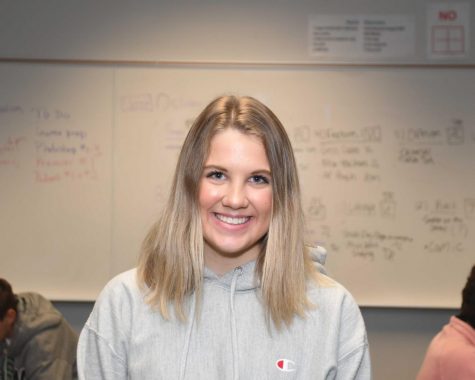 Annie Landgraf, Alumni 2019-2020





Annie Landgraf is a managing editor for journalism. She was born in Lake Oswego, Oregon and went to Lake Oswego schools her whole life before...
The Legend of Santa Clarke
THE LEGEND OF SANTA CLARKE
For the past five years, Santa Clarke has been a major component of the Jesuit Christmas celebration. But a very small group of people actually know who he is and what his origins are. Students were asked what they think about the origins of Santa Clarke.
"[I believe that]Santa Clarke manifested himself.  He transcends all things secular and rules all things divine.  He is the eternal breath of Christmas and shall continue to be as he patrols the chilly winter skies in his sleigh.  No one man truly understands the power that Santa Clarke possesses, for no one man can truly comprehend it.  To harness such power would mean the end of all things, which is the sole reason why Santa Clarke has never chosen a successor.  He needs no successor, and he has no predecessor.  He is time and power, personified by America's mass consumerism and vivaciously aggressive attitude towards Christmas.  In other words, you'd better watch out…"
-senior Jonathan Ulrich.
"I imagine that Santa Clarke arrived a long time ago from deep underground and shows up again every Christmas season to do two things, spread cheer and acknowledge 8th grade shadows"
-senior River Flamoe.
Santa Clarke was first asked to appear at the 2014 Food Drive Assembly by Jesuit's very own Campus Minister, Don Clarke, who shares a last name with the famed holiday hero. Santa Clarke is contacted every year around the beginning of December by Mr. Clarke to come to Jesuit once again to jump-start the Christmas spirit. 
He doesn't arrive to Jesuit in costume though–he had a custom suit provided by the Campus Ministry office to wear during the Food Drive and the corresponding assembly.
In a statement given by Santa Clarke, he says that he has lots of fun every year playing the role at Jesuit. In the first year of his appearance the hashtag #santaclarke was created in his honor.
Within more recent years, more activity has presented itself to Santa Clarke, with him being invited to play the part of Santa in Jesuit's 2017 play, Elf Jr., starring juniors Krish Adyta and Alannah Connolly. 
When asked on his feelings of the pressure of becoming Santa Clarke, he answered that he, "has started to feel more nervous now that more and more high school students are starting to question his reality".
He originally found it tough when he was asked to sit and listen to smaller children. But he found that the children look to him with such honesty and joy in their eyes when they tell him what their wishes are for Christmas presents.
Although he is not the one and true Santa Clause, Santa Clarke finds it profound that the children tell him what presents they want, and he does his best to deliver the word of each child's wishes to the true Santa in the North Pole.
He shared exclusive information with the Jesuit Chronicle about the most asked for Christmas presents in which he stated, "collectible bracelets, iPhone X's, unicorns, and way cool headphones and of course, Taylor Swift Albums".
Santa Clarke has brought holiday cheer to Jesuit High School for the past 5 years and will continue his involvement for the many years to come, so long as students keep up their holiday spirits.