Female Politicians: Battling Double Standards as well as an Opponent
It's been a groundbreaking couple of years for women in politics, with more gender diversity in government than ever before. According to the Center for American Women in Politics at Rutgers University, the year 2018 showed the largest increase in female representation among state governments (BBC). 
As the 2020 Presidential Election grows closer every day, voters have a chance to elect the first female vice president of the U.S: Kamala Harris. But is Kamala Harris up against something more than her opponents? Many have argued that women in politics, much like women in every field of study, are subject to an implicit bias that has long impacted our expectations of what a leader can be. 
An implicit bias is at work when someone tends to hold a preference towards a certain group of people, holds a specific attitude, or associates stereotypes to a group without conscious knowledge of their actions (Perception Institute).
Women in politics are often the subject of offensive, misogynistic remarks, as they are attacked by both the public and their political opponent. Last March, a hostile interaction between Rep. Ted Yoho, R-Fla., and Rep. Alexandria Ocasio-Cortez , D-N.Y. made headlines when Yoho was heard insulting Ocasio-Cortez, going as far to call her "crazy", "disgusting" and a "f—ing b-tch" (MSNBC).
Although these jarring words may seem shocking at first, there is a long history of men flinging insults at their women colleagues regarding their appearance, their ambition, their opinions or other subjective factors. As women are constantly criticized for these characteristics, their accomplishments and merits are overshadowed and appear less important.
Derogatory language towards women in politics has provided a long history of unfair coverage, double standards, and bias that has limited women, women of color in particular, from positions of power and authority. The same cannot be said for male politicians.
 In a research conducted by TIMES UP, a movement against sexual harassment and was founded in response to the #MeToo movement, the Vice Presidential coverage was analyzed between Kamala Harris, her opponent Mike Pence, and 2016 Vice Presidential Candidate Tim Kaine. The data showed that the white male candidates' qualifications remained unquestioned, while Harris was constantly criticized for her likability, her ambition, and other opinionated commentary (NowThisNews).
It's time to treat women in politics with the same respect and dignity that they deserve, and that their male counterparts receive. As Americans continue the fight towards equality, it's time to stop reporting on what a female politician is wearing, and start focusing on what qualifies her as a great leader for the American people.
About the Writer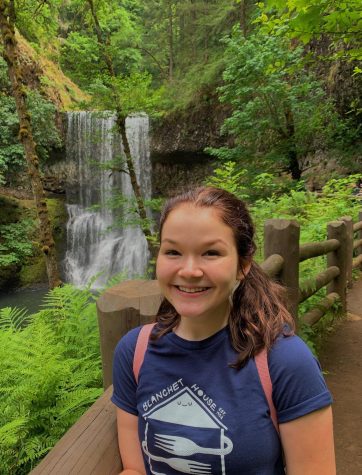 Chase Kerman, Staff Writer
Chase Kerman, a junior at Jesuit High School, is excited to explore Journalism and grow as a writer in her first year taking the class. At Jesuit, Chase...
Please, stop buying toilet paper.
We have all heard the stories. We have all seen the pictures. We have all gone to the stores. Walls of empty shelves where life necessities like toilet paper, hand sanitizer, and face masks once sat. People, staring at the face of a global crisis, ran to the stores to buy as much of these as they possibly could. Many people bought out these items to resell online at a higher price, but most simply wanted to prep for the future, stockpiling on goods they heard were selling out fast.
If you have paid attention, you likely will have seen listings online for these products selling at crazy prices. People selling toilet paper by the square, selling doomsday prepping kits, or $1 bottles of hand sanitizer at $20. This practice is referred to commonly as price-gouging. It is common whenever a high-demand item comes out. Concert tickets, limited-edition collectibles, and other items have all combated this practice for years, but the hygiene industry did not prepare for this. There's no way they could have.
In an urgent effort to reduce this practice, eBay has banned the sale of these items, and Amazon is taking down any sellers listing these products for extreme prices. This has resulted in many of these sellers simply stockpiling these products in their homes, unsure of what to do. They want to make a profit, but no one will let them sell for the prices they want. A New York Times article details one such seller who has tens of thousands of bottles of hand sanitizer, disinfecting wipes, face masks, and other hygiene products stacked up in his home (New York Times).
Many user comments on the article criticize the seller, pointing he could easily get rid of these items by either giving them to a local hospital or simply selling them for a fair price, and he did donate the supplies on Sunday, a day after the article was published, and people can see the ethical issues with price-gouging, especially for items that could potentially save people's lives, but the broader issue here is not necessarily the price-gouging.
As mentioned before, many people—-normal, average people—-have gone to stores to buy large quantities of these items for their own personal stock, afraid they may not be able to get them in the future. Hoarding like this presents the real problem. Buying huge quantities like this is practically completely unnecessary. COVID-19 is not going to close all stores, it's not going to shut down the roads, and it's not going to cancel all hygiene product production.
Instead, when you buy out local supplies of hygiene products, you make it drastically harder for people who actually need these supplies to get them. Not everyone can afford to buy bulk orders of toilet paper, and not everyone can afford to pay the gouged prices online. Not everyone has the time to travel the city in search of basic necessities, so buying out these items only puts more people at risk.
You also make it harder for medical professionals to care for people actually infected with COVID-19 and people at higher risk of getting it. Only a couple of weeks ago the United States Surgeon General urged people on twitter to stop buying face masks (New York Times). He pointed out that across the country, stores had sold out of face masks, making them incredibly difficult for hospitals to find. Most normal people do not need face masks, and buying them is typically pointless, so buying large quantities only made it harder for hospitals to do the job we need them to. Right now, nothing is more important than ensuring that the healthcare system can operate at its maximum efficiency to fight COVID-19, and buying essential healthcare supplies prevents hospitals from doing this.
The best thing we can do right now is to spend like we normally do and not put any more stress on the retail system. Stores and suppliers are only equipped to handle a certain amount of demand and rapidly increasing the demand could put the entire system at risk. Doomsday prepping will only put us closer to an actual doomsday where stores will not have the items people need to live.
We are currently living in the middle of a global health crisis and it is easy to start thinking about doomsday, and what you might need to survive, but a global crisis is not the time to start selfishly thinking about what you might need in eight months. It is the time to start thinking about how your actions will affect the other people in your society and what other people need right now, especially those who cannot afford to spend as wantonly as you can.
About the Contributor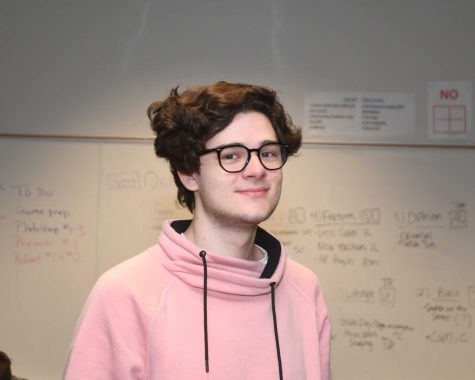 James Martini, Alumni 2019-2020
James Martini's interest in writing began as early as the second grade, and he has written ever since. As a senior, he began his career at the Jesuit...