Lucy Langer A.N.W
Langer sets sight on American Ninja Warrior
We have American Ninja warrior in training among us, her name is Lucy Langer and her family thinks she can win it all.
Lucy has been all over the United States doing different ninja competitions: she has been to Idaho, Washington, Minnesota, and New Mexico. Most recently she has earned top female at Ninja Warrior Klamath Falls. Lucy also got second the last two years at Ultimate Ninja Athletics Association World Finals.
American Ninja Warrior is a TV show on NBC where competitors compete for the fastest time through a course of obstacles. A sophomore, Lucy has watched the show and started training in the sport during seventh grade, when she received a slackline, which is a tight rope that can be walked across and the one Lucy has she can even hang obstacles on. As Lucy became more involved, she went to a gym in Tigard and eventually took one-on-one classes with a trainer.Lucy also trains at a gym she and her dad made in their garage.
Lucy tries to train every day, when she is not run cross country. Lucy's training includes hanging, balance and gripping different objects. Lucy has also purchased different obstacles for her garage gym. In Lucy's competitions, she competes on most of the same obstacles but never knows what is coming her way.
"People just invent obstacles like they're brand new, but I practice the motions which are normally the same and Grip strength," Langer said. "It's never the exact same setup as I train on."
Lucy has many things planned for her future, but one thing is certain: when she is 19 she will sign up for American Ninja Warrior.
"I think she could totally do it honestly I think she could win," Senior Lilly Langer, Lucy's sister, said. "If she keeps with she'll be on of the top girls on the show."
Lucy Loves being a ninja and training so much. She wants to inspire younger kids to get into the sport. One of her goals is when she is older is to start a ninja gym.
"I really want to keep doing this as long as I can hopefully I will have enough time to keep doing it and maybe like open a gym later on," said Lucy Langer.
About the Writer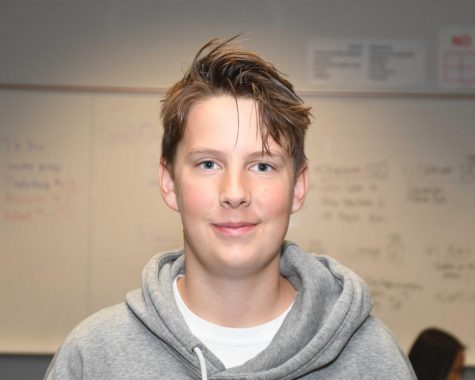 JJ Gray, Staff Writer






JJ Gray is a sophomore and first time journalism student, he is excited to be in the class and have a great time. In JJ's free time he reads...
Sports Feature: Connor Fadden
Fadden at the USA Racquetball National Championship
Courtesy of Connor Fadden
Sports Feature: Connor Fadden
Connor Fadden is a nationally ranked racquetball player from the Jesuit community
In June, senior Connor Fadden placed first in his division at the USA Junior Olympic qualifiers. 
Connor's interest in racquetball began five years ago when he joined the Multnomah Athletic Club and began looking for a new sport to play.
"I tried playing basketball, didn't like it, tried track, didn't like it, and so I was just trying to find a new sport," Fadden said.
Connor found racquetball through one of his current coaches, Hank Marcus, who hosts open court workshops.
Last February, he competed in the National High School Racquetball Championships in St. Louis, Missouri. The players are placed into six levels based on skill, with level one being the highest and level six being the lowest.
"I play at level one, so that means I technically was in the top division there,"  Fadden said.
Connor lost to the competitor who eventually placed second in the country in the first round.
In June, Connor competed at the Junior Olympic qualifiers at the MAC to qualify for the USA Junior Olympic Racquetball team.
At this event, Connor won first place in the White subdivision of the tournament, one of four divisions for competitors 18 years old and under. The competitors at these qualifiers were also from across the country.
"Connor's intensity and intelligence are his best qualities on the court," Connor's racquetball coach, Hank Marcus, wrote in an email. "His intensity & commitment whether practicing, playing, or helping others is impressive."
Connor's club season began recently and the high school season will begin soon.
"Now that the season is starting up again, I've been playing a little bit more often," Connor said.
Connor has one club match a week for the intramural league, and is also preparing for the beginning of the high school league. His first big tournament of the season will be the John Pelham Memorial Tournament of Champions at the MAC in December, where players will come from across the country to compete.
In addition to racquetball, Connor is also the captain of Jesuit's robotics team. "His determination to succeed seen in his robotics leadership can easily be applied to the rigor needed to succeed [in racquetball]," senior Jack Milne, another member of the robotics team, said.
About the Writer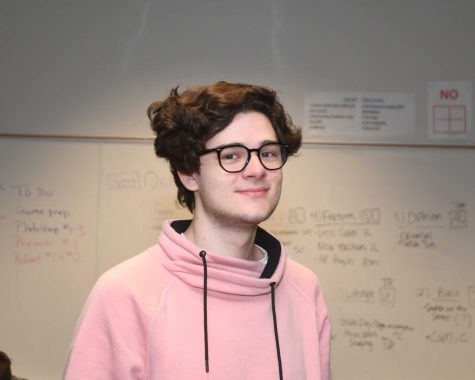 James Martini, Staff Writer
James Martini's interest in writing began as early as the second grade, and he has written ever since. As a senior, he began his career at the Jesuit...