Too "Girly" To Be A Sport?
Every Friday night in the fall a girl with a bow in her hair throws herself into numerous back handsprings, flying across the track as cheers erupt through the stands. 
Her athleticism is evident, yet the question persists: is cheerleading a sport?
When cheerleading is mentioned, many people think of bows, lots of glitter, and screaming girls. 
"Pom poms" said junior Nolan Emslie and "Friday Night Lights" said junior Oliver Jensen when asked what first comes to mind when someone brings up cheerleading.
Opponents of cheerleading argue that because cheerleaders wear their hair down with large bows and skirts, and use makeup and glitter, they are not participating in a sport as it's much too girly to be an athletic activity.
According to the Oregon School Activities Association (OSAA), cheerleading is officially recognized as a winter activity, similar to band, choir, or speech.
This classification, however, has nothing to do with the presence of bows and skirts.
"If you ask the U.S. government, 'where does cheer belong?' they will say cheerleading is not a sport," athletics director Mr. Hughes said. "They say it's performance based, it's not competitive. There's just not enough competitions according to the OSAA and according to the US government."
Jesuit High School follows OSAA guidelines, which officially designates cheerleading as an activity, falling under the leadership of the activities director, Dr. Exley.
"Some schools do a lot more competitive cheer than Jesuit does," Dr. Exley said. "A lot of that falls to the determination of the coach and determination of the cheerleaders themselves. I think there's two different types of cheer competitions. There's a sideline competition that the cheerleading organization runs, and then there's a dance team competition, which we don't have."
The lack of competition, however, does not decrease the athleticism and dedication cheerleaders possess.
Advocates for classifying cheerleading as a sport argue that cheerleading, with its packed schedule, dangerous stunts, and difficult skills should unquestionably be considered a sport.
On average, a varsity cheerleader at Jesuit will spend five and a half hours a week cheering between practices, games, and tumbling sessions.
The season is split into two sections: football in the fall and basketball in the winter. In the spring Jesuit also has a competition team which participates in Game Day cheerleading.
"Game Day has much more crowd involvement," said varsity cheerleader, junior Courtney Jones. "It's a mix of everything you would do on the sidelines put into a performance. It's about sharp movements instead of a flowing dance." 
Junior Ava O'Rourke has been a cheerleader since her freshman year at Jesuit and is among the numerous proponents of labeling cheer as a sport.
"We work very hard to build muscles that aren't used in our daily lives to perform difficult stunts and tumbling skills that can take years to practice and learn," said O'Rourke.
Jesuit recognizes its cheerleaders' skills, acknowledging that even though the government may not consider it a sport, the students who participate are athletes nonetheless.
"We are making a distinction without a difference," athletics director Mr. Hughes said. "There's so much we do where there's overlap, and I am constantly talking to Tori Cotton, the head coach, getting the cheerleaders involved in almost everything we do. It blurs the line. There really isn't a difference.
Emphasizing said distinction without a difference are the athletic awards and varsity letters available to cheerleaders. Just like other athletes, students on varsity cheer are eligible to receive a varsity letter. Similarly, cheer is often featured at the end of season spirit assemblies to perform and receive athletic awards.
Further highlighting cheer in Jesuit athletics, cheerleaders are pictured throughout the school,  on the website, and on social media. 
Images of Jesuit's cheer team will be featured on the wall outside the main school office along with eight other sports photos currently being redone. The cheer team is also pictured in the athletics slideshow on Jesuit's website.
In everything but in name, Jesuit accepts cheerleading as a sport in recognition of the athletes' dedication, hard work, and impressive athleticism.
But this is not universal.
It falls upon the OSAA and the U.S. government to recognize cheerleading as a sport regardless of its "lack" of competition.
About the Contributor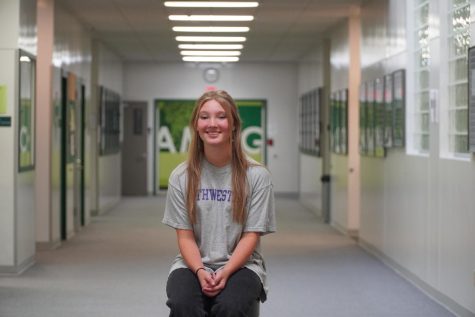 Kelsey Jones, Editor in Chief
A senior at Jesuit High School, Kelsey Jones is a writer and editor for
The Jesuit Chronicle
. She
is excited to pursue her love for writing and news through her involvement in media studies this
year. Although this is her second year participating in Jesuit's media program, Kelsey first
discovered her passion for journalism working as a writer and editor for her middle school's
newspaper,
The Panther Press
. Since then, she has
continued to cultivate her love for writing
through Jesuit's English program as well as writing for fun in her free time. Her writing focuses
on current events and issues, social justice, education, sports, and the arts. Outside of the
classroom, Kelsey is an enthusiastic sports fan as well as an avid reader. She enjoys playing
lacrosse, watching movies, and spending time with her friends, family, and dog.