Saint Peter's Cinderella Run to the Elite Eight
March Madness was certainly madness this year. For the first time a 15 seed made it to the Elite Eight. 
This 15 seed was the Saint Peter's Peacocks based out of Jersey City, New Jersey. Saint Peter's is a private Jesuit school. It was founded in 1872 by the Society of Jesus. 
Many Jersey City residents say it looks like a bigger private school more than a college. 
With only 3,009 students enrolled, they still made history with their men's basketball team this year. 
Coached by Shaheen Holloway and led by Doug Edert and Daryl Banks III, they started off their run by beating the 2 seed giants, University of Kentucky. 
It was a battle between the two teams throughout the game. Kentucky, with their naturally athletic starters, kept the game close. But Saint Peter's methodical passing and scrappy defense forced the game to overtime. 
The game finished 85-79, spurred by Doug Edert who fought for a clutch rebound to seal off the game.
Only nine other 15 seeds have beaten a 2 seed. It was history being made. 
With a bigger program and a revenue of approximately $20,000,000 dollars more than Saint Peter's, Kentucky still lost. 
Two days later Saint Peter's went up against 7 seed Murray State for the second round. 
With a mix of hard work and belief, Saint Peter's beat Murray State 70-60. 
With one minute left during the game, Saint Peter's great defense was matched by a long two point shot to make it a ten point lead. 
Only two other 15 seeds have made it to the Sweet Sixteen: Florida Gulf Coast and Oral Roberts. 
Fans thought Saint Peter's run was over when they were matched up against 3 seed Purdue. 
This year, Purdue was known for their great defense led by their 7'4 center, Zach Edey. Saint Peter's, with no great size, had a disadvantage. 
The game started off hot with Purdue's Jadan Ivey and Sasha Stefanovic making tough shots from three point range. 
Saint Peter's Daryl Banks III was there to match them. 
Zach Edey started to take over the game but Doug Edert was hot off the bench. His vision to find his teammates in the paint and good midrange shots helped them stay close with the talented 3 seed. 
The game was chaotic and fast paced at the end. Jadan Ivey made a long 3 pointer to make it a one point game: 65-64. 
Then, as Saint Peter's threw the ball in, Doug Edert was fouled with 4.1 seconds left. 
Edert made both of his free throws and made it 67-64. 
With 4.1 seconds left, Jadan Ivey ran up the court with the ball. With a last hopeful 3 pointer, Ivey missed. 
At that moment, Saint Peter's became the first 15 seed to make the Elite Eight in the history of March Madness.
For their Elite Eight game, Saint Peter's went up against the underrated 8 seed, UNC. The historic basketball team has had an amazing run too. 
Led by Brady Manek, Armando Bacot and Caleb Love, UNC beat number 1 seed Baylor and 4 seed UCLA to play Saint Peter's. 
Unfortunately, Saint Peter's Cinderella run came to an end. 
UNC came out hot to start the game and Saint Peter's never could catch up. 
The dream was over for the Peacocks after losing 69-49. 
As disappointing as the loss is, everyone around the U.S. watching March Madness loved Saint Peter's. 
Shaheen Holloway's team caught the hearts of fans and brought pride and excitement to their school. 
Saint Peter's has a great future as a basketball program and this tournament changed the lives for the coaching staff and players forever. 
The Saint Peter's Peacocks will always be known for the greatest Cinderella Run in March Madness history. 
About the Contributor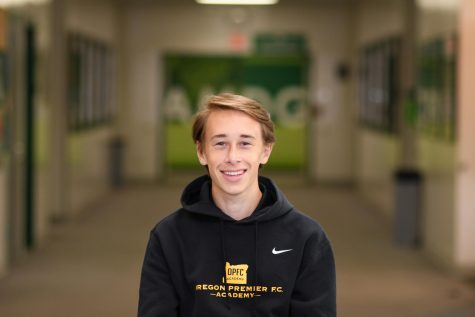 Henry Hess, Staff Writer
Hello my name is Henry Hess. I am a senior at Jesuit High School. I was born in Boston, Massachusetts and have lived in Portland for 15 years now. I have played soccer since I was 2 years old and the sport is still my passion today. I play on the varsity team here at Jesuit and play for a club team called Oregon Premier Football Club. In my free time, I like to make and watch films, ski and travel with my family. I am an intern for my dad's company, Jumpturn Consulting. I live with my dad, John, my mom, Jennifer, my sister, Adelaide, and my black lab, Gordie. My sister is a freshman at Northwest Academy. I am taking Journalism this year to improve my writing skills and write and research about current events and sports.