New changes to vice principal structure
New changes to vice principal structure
Jesuit has implemented a new system for Vice Principals this year to offer better opportunities for students to access the Vice Principals. Mr. Powers, the former Director of Christian Service for the past 14 years, has transitioned to being one of three Vice Principals of Academics and Student Life alongside Mr. Maxie and Mrs. Hagelgans. 
Each Vice Principal is now responsible for one-third of the student body at Jesuit and acts as a "go-to" Vice Principal for students and staff for various purposes. 
In addition, students are now assigned to one of the three Vice Principals according to the alphabetized organization of students' last names. Mrs. Hagelgans oversees students with last names A-G; Mr. Maxie manages students with last names H-N; Mr. Powers supervises students with last names O-Z. 
While students might not immediately notice the impact of the change, the goal is to offer a more individual connection between the Vice Principals and student body by implementing this new structure. 
However, this new format doesn't merely add another Vice Principal; instead, it was restructured to allow students to become more familiar with their Vice Principal and to give students easier access to them when necessary. Thus, the
student-to-Vice Principal ratio significantly shrank with the split roles. 
"Now we have three Vice Principals who are [each] focusing on 425 students for their academic and student life," Mr. Powers said. "I'm getting to know kids in my alphabet in a way that, if I had every kid, I might not be able to do that." 
Many students also see this update as a benefit to the student body. Senior Jack Casey similarly agrees with the positives of breaking down the large number of students into three individual Vice Principal assignments. 
"It's good to be able to have fewer students per Vice Principal," Casey said. "You get the chance to form more of a connection with [the administrators]." The breakdown of focuses and roles for the Vice Principals also allows for specific attention to different aspects of Jesuit. Senior Cameron Lyke, a current student of Mr. Powers, notices the benefits in this type of system. 
"I think it was a good move. It lessens the stress maybe on the other [Vice Principals] to manage students," Lyke said. 
Mr. Powers has adapted to his role change, too. 
"I'm getting to see all the different parts of the school that – maybe in my former role – I knew what was going on, but now I'm hopefully being someone who can help make things work better and more efficiently," Mr. Powers said.  
About the Writer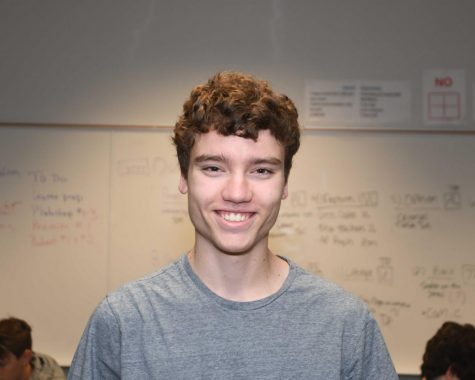 Michael Lang, Alumni 2019-2020
Michael Lang is going into his senior year at Jesuit High School. Born in Portland, Oregon, Michael has two older siblings at the University of Portland and a younger brother who also attends Jesuit as a Junior. In his free time, Michael loves to play CYO basketball with his friends in the winter and to also hang out with his friends whenever possible on the weekends. Aside from friends, he enjoys spending time with his family during family reunions or on vacations in the summer, this year including trips to Las Vegas and the beach at Manzanita. He also has fun golfing with his dad and brother, too. In addition, Michael will be a Jesuit Ambassador for the second year and loves to welcome prospective students to the school through shadow visits and Open Houses. He looks forward to college in the coming years. Currently, this is Michael's first year as a journalist for Jesuit High School and he looks forward to getting to know many more members of the community through future writing and interviews with students and staff. He hopes to be able to effectively display the academic, athletic, and social excitements and struggles of the students of Jesuit through writing in the school newspaper.