Student Art Show Displays Culmination of Artists' Efforts
On Tuesday, May 2nd, Jesuit's annual Art Show featured artworks from students in Art III and IV classes. The artworks came in a variety of mediums, including drawing, paintings, watercolors, sculptures, printmaking, and mixed media.
Art teacher and art show coordinator Ms. Sascha Manning explained the purpose behind the annual show.
"The Senior Art Show was created to celebrate the commitment of the seniors through the Visual Arts program by showcasing their accomplishments in a retrospective-type exhibit," Manning said. "This type of show demonstrates each artist's unique creative development during their time at Jesuit."
The show began in 2015, and is an opportunity for the Jesuit community to view and purchase student artists' work. Half of the funds raised go to the artist, and the other half are donated to the Children's Cancer Association (CCA).
Many students who participate in the art show, like seniors Naya Wrenn and Adam Burdon, have been in the art program for all four years at Jesuit. The show served as an opportunity to culminate their hard work.
"It was awesome to be able to showcase some of my work throughout the years, and for my friends and family to get a glimpse into what the art program at Jesuit is like," Wrenn said.
"It feels crazy to be in my last month of the art program," Burdon said. "I'm planning on taking some more art classes in college, but I will really miss my time in Jesuit's program."
While the show was primarily a chance for seniors to demonstrate the skills and talents they've developed over the years, the artworks were also helpful to incorporate into their portfolios for college and art school applications.
"My favorite piece is my three-series artwork called 'Kaleidoscope.' I had a couple more pieces to submit for a college portfolio, and I saw this idea online so I spinned it a little and created abstract shapes with cocktail umbrellas," said senior art student Srishti Prabakar. She will be continuing her art education by studying graphic communication with a concentration in user experience and user interface design at California Polytechnic State University.
Not only did students have to create the artworks to be put on display, but they also created the display themselves.
"We were given a space for the show, and we had to come up with how we would display our artwork while thinking about how we wanted people to perceive our artwork," Prabakar said.
The displays and concepts surrounding the students' artworks reflect the important aspects of their lives.
"I started art in elementary school, around 1st grade because my neighbor was an art teacher. I've been doing art ever since, whether it's taking art classes or doing art on my own. A lot of my favorite pieces are relaxed, watercolor pieces, and I usually like painting my parents, my brother, and my dog," said senior Amy Kang. Next year, she will be majoring in computer science at Purdue University while minoring in art and doing art in her free time.
Among the senior art students were some juniors, such as Sage Bonta, who also got the chance to display their pieces.
"A lot of my art is focusing on making pretty things because as an artist, social media has impacted me and made me feel like I have to produce pretty things. But my resolution for this year was to make art with personal meanings," Bonta said.
Therefore, Bonta displayed a piece that serves as a metaphor for her emotional pain and physical work in contortionism.
"This artwork is about my sensitivity and the feeling that 'they didn't mean it like that but it still hurts me,'" Bonta said. "The cracks represent the fragility that I feel and [the] dandelion, which is a weed so it is a harmful thing but it is still pretty, is like a double-edged sword. The second meaning of this artwork is that, as a contortionist, I have back pain, but as a performer, I have to keep going. So it's kind of the same thing as the dandelion, like it's creating this beautiful performance but it is still damaging my body."
Overall, the art show was an opportunity for the Jesuit community to appreciate the visual and imaginative qualities of Jesuit' student artists.
Ms. Manning reflected on the dedication of all her students as their Jesuit career comes to an end.
"I'm most proud that this year's artists persevered through four years of Visual Art, including a year of online art instruction, and delved deep to personally express themselves during challenging global times. They have a lot to say, and it is shown in the quality of their work," Manning said.
About the Contributors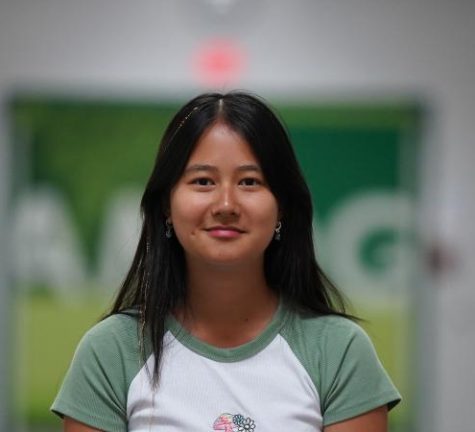 Lan Nguyen, Staff Writer
Lan Nguyen is a senior at Jesuit High School. She is the 2022-2023 yearbook Co-Editor-in-Chief and has a passion for graphic design. Lan has had an interest in journalism ever since her first journalism assignment in middle school where she investigated the school district's increasing budget cuts. Over the summer, Lan took a course on Advanced Media Methods at the School of the New York Times and attended the 2022 Northwest Yearbook Workshop at the University of Puget Sound. Lan is interested in covering local and global current events and student features, and she hopes to leave a strong impression on the community through the Jesuit media program and yearbook for her senior year. Outside of class, Lan is on the Varsity cheerleading team and works as a lifeguard and swim instructor. In addition to design and journalism, Lan enjoys reading and swimming.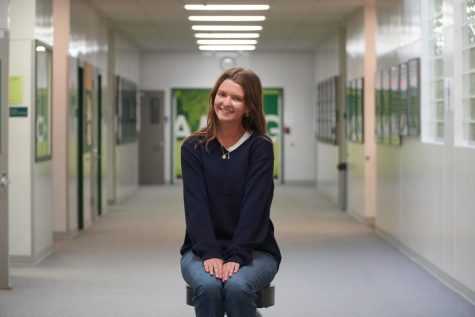 Lauren Herrick, Editor in Chief
Senior Lauren Herrick is a returning student from Journalism and a member of the editorial
board this year. Lauren enjoys producing feature and opinion pieces, collaborating with the team
to lead the development of the online and print paper, and enhancing her passion for the craft of
journalism through incorporating technology such as podcasts— check out the Sader Scoop, 
which she co-founded and edits. When she's not writing, you can find her reading the
Wall
Street Journal
or listening to NYT's The Daily. Outside
of journalism, Lauren enjoys practicing
yoga, part-time baristing at a local cafe, spending time exploring Oregon with her friends, and
listening to a lot of country music. She's excited to help lead the Jesuit media program and
explore topics more in depth during her second year of the program.