NCAA changes impact future spring athletes
On March 30, NCAA announced an extended year of eligibility for all senior spring athletes due to the cancellation of their 2020 seasons. While this change allows collegiate seniors to properly finish their college careers, it comes with a great impact, especially on the incoming freshmen recruits. 
"I think if I was in a current player's position I would want another year to play lacrosse, so I understand," senior Ella Smith said. "However that really affects incoming freshmen because now there will be a lot more players than anticipated."
Smith, an All-American Vanderbilt University lacrosse commit, was highly sought after by many universities. One of the factors when choosing where to continue her career was roster size and potential playing time. 
"I'm really worried about playing time," Smith said. "I denied some schools because of how big their teams were, so now being part of a team that big is disappointing,"  
Many freshmen recruits also often make their final decisions with the graduation of other players in mind. 
Senior Patrick Duffy, also named an All American and Syracuse University commit for lacrosse, initially saw this change as a positive before his worry set in.
"My first thought when I saw spring athletes were getting another year of eligibility back was 'oh that's good they deserve that,'" Duffy said. "Right after I said that to myself I remembered that the starting goalie for Syracuse this year was a senior. So that is tough because he's coming back next year, and when I originally committed to Syracuse I planned on him being gone." 
With this new change, NCAA has allowed schools to increase roster sizes beyond scholarship limits to account for this unforeseen alteration, and next years' teams are sure to be substantially larger than normal. The organization has also expanded the 35 player limit of baseball rosters, the only sport that imposes a regulated size.
"As guys return, the roster will be bigger than expected so maybe the coaches will have to cut some guys or maybe the coaches will look at kids and say they want them to red shirt and sit out next year," Duffy said. "I really hope I don't have to have that conversation with my coaches."
The NCAA has decided to leave it up to the school how they will deal with the financial aid for returning fifth years, and has stated that this flexibility only applies to athletes who would have exhausted their eligibility after the 2020 season (espn.com). 
Scholarships are often not guaranteed full-rides for student athletes. With families still having to pay part of the tuition, a fifth year that might not be fully covered by the university, making the financial aspect even trickier and the desire to red shirt as a freshman less likely. 
The extended eligibility applies to all spring sports including: baseball, softball, men's and women's tennis, men's and women's golf, men's and women's track and field, men's and women's lacrosse, rowing, men's volleyball, beach volleyball and women's water polo. The extension  also aligns with rules regulating four seasons of play, essentially mimicking the ability to red shirt. Despite the NCAA announcement, the Ivy League has decided not to extend senior eligibility. 
Not only does this change impact playing time and financial resources, but may also change the team dynamic. 
While these impacts could potentially cause friction amongst teammates, Duffy believes that the drive and competitiveness of collegiate athletics will certainly still be present. 
"As for the team dynamic, I still think there will be that intensity and commitment to getting better and being the best team we can be," Duffy said.
For some freshmen entering a large and already close team may cause worry. 
"I think that it will be hard going into a team who has had a lot of time together because we are new and will have to try to manage joining a huge team," Smith said.
Though entering a new and already close team might lead to stress, bringing back the intensity of older seniors might raise teams' levels of cohesiveness and increase leadership. 
"I feel like the NCAA's decision to allow players another year of eligibility will help boost the team morale, given that seniors stay," senior Mick Abel said. "I am extremely excited to get on campus this fall!"
As the uncertainty surrounding this virus continues, fall sports are also under review. Despite a lack of solid information, the virus is predicted to possibly spike again in the fall and ESPN's Kirk Herbstreit said he would be "shocked" to see a college football season in 2020 (sportingnews.com).
About the Contributor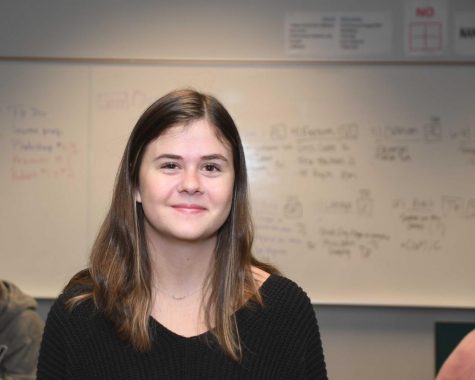 Virginia Larner, Alumni 2017-2020
Virginia Larner is a senior at Jesuit. She has been on the journalism staff for the last three years, and the editorial board for the last two. Each year she looks forward to the class and having new opportunities to explore journalism further as well as working collaboratively with other journalists in crafting the newspaper. Last year, as the Online and Social Media Content Editor, she assisted in the operation of the Jesuit news Instagram account and website. In her free time she enjoys spending time with friends and family, working out, and playing with her two dogs. She has been a member of the women's tennis team all four of her years at Jesuit, and participates with Jesuit's Green Team. Virginia enjoys writing about current events including sometimes controversial topics and how they impact the Jesuit community. She loves the creative aspects of journalism such as creating and editing pages, as well as coming up with interesting story ideas. Through the journalism class, Virginia has interacted with many intriguing people on campus, and explored various stories and aspects of Jesuit. One of her favorite parts of journalism is conducting interviews and gaining insight into various perspectives on her stories.