How has COVID-19 Affected the Admissions Process at Jesuit?
Similarly to how college admissions is changing their admissions process and learning to navigate disruptions due to COVID-19, Jesuit High School had to get creative with the admissions process for the class of 2025.
Admissions director Erin DeKlotz has been working in admissions for 12 years, and previously taught in the classroom at Jesuit for 17 years. 
"I love people. And I love Jesuit education. And I love Jesuit high school. So, if you put those three things together! I also love the variety of my job", DeKlotz said.
DeKlotz was crucial in making sure that the class of 2025 got the most out of their admissions experience despite the limitations of COVID-19 ever-changing health guidelines.
One thing Jesuit had to adjust last year was the format of Open House. Open House is a long-standing admissions event where prospective families have a chance to tour campus, attend panels, and connect with student Ambassadors.
"Last year, much of our admissions programming happened over Zoom. Our open house was 100% virtual, so in order for families to tour campus, they had to do so over Zoom watching a slide deck of photos, and then we had ambassadors narrating the tour over Zoom. To meet teachers and to talk about different programs, they would have to drop into a zoom room to talk to a teacher and ask their questions that way," DeKlotz said.
In addition to Open House, new events were introduced to make up for the loss of the shadow visits. 
"We didn't have shadow visits last year because you all weren't in school, it would be really boring to shadow Zoom visits. We ended up doing the zoom in Jesuit series, and then we had different, fun informative themes," DeKlotz said.
Although these solutions and events were as successful as they were creative, the administration is currently looking forward to the opportunities to reintroduce a more normal Open House and shadow visits this year.
Shadow visits start Friday, October 1. Prospective students will have the opportunity to fully explore and see all that Jesuit has to offer with the only restriction requiring visitors to either be vaccinated or obtain a negative COVID test within 48 hours of their visit.
The Open House this year will take on a hybrid format, offering in-person tours given by ambassadors. The normal panels and gatherings in the theater will be given via Zoom this year, and the on-campus visits will be spaced out to limit the amount of people on campus at a time.
Another big part of the Jesuit admissions process just concluded: the Catholic school visits. DeKlotz, along with Jesuit student ambassadors, visited 27 Catholic grade schools in the Portland Metro area the past few weeks.
"The purpose of the Catholic school visits is to get students who maybe wouldn't have thought about Jesuit open their minds to us," DeKlotz said. "The goal is to try to break down some of those barriers and let them know that we have a bunch of different people at Jesuit, and that we love having you come visit us. We want to get them to get to the next step- schedule shadow days, come to the open house".
DeKlotz has some insightful advice for students applying to Jesuit this year, and beyond.
"I think it makes us a better school when we have students with a variety of faiths because it will allow everyone to get different perspectives in class. We also look for students that are open to trying new things and getting involved in their community. Those are the kind of students that make our school a better place, make us more interesting and fun, and build our programs up. I think that getting an acceptance letter is not necessarily a measurement of your personal worth. It's more about how well you fit with the school".
About the Contributor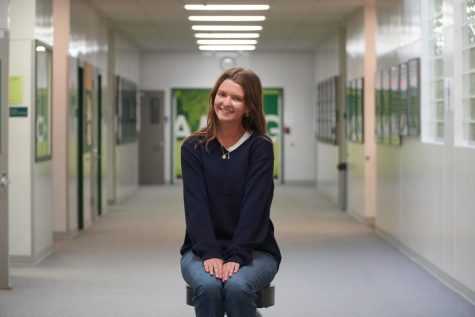 Lauren Herrick, Editor in Chief
Senior Lauren Herrick is a returning student from Journalism and a member of the editorial
board this year. Lauren enjoys producing feature and opinion pieces, collaborating with the team
to lead the development of the online and print paper, and enhancing her passion for the craft of
journalism through incorporating technology such as podcasts— check out the Sader Scoop,
which she co-founded and edits. When she's not writing, you can find her reading the
Wall
Street Journal
or listening to NYT's The Daily. Outside
of journalism, Lauren enjoys practicing
yoga, part-time baristing at a local cafe, spending time exploring Oregon with her friends, and
listening to a lot of country music. She's excited to help lead the Jesuit media program and
explore topics more in depth during her second year of the program.