The Best Seat in the House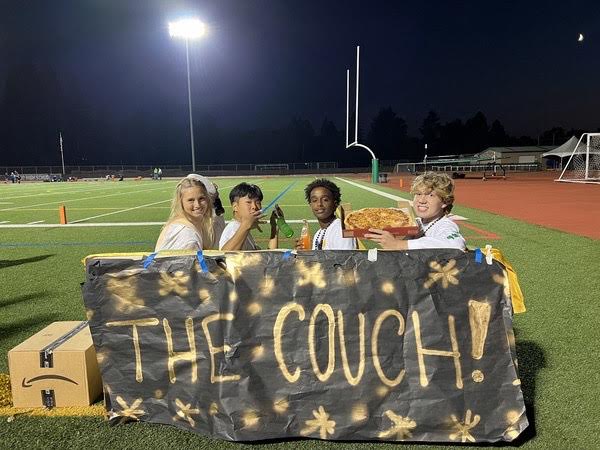 Friday Night Lights just got better. On September 29th, Student Government introduced a new addition to Jesuit sporting events: The Couch.
The Couch will sit along the sidelines and three students, by entering a free raffle, will have the opportunity to enjoy the game on a comfortably decorated seat with free food and drinks.
Ms. Blumhardt, Activities Director, speaks on this new addition and how it came to fruition.
"The Couch was an idea sparked at a [Student Government] retreat as a way to get folks to come to sporting events," said Ms. Blumhardt. "Our goal is how we can get Jesuit students to attend all events."
The reassurance and excitement of the faculty—as well as former Jesuit teacher Ms. Gray's donation of the couch—helped make it a reality.
"We have the great support of Mr. Hughes in athletics to really give it life and try to gain traction with it and use it as a piece where people say 'Oh, The Couch is going to be there, let's go,'" said Ms. Blumhardt.
With The Couch's debut at the Homecoming Football Game being a success, Student Government hopes that it can make an appearance at not just sporting events but at theater events, Coffee House, DEI Potlucks, and much more.
Senior Charlie Riddle, one of first winners of The Couch, shared his experience.
"I loved how they gave us free pizza and soda," said Charlie. "It was cool because the game was right in front of you and it was fun to be with my friends on the field."
With this new centerpiece, Student Government hopes to begin a new Jesuit tradition centered around school spirit and community.
"It's a new thing that the Jesuit community can get excited about and it brings us together as we cheer on our fellow Saders," senior student government member Catie Dice said.
About the Contributor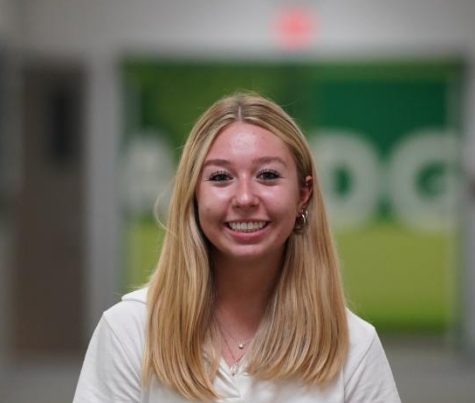 Holland Boecker, Marketing Director
Holland Boecker is a Senior at Jesuit High School. She was involved in the Photography program her Junior year and is continuing her love for photography and design in the new Advanced Media Production program. As the social media manager of the Jesuit Women's Lacrosse and Baseball team, she hopes to write about the athletes, coaches and school spirit. In addition to sports coverage, Holland is a member of Green Team and is interested in writing articles that teach the students and faculty how to be more environmentally conscious. Beyond J-High Holland enjoys baking, listening to true crime podcasts, skiing and exploring different coffee shops around Portland. She's a big Salt and Straw connoisseur and loves trying the newest flavors with her friends (she recommends Salted, Malted, Chocolate Chip Cookie Dough and Birthday Cake with Blackberries). Holland's comfort movies are 10 Things I Hate About You and Harry Potter and the Prisoner of Azkaban. Her younger brother, August, is a freshman at Jesuit and has two cats, Thomas and Beatrix, and a dog named George. Holland looks forward to strengthening her writing and storytelling skills while working for the Jesuit Chronicle and hopes her stories spark conversations in the community.