COVID-19 changes the course for college admission
COVID-19 changes the course for college admission 
Dozens of colleges and universities are altering their admission process amidst the coronavirus.
Major changes include the onset of test optional admission, adjustments in confirmation deadlines, enhancement of virtual access to campus tours, information presentations, and video/text chat with admission representatives.
These changes were made after  the government's stay-at-home policy due to  COVID-19.
These new alterations to college admission will most likely affect upperclassmen. For seniors, it will affect their final decision on where to attend college.
"I anticipate the change in confirmation deadlines (June 1 rather than May 1 for example) are likely to only impact the class of '20," college counselor Mr. Johnson said. "Broadly, campus visits are cancelled, and some college orientationevents have gone virtual.  I believe that COVID-19 may prompt students and families to rethink their final college decision, perhaps desiring to be closer to home, anticipating changes in what college will look like in fall 2020."
Senior Hannah Stream is going to Colorado University at Boulder. She was one of the few lucky people to already visit her college and make a decision.
"I was lucky I went early enough that I still got my in-person visit, but most schools have been sending constant emails that they can only do virtual campus tours and from what I've heard, it's just not the same," Stream said. "This is when people were going to go on college visits to have that reassurance that they were making the right choice for the next four years, and not being able to walk around and talk to people face to face makes it that more difficult to make an already major decision."
As seniors figure out what college and finalize their decisions, juniors deal with early admission issues due to the coronavirus.
"[Juniors are dealing with] test optional planning, no campus visits, reduction in summer experience (work, service, internship, etc.) opportunities," Mr. Johnson said. "The most impactful is the onset of test optional admission."
Going test optional due to COVID-19 has been notable as the biggest change in college admission. Many well-known colleges have made the change, including but not limited to: University of Oregon, Oregon State University, All UC schools, Portland State University, TCU, Tulane, and many more.
"The onset of test optional could be more long lasting," Mr. Johnson said. "Some colleges are just going test optional for one year and then reevaluating, others are going test optional for three years and then reevaluating, and others are going test optional after significant deliberation, well before the COVID-19 outbreak.  While the motivation to go test optional varies – lack of testing opportunities primarily – many colleges are going test optional for the long term because they believe that standardized testing is not the best predictor of success in college. There are also many equity issues surrounding standardized testing such as test prep, socioeconomic factors, etc."
With many colleges already going test optional and predictably more on the way, a new attitude on going test optional begs the question: Is it even worth it to take the SAT/ ACT?
"Due to the fact that not all colleges will be going test optional, and that the test optional status may be temporary in some cases, I would generally suggest that students should take the SAT and/or ACT in the case that it is required by their prospective colleges," Mr. Johnson said. "It is a good idea for students to talk with their college advisor regarding test selection, and test optional decisions."
Many juniors feel the pressure of having to study and take the SAT/ACT as dates get rescheduled and are for colleges becoming test optional.
"I feel like I am at a disadvantage taking the SAT/ACT right now because if I take it in the summer that means that I would have not been in school for three months," junior Hunter Redding said. "There is already so much going on and I'm also having to navigate online school, so my focus for the SAT/ACT is not as strong as it was."
As upperclassmen experience different struggles with college due to the coronavirus. Mr. Johnson provides advice for college and what people can still do at home.
"Utilize the many virtual tour and presentation options that have been developed by college admission offices," Mr. Johnson said. "Juniors and seniors are encouraged to review the Canvas college planning courses – which include a Module titled "College Planning Info in Response to Coronavirus (COVID-19). There is also a page focusing on "How to "Visit" a College During Campus Closure."  The Visit page includes some great suggestions on how to learn more about a college…at a distance."
About the Contributor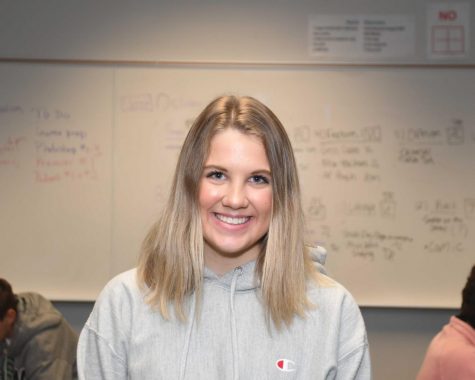 Annie Landgraf, Alumni 2019-2020
Annie Landgraf is a managing editor for journalism. She was born in Lake Oswego, Oregon and went to Lake Oswego schools her whole life before entering Jesuit. She is the youngest out of 3 older siblings who have all graduated from Jesuit. She is a junior and has been apart of the journalism class for a year. Annie's passion for journalism started at a very young age when her older sister was an editor for journalism at Jesuit. She also had another sister who was apart of journalism. Going into high school, Annie wanted to always join journalism and be apart of the newspaper. Annie as a freshman was on the cross country team and as a sophomore she was part of green team and was a jv ambassador. This year as a junior, she is an ambassador and involved in campus ministry. Last year in journalism, Annie would write mostly news, sports, or arts articles. Her favorite part about journalism is being able to get to know the faculty and staff at Jesuit through her interviews for articles. She hopes as an editor she can be a leader in the class and someone that people can go to for help whenever they need it in class.