"Hybrid Council" Improves Relations, Educates Students
"We have so much more in common than divides us."
"Hybrid Council" Improves Relations, Educates Students
Written by Steele Clevenger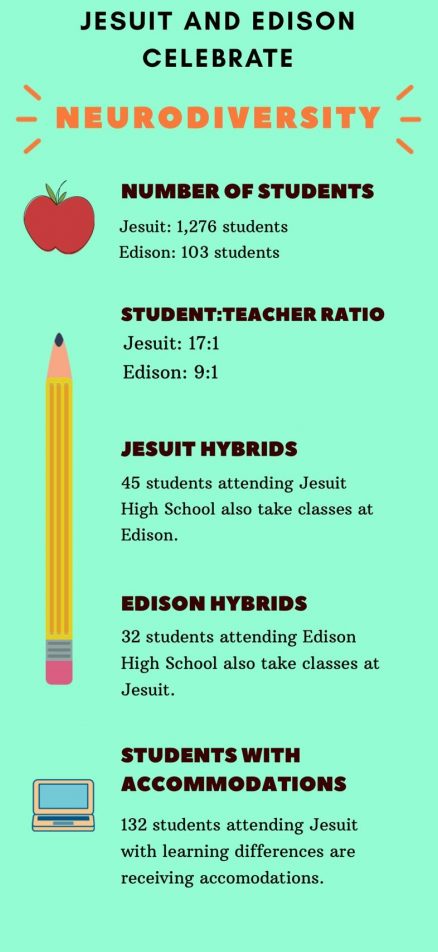 The relationship between Jesuit and Edison High Schools recently blossomed due to the creation of a "Hybrid Council," where students attending both schools, referred to as "hybrids,"will meet regularly to discuss their experience and how it can be improved.
Already, juniors Jordan Pope, Julia Braun, Hugh Gilroy, and seniors Kyndall Kirkland, Heidi Heitkemper, Jaxen Wigger, and Kyle Kneefel have participated in council activities. Their goals: improving the Jesuit/Edison relationship and educating students about learning differences.
"I feel like a lot of kids that only go to Jesuit don't really know what Edison actually is," junior Jordan Pope said. "[The goal is] to bridge the two schools together."
Director of Learning Support Colleen O'Mahony is one of the adults advising the "Hybrid Council," although she emphasizes that the council is based on student needs and ideas.
"Jordan Pope originally came to me and said, 'I wish that there were ambassadors for both schools,'" O'Mahony recalls. "That was something we had informally done in the past, but not on a large scale and not offering [it] to the general community."
Edison High School English Teacher Mary Kate Fellows Russell is also an advisor for the Hybrid Council, and she agrees that it is very student driven.
"The goals come from the students. I think kids like Jordan and Jaxen and Heidi and Julia have a lot of great ideas," says Fellows Russell. "I think the adults' role in organizations is to support [the students'] visions and then execute them."
Although meetings have not yet begun, the Hybrid Council has already brainstormed ideas for how to improve the experience for hybrid students.
"One thing that we're trying to do is [start] a hybrid student shadow day," says Pope. "When I was shadowing, I just shadowed at Jesuit because I didn't know that I could shadow someone that was a hybrid student."
Another idea that has already become a reality is "Hybrid Freshmen Orientation Day." Hybrid students like Pope served as an ambassador for freshmen beginning Jesuit and Edison that day.
"Julia Braun, Hugh Gilroy, Kyle Kneefel and Jaxen Wigger put on a student panel for our new hybrid students, and they led tours, and it was really successful. All the students universally said that was the best part of the orientation," O'Mahony said. "[The freshmen hybrids] felt really included and a lot of their fears were allayed."
O'Mahony says that for incoming freshmen, having a hybrid student to talk to about their experience is imperative to making sure students are comfortable at their new schools.
"Starting two schools on the same day is not easy," she said. "Anything we can do to make that easier is the essence of being people for others."
Wigger says that his experience with both schools has been great, but for some of his friends who take classes at Edison, their experiences have not been as enjoyable.
"Some kids don't enjoy the Edison experience as much as I have," says Wigger. "I [joined the "Hybrid Council"] because I really wanted to help other kids who were like me and did not know where to go to get to Satellite, which is the classrooms right by the Starbucks or were worried about their schedules."
O'Mahony says another council goal is to create an understanding between the two schools in order to strengthen their relationship. "The other goal is to continue to make sure that both communities understand the other community—that we're able to understand that students at Edison are not stupid, and students at Jesuit are not stuck up," she said.
"We have so much more in common than divides us." "We want to keep improving the user experience of both schools so we have more of a unified voice."
About the Contributor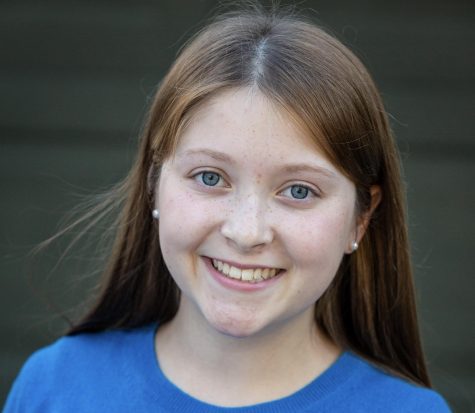 Steele Clevenger, Editor-in-Chief and Creative Director
Sarcastic. Artistic. Enthusiastic. These are three words Steele Clevenger would use to describe herself. A senior at Jesuit High School and a veteran journalism student, Steele loves to write about people and topical issues facing our local and global communities, draw comics, and educate through news. From a young age,
Steele has been interested in journalism, spending many an hour listening to her mom type articles for the OHSU "
Cementum
" on her com
puter, and being dragged to interviews with dental students.
When she was in eighth grade, Steele attended a once-weekly journalism class, running around the school on Friday afternoons to interview teachers and students. Using her experience in journalism and her passion for communication, Steele hopes to be a voice of positivity and curi
osity for Jesuit students during such unprecedented and uncertain times. In addition to writing, Steele enjoys badminton, knitting, cooking, and creating art. Visit her website at www.steelescomics.wordpress.com.