Jesuit expands options to increase lunch seating
As Jesuit High School completes its 5th week of in-person instruction of the 2021-2022 school year, the campus is experiencing the highest amount of students sitting down for lunch every day since the onset of the COVID-19 pandemic in March 2020. 
Due to the implementation of COVID-19 safety measures, namely social distancing, the dynamic of lunch seating for this school year has drastically changed. Fewer people can fit into the Hollman Family Student Union, which includes the Gedrose Center, than would normally be feasible under non-pandemic circumstances. Tables in Gedrose are capped at 6 people, and booths are limited to 4. 
To counteract the issue of insufficient seating within indoor facilities, Jesuit has opened various covered outdoor spaces for students to utilize. Hayes Plaza and the tennis courts are two popular examples of such locations. However, as the weather becomes colder and wetter, other outdoor spaces will become unusable, such as the picnic tables and Mary's Way. 
Currently, many students elect to eat lunch outside and move indoors once they finish. Academic Vice-Principal, Mr. Scott Powers, spoke with the Jesuit Chronicle about making these areas available for people to use, and the challenges that come with it. 
"Well, obviously where we're standing right now, the picnic tables are not going to be an option. They are a popular place to eat when it's not raining," Powers said. "I think that students who are choosing to eat outside may move to inside spaces. Like you saw in the email that I sent yesterday, students like to eat outside and then move to indoor spaces after they are done eating." 
The administration aims to discourage students from shifting around during lunch. To promote this policy, the Jesuit is now allowing the use of iPads inside the Gedrose Center in both lunches. 
"We're really trying to encourage students who are eating in the Commons and the Gedrose center to stay there rather than going to the library or some other place after they are done eating," Powers added. 
Some students have grown frustrated with the lack of space in specific areas, while others feel there is enough room for everyone. 
"I eat lunch in Hayes Plaza under the tents," sophomore Ella Bozich said. "I sit in Hayes because we can never get a table in the cafeteria." 
Senior Ethan McBride generally eats lunch in either Gedrose or the tennis courts. 
"I think it seems a little bit crowded yet somehow underutilized," McBride said. "But I think as times change and as we can fit higher capacities of people at these different tables, the size will prove to be just right." 
Under the ever-changing jurisdiction of COVID-19 rules and restrictions, Jesuit's lunch situation remains fluid and could continue to change as the year progresses. 
About the Contributor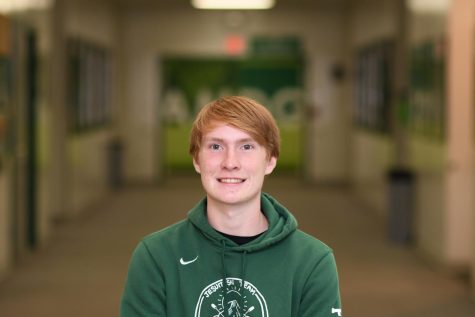 Mac Flanagan, Editor & Social Media
Mac Flanagan is a senior at Jesuit High School. He is a first-year Journalism student and hopes to learn more about the field. Mac has enjoyed writing throughout his life and knew he wanted to pursue it further by the beginning of middle school. He is a second-year Broadcast Journalism student, and an active member of Jesuit's student-run sports broadcasting station, JCTV. After enjoying the Broadcast class, he decided he wanted to expand to Journalism as well. He participates in the Jesuit Ski Team and loves spending time on the slopes with friends. Outside of school, Mac enjoys outdoor activities such as skiing and backpacking. He has one dog named Maggie. He is a fan of the Portland Trailblazers and follows the NBA closely. He is also an amateur landscape photographer and enjoys shooting in scenic places around the Pacific Northwest. His favorite news sources are the Oregonian and Bleacher Report. Mac hopes to contribute writing about Jesuit athletics and outdoor recreation around Portland.