The Reorganization of Media Studies at Jesuit
Next fall at Jesuit High School there will be a reorganization of media studies. 
Media studies currently consists of the four classes: broadcast journalism, regular journalism, yearbook and photography. 
Starting next fall, there will be advanced and fundamental media studies classes as well as photography and yearbook.
Mr. Dan Falkner will be teaching the classes next year as he becomes the Media Studies Teacher and Coordinator. 
"My official title is Media Studies Teacher and Coordinator for next fall," Falkner said. 
The Fundamentals of Media Studies course will be a beginner course for incoming sophomores that are interested in media studies or upperclassmen that don't have experience with media in the past. 
"The beginner class will include students that don't have much background with media studies and they will begin with Adobe Software programs," Falkner added. 
JCTV and the journalism class will be reorganized too.
"JCTV will act as more of a club that will be supported by the class. Majority of the time the broadcasts will be done by students in the advanced class. The students in the fundamentals class can shadow the broadcasts and eventually be a part of them if they are interested," Falkner said. 
The Advanced Media Studies class will work as a workshop class.
Documentaries, news videos and advanced work with Adobe Premiere Pro will be the main aspects contributing to the course. 
There is an application process to get into the Advanced Class though. 
"If students are in broadcast journalism or journalism this year and forecast to be in it next year will be put in the advanced program. If you are new to the media studies area at Jesuit, but think you can be in the advanced class, you have to come to me and explain why you think you could fit into the [advanced] class. You have to have some sort of a background in it," Falkner said. 
Yearbook and photography will stay relatively the same for next school year.
"Yearbook will be called Yearbook Production and Design but photography will be the same. I will teach these classes too," Falkner added. 
Junior Clark Vowels is a member of JCTV and broadcast journalism and is excited for the reorganization of media studies. 
"I don't really know much about it but I know I'll definitely be forecasting for it as my elective next year," Vowels said. 
"I think it's great that there is more of an organized, college-like, feel to the media studies now. It gives kids in the class many more opportunities to do everything," Vowels added. 
Junior Gus Clevenger is a member of journalism and a writer for The Jesuit Chronicle and is interested in the advanced media studies class. 
"I'm definitely going to forecast for it," Clevenger said. "My understanding of it is that JCTV and journalism will be combined. I'm excited to see how the newspaper works and who will come in and help with that."
Broadcast Journalism and Journalism have become popular electives throughout the last two years and the reorganization of it gives students more opportunities and abilities to find an aspect of the class they want to explore further in the future. 
About the Contributor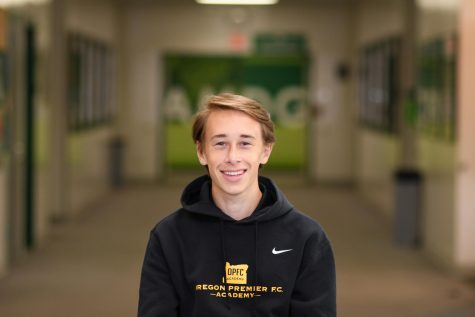 Henry Hess, Staff Writer
Hello my name is Henry Hess. I am a senior at Jesuit High School. I was born in Boston, Massachusetts and have lived in Portland for 15 years now. I have played soccer since I was 2 years old and the sport is still my passion today. I play on the varsity team here at Jesuit and play for a club team called Oregon Premier Football Club. In my free time, I like to make and watch films, ski and travel with my family. I am an intern for my dad's company, Jumpturn Consulting. I live with my dad, John, my mom, Jennifer, my sister, Adelaide, and my black lab, Gordie. My sister is a freshman at Northwest Academy. I am taking Journalism this year to improve my writing skills and write and research about current events and sports.