Sustainable is Trendy: A Guide to Sustainable Fashion
High school students are always on the lookout for the newest trends to stay on top of their fashion game and fit in with their peers. But buying a new wardrobe for every season isn't sustainable for the earth or the wallet. 
To ease that conflict, here are a couple helpful tips on how to reduce your waste when it comes to fashion. 
Senior and sustainable shopper Alex Reynaud introduces the first tip on how to be more sustainable: reduce your overall consumption.
"Not everyone has the financial opportunity to buy from sustainable brands, so I recommend lowering your overall consumption and looking for investments in long-lasting pieces and shopping second-hand in order to be a little more sustainable with your fashion choices," senior and sustainable shopper Alex Reynaud said. 
Annie Duan, a freshman who leads Jesuit's Fashion Club, adds to Reynaud's tip on reducing consumption by suggesting that students think about the lifetime of pieces when purchasing new clothing. 
"I think wearing clothes for longer is the best way to be sustainable," Duan said. "When I buy something new, I try to buy something that I can wear for the longest amount of time."
To find pieces that can reduce your consumption, it's important to look for pieces that are of high quality material, and won't go out of style within the next couple years. While it can be tempting to buy everything that is currently "on trend," fashion trends often last less than a year, and contribute to a lot of waste when the once trendy clothing is now out of style. 
When looking for high quality material, it's a good idea to check out sustainable brands, the next tip on how to be more sustainable. 
GoodOnYou is a great resource to check the sustainability of a brand. Good on You rates brands on their sustainability when it comes to the planet, people, and animals on scale out of five. They then compile the average of these scores for an overall rating of either Great, Good, It's a Start, Not Good Enough, or We Avoid. 
The website allows you to search by category, or use a search bar to find specific brands.
While shopping from sustainable brands is a great way to reduce your waste by finding long-lasting pieces that leave little waste, sustainable brands can be expensive. Instead, thrifting is often a more affordable way to be sustainable.
"There are great sustainable fashion brands out there, but I usually stick to second-hand clothing, often at thrift stores, to stay within my price range," Reynaud said. "I was able to get my prom dress this year at a thrift store for only seven dollars!"
When thrifting, there are a couple things to keep in mind in order to remain sustainable.
Environment911 suggests that you only buy items in your size, and to not resell items for profit as it makes second-hand shopping less accessible. 
In addition to buying clothes in your size, Environment 911 also suggests to only thrift in your neighborhood and to avoid essential items for lower income households. By thrifting in your own neighborhood, you won't be taking out resources from another community. Furthermore, thrifters should avoid essential items such as baby items, underwear, and shoes to leave for those who cannot afford first-hand essential items. 
Thrifting is a great way to save a couple bucks and limit fashion waste, however, it isn't always best to look for the cheapest sale. It's important to balance price with the quality and wearability of items. 
If you're on the lookout for a specific item, another place to find second hand clothing is resale apps. Some popular resale apps include Curtsy, Poshmark, and Depop. 
Curtsy, a resale app aimed at Gen-Z, is easy to navigate for inexperienced users. You simply type key words in the search bar and the app generates clothing that fits your needs. While sellers set a price on their items, the app is all about negotiations; you can make offers below the asking price, and sellers can counter-offer (TechCrunch).
Curtsy is also designed for casual sellers, making it simple to sell is by recommending prices for items based on the information you provide, and by having an auto-sell setting that reduces the price of your item over time until it sells. 
With intuitive buying and selling, Curtsy offers a great way to rotate your wardrobe. Once you're done wearing an item, you can sell it and purchase a new item if needed. 
Another resale app with a variety of buying and selling options is Poshmark. As the largest social marketplace, Poshmark sells everything from women's, men's, and kid's clothing, pet items, home decor, and more. The site, however, is designed for full-time sellers and promotes items based on the seller's engagement. 
Reynaud shares about another resale app they have tried, Depop. 
"I've looked on Depop for second-hand clothing and they have a lot of cool options," Reynaud said. "I think it's a great place to go if you are looking for a specific item."
If selling your clothing online seems like a daunting task, clothing swaps can be a great option. You can swap with friends, family, or through organized swaps such as the ones Jesuit hosts. 
Before events such as prom or dress up days, Jesuit's Green Team holds clothing swaps for students looking to get rid of an old item and find something new. Jesuit's clothing swaps make it accessible for busy students to rotate their closet or simply clear their wardrobe of unused items. 
"I've looked through the racks of the clothing swaps and there are a lot of good options," senior Chase Kerman said. "I think it's a great idea for students to be able to exchange or 'swap' clothes."
Reynaud also advises that people check with family members or friends to find a second-life for your clothing.
"If I'm no longer using a clothing item, I typically try to sell it, or give it to friends or family that might like it and get good use out of it," Reynaud said.
While students may feel their fashion-footprint pales in comparison to other big contributors to climate change, any step to reduce your overall intake can significantly reduce your fashion waste. Shopping ethically and sustainably can help lead us to a cleaner, safer future. So if you are ever looking for something to add to your closet, try buying second hand before reaching for a cheap, fast fashion option. 
"I thrift most of my clothes from Goodwill, but I think the best thing I do to be sustainable is avoiding high consumption of fast fashion brands that are big waste contributors," Kerman said. 
About the Contributor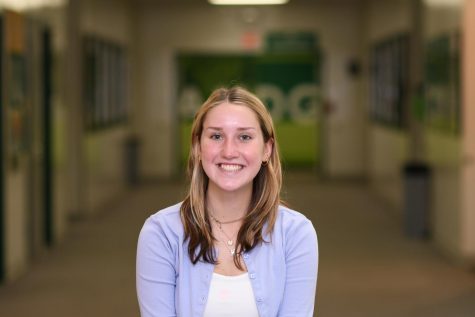 Noelle Furnanz, Editor
Noelle is a senior taking journalism for the first time. She plays soccer year-round while engaging in other activities including Social Justice Union, DEI planning, the Jesuit ambassador program, and mock trial. As a leader of Social Justice Union, Noelle enjoys spreading awareness on social justice issues and providing students with tools to get involved in change. She uses her passion for social justice to help coordinate events through the DEI office, including planning assemblies and community engagement. She is also passionate about mock trial to help her future career goals and learn more about the legal system. Following that path, she plans to study criminal justice and possibly attend law school. At school she enjoys humanities courses including History and English. Outside of her extracurriculars, Noelle loves to enjoy the outdoors with friends and family by going on hikes, swimming, and running. She loves living in the Pacific Northwest as it provides great opportunities to get outdoors. She also enjoys listening to a variety of musical genres including R&B, psychedelic rock, and alternative from artists such as Still Woozy, SZA, the Beatles, Jack Johnson, and the Wallows.