Project Couture Preview
Project Couture is a sustainable fashion show which will now be hosted at Jesuit on October 17th. While plans were originally for the Portland Art Museum's marked building, the doors at Jesuit will open at 6:30PM for audience members. It will be hosted between the commons and Upper Arrupe Hall.
This event is not officially affiliated with a Jesuit club but is a fashion show organized by students.
The show begins at 7:30 PM and will include numerous student models, including Jesuit students Kieran Coutu, Michael Stavreff, David Reynaud,  Veronika Lizier-Zmudzinski, Gaby Smith, and Caitlin Thomas (pictured left to right). 
Project Couture is all about promoting a more livable and maintainable future.
The show "only utilizes clothing from local thrift shops and consignment stores or sustainable supermarkets like as Goodwill and Buffalo Exchange in an effort to advocate for sustainable alternatives, while giving students a creative outlet to express themselves and also support local boutiques and businesses that have that have been struggling due to COVID," said senior Avni Sharma, student director of the project.
Roughly 200 audience members are expected to attend, including some Jesuit staff members. Tickets are not required and seating is first come first serve, however if you have not already, registration can be completed on this form.
Sharma and senior Quinn Burke had a large role in organizing the event. Senior Mirabel Streu was the photographer for the two photo shoots done for the event.
"This project is being done through my nonprofit Solutions for Earth, which is a nonprofit I founded in the early part of 2020. The mission of the nonprofit is building STEM knowledge about environmental science. This project is in conjunction with the Society of Youth for Sustainability which is more arts and advocacy oriented," Sharma said.
Solutions for Earth (S4E) and Society of Youth for Sustainability (SYFS) are partnering up to make the best event possible. While S4E is mostly research and science, technology, engineering, and math focused, SYFS is mainly focused on the arts and advocacy side of environmental progress.
A full refund was issued to those who purchased tickets.
The closest consignment store to Jesuit High School is the Assistance League of Greater Portland. This thrift store opens Thursdays and Saturdays from 12:00 PM to 4:00 PM and is a volunteer based 501(c)(3) nonprofit organization.
Article updated October 13th 2022.
About the Writer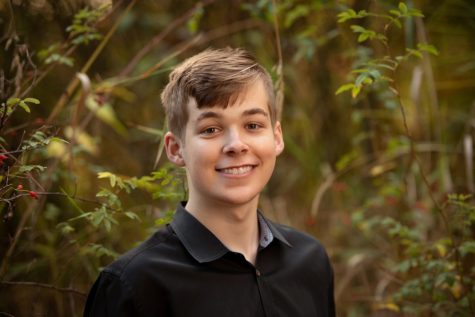 Matthew Heinsen, Staff Writer
Matthew Heinsen
is a senior at Jesuit High School. At Jesuit, Matthew enjoys math, science, and media courses. This year he is taking Advanced Media Production and Yearbook. As far as co curriculars go, Matthew is involved in NHS as an officer this year. As an officer, he helps coordinate NHS events and updates his group on upcoming events. Outside of school, Matthew works as a lifeguard. Matthew's favorite sports to watch are basketball and swimming. His favorite basketball teams are the Portland Trail Blazers and Sacramento Kings. Matthew likes to volunteer for Blanchet House and the Oregon Food bank. In his free time Matthew enjoys paddle boarding, swimming, and hanging out with friends. Matthew has been involved in journalism since a young age. This is Matthew's second year on the journalism program at Jesuit, though he wrote for his local magazine. When Matthew worked with "Cedar Mill Living", he wrote about local athletes and brainstormed with the other writers. During his experience there, Matthew learned how to conduct interviews and work with his team. Matthew wanted to be involved in the Advanced Media Production course to have a broader skill set and to keep people at Jesuit in the loop about events on campus.