Navigating Pronouns In Jesuit Classrooms
In September of 2019, the definition of the word 'they' was officially changed to include its use as a singular pronoun for nonbinary or gender-nonconforming people (Washington Post).
Since then, throughout the Jesuit community, students and faculty members have taken notice of different pronouns and identities and are working to become more inclusive. 
Preferred names were a common occurrence in classrooms even before inclusion was part of the conversation. This means that administration and teachers are well prepared to accommodate name changes. 
"We developed a process which was thorough regarding the student's preferred name. The student's legal name still has to remain by state law on certain documents like transcripts and diploma but in other places…the name could be whatever the preferred name is," Principal Mr. Paul Hogan said. 
Some Jesuit teachers have also begun to incorporate asking students for their pronouns into lesson plans at the beginning of the year. 
"I usually ask them through a survey," math teacher Ms. Laura Schick said. "We were talking about how [we could] create…a place where kids can share their pronouns without singling them out in public ways but to ask everyone to share so that we are all on the same page". 
Currently, asking students for their pronouns is left up to the discretion of individual teachers; however, some students like senior Alex Reynaud believe that it should become a standard. 
"I think it's super important to ask everyone their pronouns just to normalize it and make it something that not only gender nonconforming people have to do," Reynaud said. 
Even people who do use pronouns that traditionally conform to the gender they were assigned at birth feel that asking for pronouns is a sign of respect.
"I personally think it's so nice of them to ask because they're respecting all of our gender identities and all of our pronouns," senior Ana Borders said. 
Ms. Schick also believes that it is important to note that while these questions might seem insignificant or unimportant to some, they are necessary to others. 
"If it seems unimportant to you, it might be because it's never been an issue for you," Ms. Schick said. 
Even with these attitudes, coming out can be intimidating for students especially when they might be the only person who uses pronouns different than those assigned to them at birth in that space at that moment. This feeling can worsen if the people around them do not make an effort to respect their pronouns. 
"Even if people make mistakes but they are still trying, the important thing is that they are trying. But I will say that there are some people who don't really try or don't take the time to ask and I think that then it is pretty othering," Reynaud said. 
While asking for pronouns has become increasingly common, there are still other challenges to overcome in order for Jesuit to become more inclusive. Sports teams, locker rooms, and retreats are some of the many areas Mr. Hogan and other administrators must navigate. 
"It is honestly challenging because the vast majority of high school students, including here, identify as one gender or the other and there are many programs and other facilities that are built around that," Mr. Hogan said. 
Still, the policies are constantly evolving towards inclusion. 
"The Jesuits worldwide, and by extension Jesuit High School, are sometimes slow to evolve, while sometimes we're more nimble," Mr. Hogan said. "…I think we will continue to evolve".
About the Contributor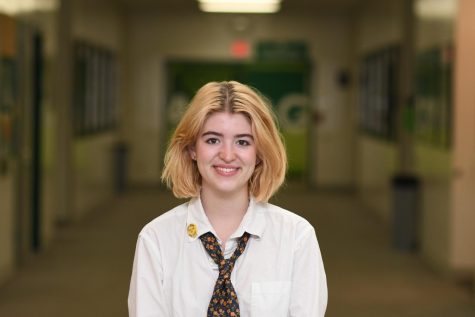 Astrid Foster, Staff Writer
Astrid Foster is a Senior at Jesuit high school. While this is her first year taking journalism, she is excited to learn. Aside from journalism, she has been dancing in some capacity since she was 5 years old. Right now she dances ballet at Open Space Dance. She is also part of the Jesuit Green Team and a Students Demand Action Leader. These mean many of her influences come from sustainability, social justice, and politics. In her free time she enjoys reading both the news and for slightly less serious moods other books as well. On the side she enjoys fashion, and showing up to events in brightly colored outfits. Through working on the newspaper, Astrid hopes to learn more about what goes into creating a newspaper and to engage the Jesuit community in meaningful conversations around important issues.