How Do Jesuit Students Engage In Advocacy on Campus?
On September 20, 2019 over 4 million people, most of whom were young, participated in the global climate strike aiming to motivate lawmakers to pass stronger climate policy (New York Times). Since then, Gen Z has become especially known among other generations for their passion for social justice and activism.
"[Gen Z] is very different from [Gen X] and there may be ways that we see the world through a different lens…and part of what we're called to do as a Jesuit school is to journey with our youth and listen to them," Vice Principal of Academics and Student Life Emily Hagelgans said.
At Jesuit, students are encouraged to participate in advocacy in two main ways: through student organizations, or through engaging with the Arrupe Center for Justice.
Many of the student groups use Instagram to connect with the student body and share educational resources. @jesuit_sju @jhsgreenteam @ywc.jhs and @jesuit.portland.gsa are the Instagram handles of Social Justice Union, Green Team, JHS Young Women of Color, and Gender-Sexuality Alliance.
Aside from Instagram, students work on larger projects pertaining to their groups
"[Green Team] is doing different events like Tree Plenish, which is an event that we have hosted where students and faculty, anyone in the community, can order a free tree sapling. We ended up having about 250 saplings and so that offset Jesuit's paper usage for about two years, which is really nice," senior Stella Anastasakis said.
Jesuit's Catholic identity also plays into the types of advocacy that students partake in. Sometimes this means that they must be mindful of Catholic social teachings.
"We need to be in alignment with the Church and the mission of the Jesuits; balancing caring for each person and upholding Catholic values," Hagelgans said.
However, being a Jesuit School also means that there are resources available specifically for advocacy and social justice such as the Arrupe Center for Justice.
The Arrupe Center for Justice works with the Ignatian Solidarity Network on their three main goals, Humane Immigration Reform, Ecological Justice, and Racial Justice. Within each of these there are more specific focuses for each province and region.
"CORE (Collaborative Organizing for Racial Equity) was started 2 years ago when the Jesuits West Province asked ministries to start working together on social justice initiatives," Emily Schmidt, Associate Director of the Arrupe Center for Justice, said. "Each region is focused on racial equity and whatever issues are most important to them. Spokane is working with Native tribes, Seattle is working on restorative justice. Each region has their own focus. In Portland we have been talking a lot about the housing crisis."
The Arrupe Center for Justice also adheres to the Jesuit Conference Office of Justice and Ecology's Policy Priorities. These priorities include reversing restrictions on asylum seekers, reforming border security, and reversing laws that lead to mass incarceration.
Students are encouraged to be a part of this process through reaching out to elected officials and starting conversations. Letters, emails, and communications via social media are all effective ways to reach legislators. The Arrupe Center for Justice has also helped coordinate congressional meetings in past years and will continue to do so in Covid-19 free years.
"High school students should know that their voices can be heard. In- person meetings will be coming back," Director of Arrupe Center for Justice, Andrea Casey said.
Additionally, as life returns to normal, ambitions for the future have grown with clubs looking to expand their membership and take on bigger projects. However, students should be aware that they do not have to take large actions to make a difference.
"Students should know that taking small actions can have an impact…and know that we are here to support them," Schmidt said.
About the Contributor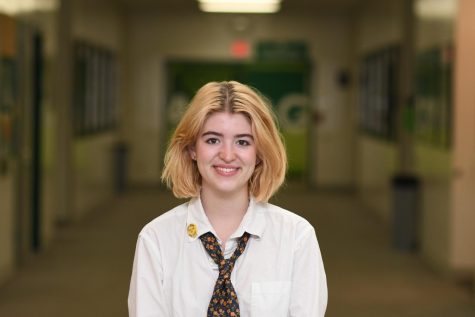 Astrid Foster, Staff Writer
Astrid Foster is a Senior at Jesuit high school. While this is her first year taking journalism, she is excited to learn. Aside from journalism, she has been dancing in some capacity since she was 5 years old. Right now she dances ballet at Open Space Dance. She is also part of the Jesuit Green Team and a Students Demand Action Leader. These mean many of her influences come from sustainability, social justice, and politics. In her free time she enjoys reading both the news and for slightly less serious moods other books as well. On the side she enjoys fashion, and showing up to events in brightly colored outfits. Through working on the newspaper, Astrid hopes to learn more about what goes into creating a newspaper and to engage the Jesuit community in meaningful conversations around important issues.