Russia and Ukraine: What Students Need to Know
Last weekend, I flew to California to visit colleges. On my way there, I was seated next to a kind, funny, and entertaining woman who made the 2.5 hour plane ride seem like 30 minutes. In the midst of our conversation concerning college, her children who are my age, and the best coffee shops in San Diego, she told me that she was from Ukraine. Instantly, the mood of our conversation shifted. She explained devastating stories of her elderly aunt and uncle, currently forced to stay put in their house instead of seeking shelter due to their age. She told me how her friends are trying to give away their most prized possessions in an attempt to get over the Ukraine-Poland border faster. She informed me that she was flying to San Diego for a previously planned weekend trip with her Ukrainian friends, but none of them felt like celebrating anymore. 
Video footage, photos, and countless headlines concerning Russia's invasion of Ukraine have dominated news sources and social media since February 24. This complex issue, combined with threats such as misinformation and simplification, can't be explained in an Instagram infographic or 15-second TikTok video. Here is what students need to know about the past, present, and potential future of this conflict– and how to help.
Context: History of Ukraine, Russia, and NATO Conflicts Through the Years
The conflict between Ukraine and Russia has existed far before Vladimir Putin invaded Ukraine this February. 
Ukraine, a country a part of the former Soviet Union, declared independence in 1991. In 1992, while Ukraine did not join the NATO alliance, it formally established relations with the treaty.
In 2008, Ukrainian president and prime minister Viktor Yushchenko and Yulia Tymoshenko, respectively, submitted a formal request for membership to NATO. 
Tensions escalated in 2014, however, when Russia invaded and annexed the region of Crimea, a former part of Ukraine.  
Similarly, Russian-supported separtist forces stormed two regions in eastern Ukraine, Donetsk and Luhansk. While these regions declared independence from Ukraine, they still remain recognized as a part of Ukraine.
Fighting in these regions continued from 2015 to 2020, which included Russia's looming presence.
In 2021, Russia sent 100,000 troops to Ukraine in April, citing the reason as "military exercises." In response to this, current Ukrainian president Volodymyr Zelensky asked NATO leaders for Ukraine to be on a faster track to membership. 
Russian troops moved out of Ukraine shortly after this, but returned late November 2021, alarming defense specialists around the world. 
In response to Russia's troops moving into Ukrainian borders, President Biden called Putin in December 2021, urging him not to invade Ukraine. In response, Putin argued that Ukraine should permanently be taken off of the NATO membership process.
Foreign diplomatic efforts towards the Russia-Ukraine conflict began to pick up early this year, with the U.S. ordering its citizens out of Ukraine and presidents such as Emmanuel Macron of France meeting with Putin to try to find peace.
Now, we are brought to what is currently happening in Ukraine today. On February 24, 2022, Russian troops launched an assault on Ukrainian territory.
Timeline: Updates to the Conflict and Foreign Reactions
February 24: Putin announced "special military operation" against Ukraine, troops invaded the land, and missiles were launched. Biden began freezing assets of prominent Russian banks and institutions and began talks and the process of imposing sanctions against Russia.
February 27: Putin announced that he has placed Russia's nuclear weapons on "high alert" in response to "aggressive statements" from NATO concerning the invasion.
March 1: President Biden announced support of Ukraine and further action against Russia in his State of the Union address.
March 3rd: United Nations overwhelmingly voted to condemn the invasion. The UN announced lives lost in Ukraine at around 227, acknowledging that the number could be much higher.
March 4th: First meeting of the NATO alliance occurred since the conflict's start. Russia blocks Facebook and multiple websites and news sources with the intent of halting independent journalism documenting the crisis.
Heavy fighting has continued since then. However, experts say that the Russian army is not making the progress that they had planned to due to logistical challenges and strong Ukrainian resistance.
A worldwide condemnation of Russia's actions have occurred in the form of protests, fundraisers for Ukraine, and social media movements. The United States has taken measures to show support for Ukraine by imposing harsh sanctions and breaking off trade agreements with Russia, as well as sending arms and other materials to Ukrainians. Prominent American companies, such as Visa and Starbucks, have pulled out of Russia as well.
AP US History teacher Paul Klausenburger identifies a factor for this widespread foreign reaction.
"When conflicts intensify and images of what is going on is broadcasted in American living rooms, as they are now, the pressure increases on American lawmakers to do something more than they previously had," Klausenburger said. "As the humanitarian crisis increases in Ukraine, I think it's possible for a greater U.S. involvement."
However, he explains the problem with the U.S. becoming more involved in the crisis.
"The problem is that Russia is a nuclear power," Klausenburger said. "If the United States or NATO tries to become involved militarily and enforce a no-fly zone, almost invariably that means an unimaginable escalation of this conflict will occur. But, the United States isn't just in any position. We are the most powerful country on the planet, and we have invested interest on a moral, political, and economic level to involve ourselves in what goes on overseas."
Refugee Crisis
As of March 11, more than 2.5 million people have left Ukraine in search of refuge in neighboring countries such as Poland and Hungary. The UN's High Commission for Refugees estimates even more than 12 million Ukrainians are displaced in their own country and in need of assistance.
Theology teacher Russell Fiorella held a JDOCA workshop last Wednesday, educating students in an immersive and experiential way about this refugee crisis.
"We started off by having kids do a 'needs based assessment'," Fiorella said. "These kinds of assessments are used by people who design refugee camps, work at refugee camps, and by corporations and people who work to support the efforts of refugee camps. In an emergency situation, it can be done very rapidly, and can have serious benefits. Participants considered the question, 'What would these refugees coming from Ukraine need?' I then challenged students to design for themselves a refugee camp for roughly 5,000 Ukrainian refugees, most of which are women and children."
Fiorella hopes that the simulation afforded students a glimpse of what it's like to be on the front lines responding to an unprecedented emergency like the one in Ukraine, rather than simply reading about it in the daily headlines.  
"Being informed is critical in this day and age," Fiorella said. "Although it's certainly easy to become overwhelmed by the problems of the world, which is understandable, as there are many of them. As a community of learners and change-agents, I think it's more important to develop the habit of shifting our focus toward solutions to big problems. I hope practicing this kind of high-level problem-solving as we did on JDOCA gave students a sense for the complexity and desperation of the needs of our brothers and sisters in Ukraine. I also hope the students come to realize that this problem is not something that can be solved by one person or organization, but by many."
On Friday, March 11, Jesuit collected donations at Mass to support the work of Jesuit Refugee Services (JRS) in Europe, and its response to Ukraine. Money went towards transporting supplies to refugees, safe transportation, and providing long-term support.
In addition to JRS, Christian Service directors Emily Schmidt and Andrea Casey provided the links to the following organizations who are helping to support Ukrainians and refugees:
United States Conference of Catholic Bishops
Klausenburger hopes that students realize how the crisis in Ukraine impacts all citizens.
"Don't dismiss it," Klausenburger said. "Don't see it as a faraway thing. Russia invading Ukraine affects all of us worldwide. It shows the threat of any other scenario occurring, such as another powerful country invading a country and disrespecting international borders."
Fiorella advises students to ask themselves a simple question to start the journey of being a bearer of hope during this time.
"Our awareness of the needs of refugees and Ukrainian citizens calls each of us to discern, to ask ourselves real questions about our purpose: Is my life a possession of my own? Or is my life a gift that is meant to be shared, given away?"
About the Contributor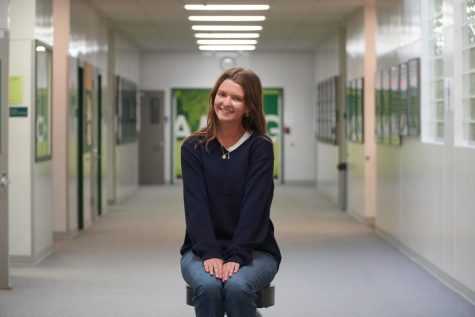 Lauren Herrick, Editor in Chief
Senior Lauren Herrick is a returning student from Journalism and a member of the editorial
board this year. Lauren enjoys producing feature and opinion pieces, collaborating with the team
to lead the development of the online and print paper, and enhancing her passion for the craft of
journalism through incorporating technology such as podcasts— check out the Sader Scoop, 
which she co-founded and edits. When she's not writing, you can find her reading the
Wall
Street Journal
or listening to NYT's The Daily. Outside
of journalism, Lauren enjoys practicing
yoga, part-time baristing at a local cafe, spending time exploring Oregon with her friends, and
listening to a lot of country music. She's excited to help lead the Jesuit media program and
explore topics more in depth during her second year of the program.