Thinking About Thanksgiving
Every fall, I wonder what pumpkin-inspired, corn-inclined, squash-adorned seasonal items local food merchants are offering. If you haven't yet noticed, it's November and Thanksgiving is almost here. So, I recently scouted out all the seasonal foods at the Beaverton Farmers Market that you may also try to fill your holiday cornucopia. 
Starting in 1988, the Beaverton Farmers Market has grown into the largest single market in the state. Throughout the years, farmers markets' popularity has accelerated due to their ability to bring communities together and continually sell local food that buyers trust. 
I trekked to the market to get a firsthand look at the farmers' stands and the food options in order to understand how local markets prepare for the fall season and to assess the multitude of choices market-goers have in preparation for the Thanksgiving table. 
My first stop in this adventure was to a sausage stand where a family-owned company has been cooking up traditional bratwursts since 1880 in Germany. Now, you may ask yourself, "What connection does sausage have to do with fall and Thanksgiving?" Simple. Turkey sausage was available, but I deviated to the freshly cooked sausage because it was warm and I was hungry. At this stand, you could either get an Austrian or Hungarian style bratwurst, the Austrian being more mild and the Hungarian being spicier. If you like spicy foods, I would highly recommend the Hungarian sausage as the spice does not dominate any other flavors but still has a noticeable presence. 
No Thanksgiving is complete without dessert, so I stopped at one of the many local bakery stands at the market where I scoured a pumpkin cake and a pumpkin cinnamon roll. I was able to try the pumpkin cinnamon roll but to my dismay, I found it to be a little dry, though redeemed by a solid pumpkin flavor. Unfortunately, the cake was sold out before I could get to the front to pay, but there will be more cake on Saturday, Nov. 6, per the request of multiple shoppers. It is a seasonal cake that gets fresh ingredients from other produce stands as they work together to continue building the market. 
With dessert still on my mind, I found a Hawaiian family bakery selling what was called a "Decadent Pumpkin Crunch with Brown Butter Buttercream." It was assembled to have a pumpkin filling at the bottom with shortbread on top followed by the buttercream. I found the shortbread to be the star of the show as the pleasant crisp and sugary bite delivered for a well-rounded cookie. However, the pumpkin flavor combined with the sugar proved overwhelming to the dish. Although their seasonal cake was a tad disappointing, a pumpkin cookie brought back my memory of their shortbread mastery leaving a big impression on the cookie-making abilities of these bakers. 
Feeling a sense of bakery-dominated choices, I decided to take a look at the acclaimed produce section and bought some corn on the cob for baking with butter, salt, paprika, and Parmesan cheese. It was a much fresher alternative to the typically overpowering sweetness of a store bought corn, and would make a nice addition to the Thanksgiving table.
After all the food, I felt the need for liquid refreshment. I stumbled upon a creamery that was selling freshmade eggnog. At first thought, it might seem that eggnog is not as refreshing as it is rich. However, this creamery puts extra cream into their recipe and when mixed with their original spices and an excellent pumpkin flavor leaves for a smoother than traditional taste with a great pumpkin taste in harmony with the cinnamon. I downed my first bottle and went back for a second to take home. 
This November, If you plan on journeying out for fresher produce, innovative seasonal concoctions, and much more food personality than the shelf of your local grocery store, you have every Saturday until November 20 to access the Beaverton Farmers Market to prepare not only for Thanksgiving but so many other fall feasts that will be sure to keep you in the mood of fall. And at 12375 SW Fifth Avenue, the market is located conveniently just two miles from Jesuit.
Happy Thanksgiving planning!
About the Writer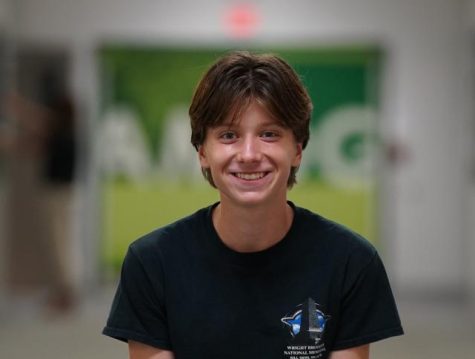 Gus Clevenger, Staff Writer
The power of storytelling is used to inspire and make people think more deeply and thoughtfully
about what was presented to them. To Gus Clevenger, a senior at Jesuit high school,
storytelling is at the forefront of his life, through seeking out new adventures and finding creative
ways to describe the world around him. As a young kid, Gus was surrounded with art and
writing and never saw himself doing much of anything else. Through listening to his dad make
up crazy stories about made up characters, to walking around OHSU and sitting through
interviews of dental students with his mom, storytelling was always there. This will be Gus's
second year as an editor and writer for the Jesuit Chronicle. In his first year as a Journalism
Student, he learned the fundamentals of Indesign as well as explored topics ranging from the
Jesuit administrative policies to food writing. Gus enjoys writing opinions , sharing different
perspectives, and connecting people through stories. He hopes to continue discovering what he
loves to write about as well as continue to put passion into his work to connect the Jesuit
community through stories and discussion. In his free time, Gus enjoys running, cooking,
drawing, going on long walks, and being with family.