Jesuit Men's Basketball 2021-2022 season preview
The 2021-2022 basketball season will mark coach Gene Potter's 30 year coaching. Jesuit Basketball is poised to have another good season.
After a unique basketball season last year due to COVID, a normal basketball season is back. When interviewed, Coach Potter said he is really excited for the season he specifically talked about how competitive the Metro League will be and how excited he is for the challenge.
"Always excited to start every basketball season. And it is fun to see how the team comes together" Potter said.
The players are also excited to get back to a normal season. Owen Davies is a junior guard who has played for the basketball team for the last three seasons. Owen did not start basketball until May last year and finished in June. This will be Owen's first normal season with Jesuit.
"It's going to be fun having a normal season again because we did not get a full year last year" Davies said.
Davies also shared that he feels the team has been working really hard in the offseason to get ready to the season.
Similar to Davies, Isaiah Crane, a junior guard, is excited for the season.
"It will be fun to see how we play as a team. We have the right guys and the right coaches to be good" Crane said.
Crane also shared that everyone has been having the right mindset.
Of course there are always some challenges to every team. Jesuit lost a lot of seniors last year who were key players to the team.
"Usually there is an easy transition but since we did not finish the season until June last year we do not have as much time to evaluate players. The key is finding the right guys who work together well" Potter said.
About the Contributor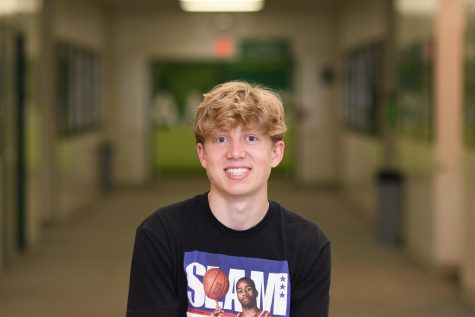 Charlie Riddle, Staff Writer
Charlie Riddle is a junior at Jesuit and this is his first year taking journalism. Charlie decided to try journalism because he is very interested in writing about topics he loves. Charlie also wants to improve his writing skills. Charlie has two sisters. One of his sisters, Abby, graduated from Jesuit in 2020 and goes to TCU and his other sister Kate is a freshman. Charlie also has two dogs named Lulu and Archie. Charlie is involved in the lacrosse program at Jesuit. Charlie's favorite thing he wants to write about this year is sports. His favorite sports team is the Oregon Ducks for college football. For basketball, the Trail Blazers. And for NFL, the Chargers. Some of Charlie's favorite hobbies are traveling, playing sports, and hanging with friends. Charlie's favorite sport is basketball. The coolest place he has been to is Disneyland. When Charlie is not in school and has some free time he also likes to play golf. Charlie is not the best golfer but he still enjoys playing. Charlie has enjoys watching movies. Charlie hopes to write a couple articles this year about some of his favorite movies. Charlie is very excited for this year.