Athlete Spotlight: Spencer McKelligon
As the winter sports season starts, Jesuit men's basketball gets another opportunity to start off strong with their great coaching and star players. 
One of their pivotal returning players is senior Spencer McKelligon.
"I'm excited to get the chance to play a longer season and potentially the playoffs, as my sophomore season got cut short and a limited season last year," McKelligon said. 
He is a leader on the team and is excited about their upcoming scheduled games.
"I think we have a great team that has beaten some solid teams already. We have started out 4-0. There are some better teams coming up in our schedule too," McKelligon added. 
Spencer also takes his academics seriously. He is a senior and is balancing his class work and the basketball season very well. 
"My classes are going well. There actually isn't a lot of work right now which is nice," McKelligon said.
Not only is Spencer an outstanding player on the basketball team, he is also a standout player on the Jesuit football team as well. He was very successful with the football team this year as he was one of the captains and a versatile tight end and linebacker. 
"I want to play football in college and I am still trying to figure out where I want to play," McKelligon mentioned.
As Spencer leads the basketball team throughout the winter season he will continue to figure out his future in football. 
Spencer McKelligon is an amazing athlete in the Jesuit athletic community exemplifies a great student athlete. 
About the Contributor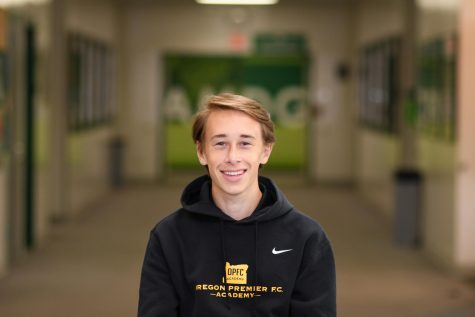 Henry Hess, Staff Writer
Hello my name is Henry Hess. I am a senior at Jesuit High School. I was born in Boston, Massachusetts and have lived in Portland for 15 years now. I have played soccer since I was 2 years old and the sport is still my passion today. I play on the varsity team here at Jesuit and play for a club team called Oregon Premier Football Club. In my free time, I like to make and watch films, ski and travel with my family. I am an intern for my dad's company, Jumpturn Consulting. I live with my dad, John, my mom, Jennifer, my sister, Adelaide, and my black lab, Gordie. My sister is a freshman at Northwest Academy. I am taking Journalism this year to improve my writing skills and write and research about current events and sports.