Athlete Spotlight: Drew Pedersen
Jesuit's Men's Varsity soccer team's starting striker, Drew Pedersen, has had a hot start to the season. Pedersen has scored 4 goals in 6 games this season and aims to beat his personal record of 11 goals last season. 
"I should be able to beat it if we keep playing well. We also have a longer season with more games this year," Pedersen said.
He scored against Summit during the first game of the season, Central Catholic in the Holy War, and completed a brace in the Forest Grove game. 
He has enjoyed the start of the season so far leading the team to a 5-2 record. 
"It's easy when I have great players around me."
 A lethal finisher and a great team player. He has 3 assists to add to his 4 goals too. 
Drew Pedersen is a great athlete and a well liked student. Going into his junior year he is managing his academics and sports very well. 
"It is good to be on campus again but going into junior year is a little stressful but it will be good." 
His favorite class is history with Mr. Paul Klausenburger. He also finished his community service this summer with PT&E, a non-profit community service organization that teaches kids tennis.
"I had a really good time there and now I am writing my service paper about it."
He is positive about the start of his junior year and intends to keep the Jesuit men's soccer team on their winning streak until the end of the regular season. 
About the Contributor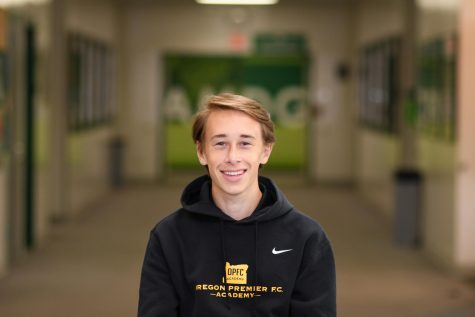 Henry Hess, Staff Writer
Hello my name is Henry Hess. I am a senior at Jesuit High School. I was born in Boston, Massachusetts and have lived in Portland for 15 years now. I have played soccer since I was 2 years old and the sport is still my passion today. I play on the varsity team here at Jesuit and play for a club team called Oregon Premier Football Club. In my free time, I like to make and watch films, ski and travel with my family. I am an intern for my dad's company, Jumpturn Consulting. I live with my dad, John, my mom, Jennifer, my sister, Adelaide, and my black lab, Gordie. My sister is a freshman at Northwest Academy. I am taking Journalism this year to improve my writing skills and write and research about current events and sports.