Ms. Mathes to Leave Jesuit at End of Year
English teacher Megan Mathes will be leaving Jesuit at the end of the year after 23 years of teaching, 12 of which at Jesuit. 
Teaching both Honors English II to sophomores and AP English Literature to seniors, Mathes made a large impact on her students. 
Senior Alli Branch, a student in Mathes's AP class, benefited from the discussion-based nature of the class, which broadened her viewpoints and allowed her to interpret novels from varying perspectives. 
Branch not only benefited from the structure of Mathes's class but also from Mathes's nature as a teacher. 
"Ms. Mathes helps you work through the problems you have," Branch said. "She is very kind and understanding, working with us to try and balance our work with responsibilities we have outside of her class and school." 
Sophomore Liliana Hudnut had a similarly positive experience in Mathes's English II class, where she felt Mathes not only promoted her academic growth but her personal growth as well.
"Everyone in that class has learned so much about themselves as individuals as you can take what you learn in class and apply it to your own life," Hudnut said. "She supports us as people, not just as students."
Reflecting on her time at Jesuit, Mathes stated that her favorite part of Jesuit is the close-knit community. 
"I really do love the Jesuit community," Mathes said. "I love the way that most of the students say, 'thank you' at the end of class. I've really loved working with all my colleagues." 
Mathes went on to say that she believes this community is strengthened by the spiritual focus of Jesuit. 
"Before coming to Jesuit, I worked at two independent schools where there was a good, thriving, positive community. But, the spiritual aspect of Jesuit—even if it is not specifically Catholic— adds a dimension to the school and the classroom environment." 
After leaving Jesuit, Mathes will take on a new challenge as an instructional coach at Catlin Gabel School, in southwest Portland.
As an instructional coach, Mathes will work with other instructional coaches to plan for the professional development that teachers complete in the fall and throughout the school year. In addition to working with other instructional coaches, Mathes will also work closely with teachers who want to get better at some aspect of their practice, from redesigning class participation, to learning the difference between formative and summative assessments. 
"Whatever area a teacher wants to improve in, my job will be to listen, to facilitate, and to provide resources and support, so they feel confident to try new things in their practice," Mathes said. 
Adjusting from working directly with students, to more directly with teachers will be a big adjustment for Mathes. 
"I'm going to miss teaching kids," Mathes said. "For 23 years, I've been working with teenagers. I will still be in a school, but I won't be directly interacting with young people anymore, which is something I will really miss."
Another adjustment Mathes will experience is expanding her work beyond the English department, as her new role includes working with teachers from all departments in classes from kindergarten to 12th grade. 
While these changes may be a large adjustment for Mathes, she also believes they will stretch her out of her comfort zone and give her the opportunity to grow. 
"I love teaching, but I feel like I need a challenge," Mathes said. "I want to contribute in a different way and use my brain in a different way." 
Mathes is looking forward to this new opportunity, but she also hopes to return to teaching one day. 
About the Contributor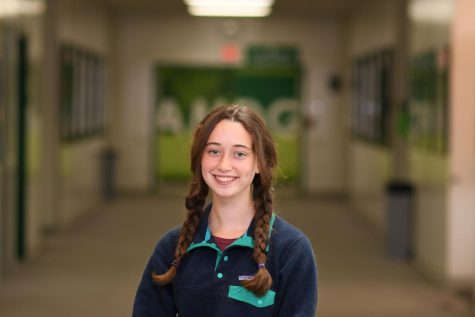 Clarinne Kirk, Editor
Clarinne Kirk is a senior at Jesuit High School who is very excited to grow as a writer in her first year of journalism. Clarinne believes journalism fosters community and understanding and fights against ignorance and biases. During the pandemic, Clarinne read
The New York Times
on a regular basis and gained a new appreciation for the importance of well informed and topical news. This appreciation fueled a desire for her to similarly inform her community while developing her writing abilities. Clarinne loves spending time outdoors and is very passionate about protecting the environment through sustainable actions and climate justice. During her time at the
Jesuit Chronicle
, Clarinne hopes to educate her peers about climate change and sustainable actions we can take both in our Jesuit community and in the greater Portland-Metro area. At Jesuit, Clarinne competes in cross country and track, is a student ambassador, and is a member of the school's Green Team. Outside of school, Clarinne enjoys spending time hiking, running, and playing with her two dogs, Bailee and Hazy. Additionally, Clarinne also spends her free time baking, reading, and taking pictures of Oregon's beautiful scenery.