Jesuit Named #1 Athletic Program in the Nation
Jesuit Named
#1 Athletic Program in the Nation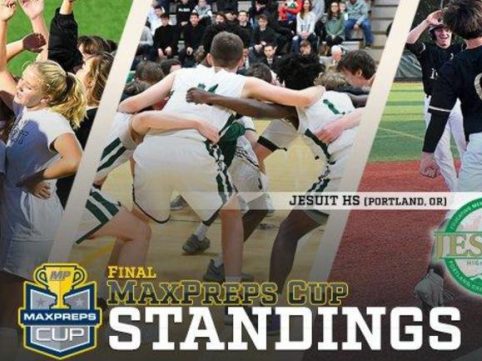 For the second time in four years, Jesuit High School was identified as the number one athletic program in the nation by MaxPreps and awarded the MaxPreps Cup.
Following 11 state championship titles during the 2018-19 school year, Jesuit beat out Carmel High School in Indiana and became just the third high school to have won the honor twice.
In addition to state championship titles, MaxPreps awards points for second place finishes and national rankings in the top 25. The size of a state, the popularity of the sport being played, the school's playoff classification and the number of teams competing in a playoff classification are all taken into account in the MaxPreps point system.
In the fall, Jesuit received points for their state titles in girls soccer, boys soccer and volleyball, and their second place finishes in boys and girls cross country. Additional points were awarded for ranking second in the nation in girl's soccer and ranking eleventh in the nation in women's cross country.
The winter season yielded three additional state championship titles in boys swimming, girls swimming and boy's basketball.
Few will soon forget the boys basketball title run that took place at the Chiles Center in early March, which saw the Crusaders upset #1 ranked Lake Oswego and basketball powerhouse Jefferson in the semi-finals and championship game, respectively.
"Going into it, just about no one believed that we had a chance," current senior guard Matthew Levis said. "It was a surreal moment really, when the final buzzer went off and we beat them by 6 or 7. I was just there sitting on the sidelines in disbelief that we had just won a state championship and I had thirteen of my closest friends to share it with right on the sideline with me and an entire Jesuit student section right above me cheering us on. I'm never going to forget that moment for the rest of my life."
Despite these successes, Jesuit came into the spring season trailing Carmel High School in MaxPreps rankings by over 400 points. However, state championship victories in boy's tennis, boy's golf, girl's golf and baseball gave Jesuit the advantage over Carmel. Points awarded for a national ranking of 18 in boy's golf and a second place finish in girl's track put the Crusaders at 2,243 points to finish the 2018-19 school year, 156 points ahead of Carmel.
"It's a wonderful honor that within our state, within our market, we do really well that it is recognized at a national level," Athletic Director Mike Hughes said. "It's a compliment to the well roundedness of our school. There are some schools that are known for being a great football school or a great basketball school, but there are few schools that do it in all of their sports programs like we do, so we take pride in that."
According to Hughes, numerous factors are responsible for Jesuit's athletic success over the years, including strong parental support and the experience of our coaches. "When you have coaches that have been here for 37 years, Coach Rothenberger, 32 years, [Coach Ken Potter], 31 years, [Coach Gene Potter], you tend to learn a thing or two about how to be successful," Hughes said.
About the Writer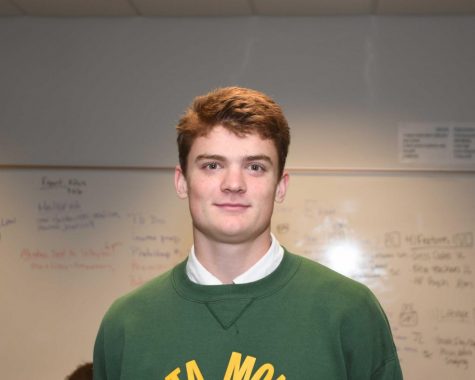 Jack Kelley, Alumni 2018-2020
Jack Kelley is the associate chief editor for this year's Jesuit Chronicle. A senior at Jesuit High School, Kelley has journalistic experience as a staff writer for the paper during the 2018-2019 school year and as a broadcast journalism student during the 2017-2018 school year. During his junior year, Jack Kelley's main focus was in the sports section of the Jesuit Chronicle, both as a page editor and writer. Kelley has experience in sports journalism, through his current editorial work for YouthRunner Magazine and previous writing work for Sports Illustrated for Kids magazine. Outside of journalism, Kelley is a sprinter for the Jesuit High School track team. His passions include hiking, surfing with his friends at the Oregon Coast, and playing recreational basketball.