Who Will Be Oregon's Next Governor?
With the midterm election coming up on November 8, students 18 and older can help decide who will become the next governor of Oregon. The three candidates—an unusual number for a two-party system—take stances left, right, and center. As of October 2nd, the polls are tight, and the stage is set. The curtains are drawing open for the 2022 midterms. 

Candidate Overviews 
Tina Kotek (Democrat): 
Tina Kotek has been the Speaker of the House for Oregon, and has worked for the Oregon Food Bank. She is arguing for a high mandatory minimum wage, paid sick leave, and strong gun regulations. She additionally has opinions on topical issues: she supports women's rights to choose and strong school funding (Oregonlive). At the July 29th debate, she said that she was in favor of capping carbon emissions and reducing logging to help prevent climate change (opb). On the issue of homelessness in Portland, she asserts that the problem of homelessness can be helped by increasing housing production and reducing rent. Beyond that, she thinks it's crucial to increase mental health and addiction services (Oregonlive).
Christine Drazan (Republican):
Christine Drazan has worked in the Oregon House of Representatives for several years, and was named the Minority Leader for House Republicans in Oregon. She has said that one of the first things she would do in office is to declare a State of Emergency for Oregon's homeless situation (Oregonlive). A state of emergency would allow the governor to use state resources, like the National Guard, to address a pertinent situation. She wants to repeal Measure 110, which reduces penalties for drug possession and provides grants to addiction centers (ktvl.com). Drazan is a strong supporter of the Second Amendment and intends to block any measure that would compromise gun rights for Oregonians. A large focus of her campaign has been reducing prices for Oregonians, especially in regards to taxes and inflation (Oregonlive). As for her education policies, Drazan's "Roadmap for Oregon" says that she believes in keeping politics out of the classroom (christinefororegon.com).
Betsy Johnson (Non-Affiliated):
Betsy Johnson is a former Oregon senator from the 16th district, and currently lives in Warren, Oregon. Running as an independent candidate, she presents herself as the "common sense" candidate, who is trying to unify Oregon. Like Drazen, she believes in the repeal of Measure 110, which she feels has compounded Oregon's substance abuse issues (ktvl.com). Echoing Drazan again, she has stated that schools should keep politics out of their curriculums, as well as having higher academic standards (Oregonlive). Johnson asserted in the July 29th debate that she advocates for gun control, but historically she has been an opponent of restrictions on firearms (opb).

Considerations from a Jesuit Faculty Member 
Mr. Flamoe,  AP US Government and Politics and Civil Rights in America teacher, said that while the odds are not great, he thinks Christine Drazan may have a considerable shot at governorship. 
"Drazen is certainly within striking distance according to some polls in Oregon. But as someone who's lived in Oregon now for 20 years […] It's just hard for me to conceive that as a possibility," Flamoe said.
The Oregon governorship has been controlled by the Democrats since 1986, and the legislature since 2012.
If Drazan won, it would mean a divided government, where governorship would be controlled by the Republican Party, and the legislature by the Democrat Party.
 "Sometimes [when] we have divided governments like that you have an increase in gridlock, the inability to get legislation through," Flamoe said.
On the other hand, Flamoe also concluded it could bring the two parties together to force more compromise.

Johnson Falling Behind
While Betsy Johnson seemed to have a strong start at the beginning of campaign season, she now seems to be falling off in the polls. During a Poll conducted on September 30th, Betsy Johnson only held 20% of the voter base, while Kotek and Drazan were neck and neck. (fivethirtyeight).
"The fact is that since Christine Drazan is polling decently right now, it may cause some of those moderate Republicans who were going to support Betsey Johnson to get behind Christine Drazan," Flamoe said.
It was expected that Johnson would pull moderates away from their mainstream candidates, as Johnson's unifying agenda appeals to moderates of both parties. 
Of course, as of October 4th, Drazan has less than a three percentage point lead, with Kotek close behind, so it is too early to tell whether anyone is out of the running. 
But what should Jesuit students know? Why should they care? 
Flamoe says that in this election, every vote will matter. 
"I would just encourage people to do the research, figure out whose policies and whose personality even that they support […] because contrary to past years, I think that could actually have a pretty significant impact on the future of Oregon."
About the Contributor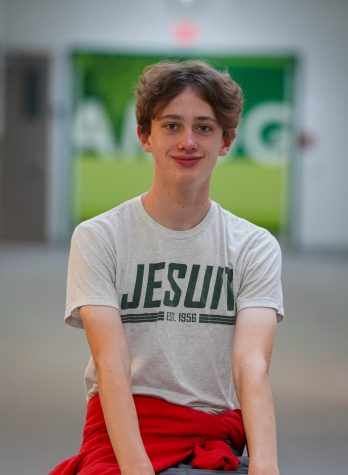 Seamus McCarthy, Staff Writer
Born and raised in Portland Oregon, this is Seamus McCathy's first year in Media Production, and he is
excited to start writing and producing media. He is excited to write about current events,
happening within the school and outside of the school including politics, school activities/events
and his current random subject of interest. He got the inspiration to take this class from the HBO
series,
The Newsroom
and classic movies such as
All
the President's Men.
He hopes that this
experience will help him to decide whether he wants to continue journalism throughout college.
When he is not in school, Seamus fences, goes for runs, and walks his dog. He lives with his
aforementioned furry companion, his brother, and parents in Portland.