4 Jesuit Seniors Selected for Prestigious Science Scholarship
On January 10, the Society for Science announced the top 300 scholars in the Regeneron Science Talent Search (Regeneron STS). Seniors Darsh Mandera, Sam Shrimali, Vladimir Mamchik, and Alan Ma were among these students, and were each awarded $2,000 for their original scientific research, leadership, academic excellence, and community involvement. 
In addition to the money each scholar receives to put towards their higher education, the Jesuit Science Department will be awarded $2,000 for each enrolled finalist. 
Regeneron STS is considered America's oldest and most prestigious science and math competition for high school seniors. Each year, the program receives around 2,000 applicants internationally. 
Jesuit's scholars submitted original research they have been developing over the past 3-5 years.
"I created a solution that prevents roadkill accidents by warning drivers of animal crossings and monitors roadside ecological activity," Ma said. 
"I developed a tool to track and monitor hand hygiene compliance in healthcare facilities to reduce the spread of hospital-acquired infections," Shrimali said. "I also developed software that uses machine learning algorithms to provide early diagnoses for CLABSI, CAUTI, and VAP."
"I worked on oncology research," Mandera said. "So, focusing on predicting targeted treatments for cancer patients based on their genetic mutations and other biological factors."
"I developed a new method to correct color blindness called Dynamic Extraocular Filtering," Mamchik said. "This is a fundamentally new approach that has never been proposed before. Not only is it more effective than any current methods, but it has the potential to become the new clinical standard for correcting color vision."
This is not the first time Jesuit students have been recognized by Regeneron STS. Mamchik and Mandera spoke of the inspiration they have received from previous Jesuit students in the program.
"There's been a good amount of Jesuit grads who have been in the STS program and do quite well in the competitions," Mamchik said. "It feels special to continue their legacy."
"It feels great to be a senior now, be a part of STS, and join such an ambitious crowd," Mandera said.
Shrimali is looking forward to enhancing his work as an STS scholar.
"It's really a platform for seniors to be inspired to continue their work and reach a broader audience," Shrimali said. "STS's sponsor, Regeneron, also provides some great resources, such as internship opportunities and mentorship with industry experts."
Our Jesuit STS Scholars are now awaiting for the Finalist Announcement on January 24, where 40 finalists will be selected to compete for the top prize of $250,000.
About the Contributor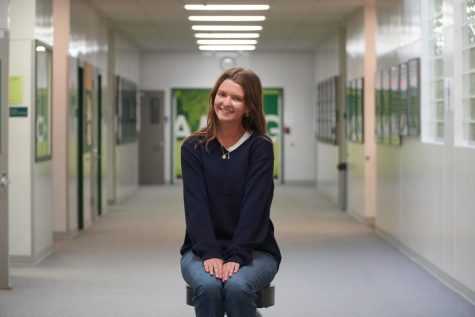 Lauren Herrick, Editor in Chief
Senior Lauren Herrick is a returning student from Journalism and a member of the editorial
board this year. Lauren enjoys producing feature and opinion pieces, collaborating with the team
to lead the development of the online and print paper, and enhancing her passion for the craft of
journalism through incorporating technology such as podcasts— check out the Sader Scoop, 
which she co-founded and edits. When she's not writing, you can find her reading the
Wall
Street Journal
or listening to NYT's The Daily. Outside
of journalism, Lauren enjoys practicing
yoga, part-time baristing at a local cafe, spending time exploring Oregon with her friends, and
listening to a lot of country music. She's excited to help lead the Jesuit media program and
explore topics more in depth during her second year of the program.