Why is Gen Z in a Mental Health Crisis?
On December 7, 2021, U.S. surgeon general Vivek Murthy issued a public health advisory– not about the ongoing COVID-19 pandemic, but about Generation Z's (those born from 1995-2012) concerning mental health issues.
The CDC and Pew Research also surveyed adolescents during this time. The results were record-breaking in comparison to older generations. About 31% of students reported that they experienced poor mental health most or all of the time during the pandemic. Similarly, McKinsey & Company found that 25% of Gen Zers reported feeling double the levels of emotional distress than millennials or Gen Xers, and more than triple the levels than baby boomers.
In simple terms, the generation that most Jesuit students belong to is struggling. 
Scientists credit two main factors for affecting teenagers' mental health today: the lasting impacts of the pandemic and social media.
The National Survey of Children's Health found that the number of kids aged 3 to 17 with anxiety or depression jumped by more than 1.5 million between 2016 and 2020, the year when COVID lockdowns began.
Jesuit Mental Health Awareness Club member and sophomore Annie Duan offered some reasons for why the pandemic affected young adults' mental health.
"The pandemic definitely isolated us," Duan said. "It also really caused us to rely on social media for entertainment, which meant we were spending a lot of time on screens. And now that lockdowns are lifting, we're all trying to get back into building community and connections, which can be hard to do after being alone for so long."
Jesuit counselor Mr. Jason Barry also mentioned that because COVID was such a subjective experience, it could have a multitude of various mental health effects on teens.
"Everybody has such a different perspective on what COVID was," Barry said. "Even though it impacted us all, how it affected teens depends on how their family approached life through the pandemic."
The next theory towards explaining why Gen Z's mental health has been declining is the world of social media. 
Gen Z has never known life without technology, as the first iPhone was invented in 2007. And while technology comes with numerous benefits and tools, it also ushers in countless negative news stories, FOMO (fear of missing out) perpetuated for teens who see friends hanging out on social media, and self-esteem issues.
For example, a recent Wall Street Journal expose highlighted the dangers of Instagram in particular, and how this app is especially hard on young women. The report claims that Instagram's algorithm has worsened body image issues for 1 in every 3 teenage girls. 
"Gen Z lives in a world of likes, acknowledgements, and followers," Barry said. "The more you have, the more it subconsciously builds your self-esteem, which builds who you are. But if you don't have those or it starts to wane, some of your outlook on yourself and life may be negatively impacted."
While COVID lockdowns and excess social media usage contribute to teens' waning mental health, Barry is confident in what he believes sets Gen Z apart– their awareness of mental health.
"Gen Z acknowledges the fact that there's mental health struggles," Barry said. "My generation and other older generations didn't have an understanding of how to do that. But nowadays, there's a lot more information, which means a lot more acknowledgement of how to deal with mental health issues."
Duan agrees.
"I feel like we are really lucky to have a strong community of teenagers that is open to having conversations about mental health," Duan said. "It's saddening that so many have experienced mental health issues, but empowering that we all understand that we are in this together."
Jesuit's Mental Health Awareness Club (MHAC), which Duan is heavily involved in, is committing to providing a space for students to freely connect about mental health.
"Our mission is equally centered around dialogue and activities," Duan said. "We talk about mental health and foster open dialogue, and use social media to talk about resources, and some days we will even host activities like yoga."
Whether it be at MHAC or elsewhere, Barry encourages teenagers struggling with their mental health to turn that awareness into action through talking about what they are feeling.
"Whether it's a parent, trusted adult, or counselor, somebody is in your corner and will help support you," Barry said. "The first and most important step should always be finding someone to talk to."
To make a meeting with your counselor, click here.
About the Contributor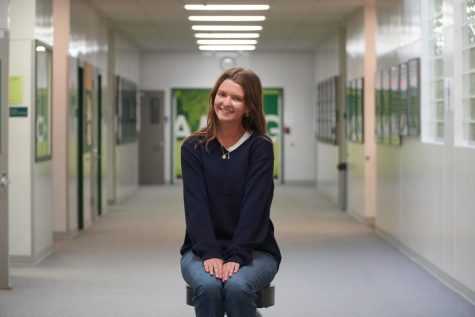 Lauren Herrick, Editor in Chief
Senior Lauren Herrick is a returning student from Journalism and a member of the editorial
board this year. Lauren enjoys producing feature and opinion pieces, collaborating with the team
to lead the development of the online and print paper, and enhancing her passion for the craft of
journalism through incorporating technology such as podcasts— check out the Sader Scoop, 
which she co-founded and edits. When she's not writing, you can find her reading the
Wall
Street Journal
or listening to NYT's The Daily. Outside
of journalism, Lauren enjoys practicing
yoga, part-time baristing at a local cafe, spending time exploring Oregon with her friends, and
listening to a lot of country music. She's excited to help lead the Jesuit media program and
explore topics more in depth during her second year of the program.