What is it like to receive the COVID vaccine? Three students describe their experiences
Recently, the CDC announced that anyone 16 years or older could receive their COVID vaccine, whether they received two doses, one Pfizer and one Moderna, or one Johnson and Johnson dose. People all over Oregon have flocked to different venues to safely receive the vaccine. Here, three students journal about their experiences. 
Journal Entry #1 by Steele Clevenger
Saturday April 3, 12:26 pm, Marion County Fairgrounds in Salem, Oregon.
Two lines of cars are directed towards an enormous parking lot. Most people walk in pairs towards a white tent, as if they are animals hoping for admittance to Noah's Ark.
There are two lines inside the tent: one for people receiving the first dose of the vaccine, another for receiving the second dose. The second dose line contains very few people. The first dose line, on the other hand, stretches far outside the tent. Luckily, the weather is temperate.
We slowly slither through the maze of guardrails and caution tape. After one hour, I receive a health form to fill out before joining the new line inside the Expo Center. Thankfully, I have a pen with me; those who are not so fortunate must forfeit their spot in line to fill out the form at a nearby table.
This second line is only a half-hour wait. I am waved towards a woman sitting at a computer, who asks to see my two forms of identification. I present her with my health form, as well, and she hands me a coveted vaccine card, and prompts me towards … another line. This time, the wait is only five minutes.
I am now seated next to a woman who asks me to roll up my sleeve. She quickly pokes my arm with a needle, and sends me to a socially-distanced area where she asks me to wait for fifteen minutes (this is so that anyone who has an allergic reaction to the vaccine will have immediate access to treatment).
Finally, the wait is over, and we are allowed to leave.
Journal Entry #2 by Chase Kerman
Thursday, April 8th 2:30 pm, Walgreens in Sherwood, Oregon.
My experience getting the Covid vaccine was a little more inconspicuous than Steele's experience in Salem. I started my appointment by pulling into a mostly empty parking lot in Sherwood, about 40 minutes away from my house. From there, I wandered around a vacant Walgreens until I happened upon the pharmacy.
Once at the pharmacy, I stood in a line designated for recipients of the Covid vaccine. In front of me was a man who was hoping to attain an appointment, asking if the Walgreens took 'walk-ins'… they did not. He responded that it was okay, as he had an appointment farther away and had been hoping to score one at his neighborhood pharmacy. The pharmacist told him he was lucky to have an appointment at all.
When I walked up to the desk, I was given a few forms to fill out. Because I'm under 18 and was alone, my mom drove to the pharmacy the night before to sign all the consent forms and be sure I was able to receive my shot.
Once I signed a few forms, I was led to a little area in the pharmacy that was marked off by a curtain, like a changing room. The woman had me pull down the fabric of my shirt, told me to relax my arm and quickly pricked my shoulder with a needle.
For me, the shot was painless and an overall easy, fast-paced experience that had me in and out of the Walgreens pharmacy within 45 minutes.
Journal Entry #3 by Gwynne Olson 
Saturday, April 3rd, 2021 1:45 pm
My experience receiving the vaccine was quick and easy. I signed up to receive my shot through the OHSU COVID-19 vaccination website. After filling out a quick eligibility survey, it was determined that I could receive my shot. Every Monday, Wednesday, and Thursday new appointments were released at 9am so it was easy to make appointments.
My vaccination destination was at the Portland Airport. The most difficult part of this entire process was actually finding the vaccination location, and even then it only took seven-ish minutes to find it. There were volunteers spread all over the parking lot directing cars. The parking lot seemed like some sort of maze, making it easy for cars to make it to their destination without a chance of colliding. It was very organized and efficient.
I was first directed to a tent with several lanes. I pulled up next to a woman at a computer and she asked for my ID and a QR code that I had received in a confirmation email. Upon signing up for my shot, I needed to input all necessary information. All my information was accessible through the QR code. I was checked in, and received my vaccination card with the date for my second dose.
I was then directed to a second tent where I would actually receive my shot. I pulled up, gave the volunteers my vaccination card, and rolled up my sleeve for the shot. Just like that, I had my first dose of the vaccine.
The time of my shot was written on a dry erase sheet and I was directed to a spot to wait. We are told to turn our cars off and keep our windows up with the assurance that they would get our attention when we could leave. After a mere 15 minutes, we were told it was time to leave.
The whole process went so smoothly. All of the volunteers were cordial and seemed happy that we were there. I am so excited to receive my second dose of the vaccine soon!
People waiting to get their first vaccine doses make their way through the long line. (Steele Clevenger)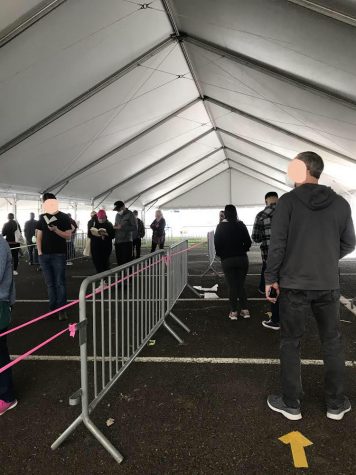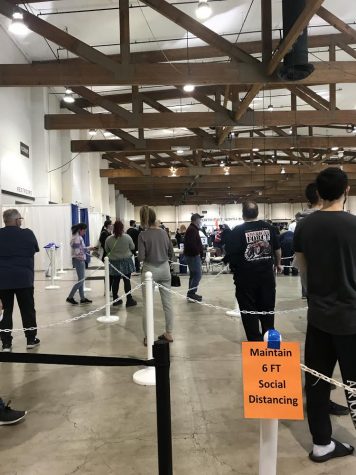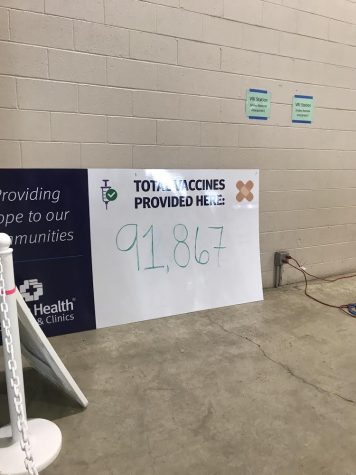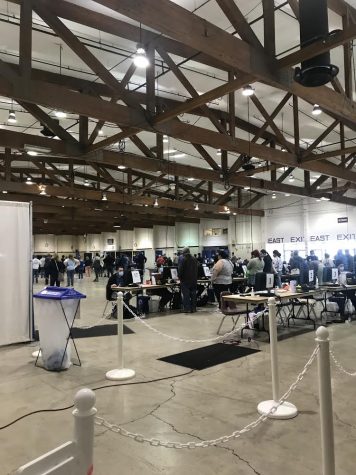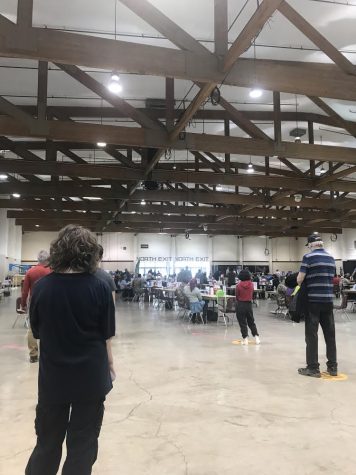 About the Contributors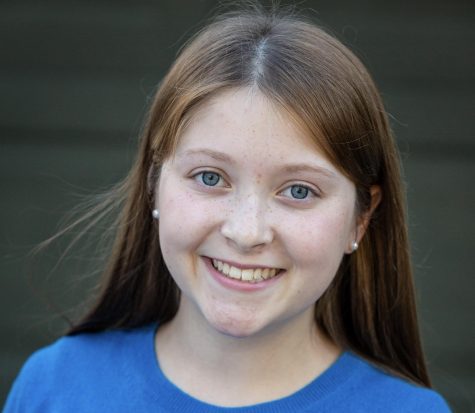 Steele Clevenger, Editor-in-Chief and Creative Director
Sarcastic. Artistic. Enthusiastic. These are three words Steele Clevenger would use to describe herself. A senior at Jesuit High School and a veteran journalism student, Steele loves to write about people and topical issues facing our local and global communities, draw comics, and educate through news. From a young age,
Steele has been interested in journalism, spending many an hour listening to her mom type articles for the OHSU "
Cementum
" on her com
puter, and being dragged to interviews with dental students.
When she was in eighth grade, Steele attended a once-weekly journalism class, running around the school on Friday afternoons to interview teachers and students. Using her experience in journalism and her passion for communication, Steele hopes to be a voice of positivity and curi
osity for Jesuit students during such unprecedented and uncertain times. In addition to writing, Steele enjoys badminton, knitting, cooking, and creating art. Visit her website at www.steelescomics.wordpress.com.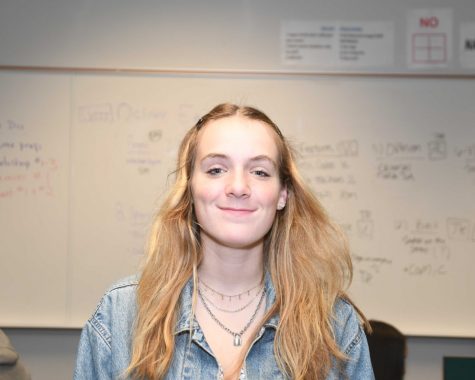 Gwynne Olson, Executive Editor-at-Large and Social Media Executive
Executive Editor-at-Large and Social Media Executive, Gwynne Olson uses writing and social media to inform, educate, and entertain. Beginning by writing mainly sports pieces, Gwynne dives into opinion pieces and news pieces as well as the occasional video,  humour article, and podcast. Gwynne hopes to continue to pursue journalism after graduating from Jesuit, wherever she may land. Though a journalist at heart, she also writes fictional pieces and poetry on the side.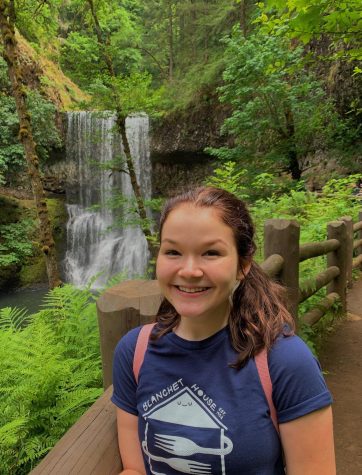 Chase Kerman, Staff Writer
Chase Kerman, a junior at Jesuit High School, is excited to explore Journalism and grow as a writer in her first year taking the class. At Jesuit, Chase is very involved in the drama program, the Jesuit Ambassadors and is also a representative for Student Government. In addition to performing at Jesuit, Chase spends time volunteering as a Student Ambassador at Blanchet House or goofing around at Northwest Children's Theater (her favorite place!) as an actor and member of the Interns NW program. She is very passionate about politics on a national and local level, social justice, and government. Chase hopes to shed some light on more controversial topics at Jesuit, and to inspire her peers to learn about current events because politics are cool!