Recap of the Jesuit Playwriting Festival
This past weekend, the Jesuit drama program wrapped up their season with the Jesuit Playwriting Festival, also known as "Playfest": a series of student-written, student-directed and student-performed one-acts. The one-acts performed 7pm on Friday and Saturday for a live stream video and a live audience of 150 people, the largest audience in Jesuit since the pandemic hit. 
This year, a series of five short plays were produced: "As You Wish" by Hannah Johnson and directed by Nathan Hasbrook, "Your American Dream" written by Alex Reynaud and directed by Krish Aditya, "Archer, Archer" written by Karli Lonnquist and directed by Danny Zahariev, "Covid Crush" written by Olivia Hoffbeck and Cassie Beaman, directed by Emma Renn and "Let It Grow" written by Ella Sohn and directed by Mackenzie Jaimes.
Playfest one-acts are typically directed by seniors who have spent a large portion of their time in high school participating in the Jesuit Drama program. For many of these seniors, this will be their first time being backstage as opposed to onstage.
"Being a director, for me, has been like this: you are the spinning wheel for the pottery," Aditya said. "You are not shaping the pottery, you are simply the rotating dais upon which the pot is created. You are giving your actors and your technicians the tools to make the pot but you are not yourself shaping the pot."
Hasbrook feels similarly about his directing experience, opting to use another metaphor for his work backstage and in rehearsals.
"Being a director was kind of like a road," Hasbrook said. "It tells them where it's supposed to go and sometimes it can be smooth and sometimes it can be rough, so you want to be as easy to follow as can be so your actors, or your cars if you will, are able to get to their destination. But in the end, [the actors] are the ones driving the car."
Playfest is wildly different from the professionally written, teacher-directed shows Jesuit produces throughout the year, and often said by program directors Jeff Hall and Elaine Kloser to be the best thing that the drama department does all year.
"Playfest is really a time of experimentation," said Zahariev. "Theater is really all about doing the best that we can, but it's also a call and response. Jeff and Elaine put all this love into the theater department, which is the call, and our response as playwrights and actors and directors is to respond with a cumulative amassment of all we've learned in theater."
Playfest is also an opportunity to perform shows with a smaller cast of four to five actors, and an opportunity for playwrights to showcase stories that normally wouldn't appear on the Jesuit stage.
"At Jesuit High School especially, I am tremendously proud and grateful that we are putting on a show that was directed by, written by, performed by and centered around stories of people of color," said Aditya. "This is so rare in theater as a whole, but especially at schools like Jesuit, and it's going to have a tremendous impact because we don't get to see those stories everyday and it's special."
Renn directed Covid Crush, a show about a romance that begins during the early months of the pandemic, and feels grateful that she was able to share such a timely story with the audience. 
"You hear so much about the COVID pandemic, and at first I was like 'Wow, I don't want to do a show about COVID,'" Renn said. "But going through it, it was really fun to just find the little joys through the pandemic. I'm really excited for the audience to see the five different plays showcasing different walks of life, and I'm so excited to show people how amazing the theater department is and how many different kinds of stories we can share."
If you missed the playwriting festival this year, do not fear, for it is a time-honored tradition that has lasted many years and will continue in the future. 
About the Contributor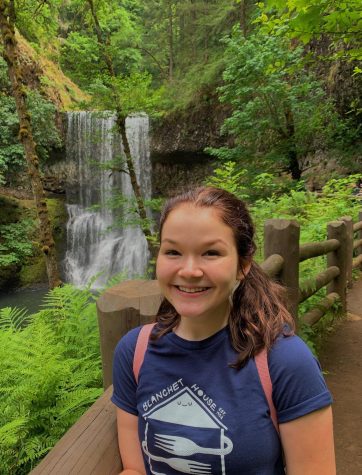 Chase Kerman, Staff Writer
Chase Kerman, a junior at Jesuit High School, is excited to explore Journalism and grow as a writer in her first year taking the class. At Jesuit, Chase is very involved in the drama program, the Jesuit Ambassadors and is also a representative for Student Government. In addition to performing at Jesuit, Chase spends time volunteering as a Student Ambassador at Blanchet House or goofing around at Northwest Children's Theater (her favorite place!) as an actor and member of the Interns NW program. She is very passionate about politics on a national and local level, social justice, and government. Chase hopes to shed some light on more controversial topics at Jesuit, and to inspire her peers to learn about current events because politics are cool!