Godspell and Freshman Ensemble Rehearse in Person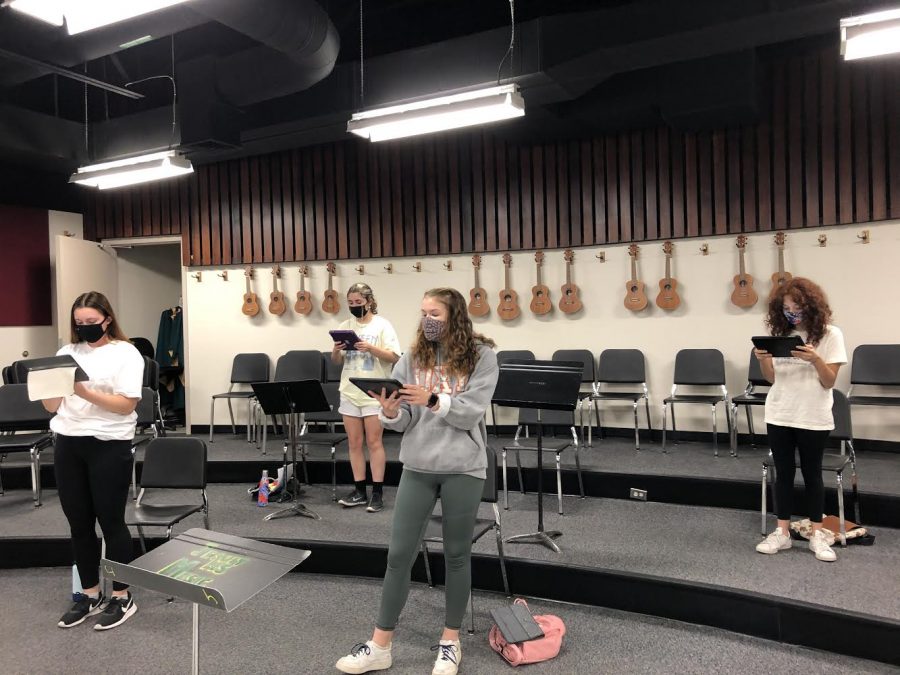 This October the cast of Godspell and the Freshman Ensemble has been lucky enough to rehearse in person on campus. The plays were originally imagined to be completely virtual. Meetings surrounding the plays, auditions, and even the first couple of rehearsals were virtual. However, after discussing with the administration, the drama program has recently been granted access to rehearse in person. Drama teacher Elaine Kloser explained how the drama program is able to meet.
"Small cohorts of the cast of Godspell and the Freshman Ensemble are able to hold rehearsal at school now a few times a week," Ms. Kloser said. "t's been nice to have such lovely fall weather lately because the groups can meet outside, and the administration has put up some tents in the Hayes Plaza, so even when the weather changes, we will still be able to meet outside!"
Cohorts of students vary from around eight-to-nine kids on campus at a time. Performers, as well as tech theatre students gather together to rehearse and work  on technical elements. Although the numbers are small, the drama program enforces strict rules regarding masks and social distancing.
"I overall think rehearsals have been going great," Senior Mackenzie Jaimes said.  "They are pretty much the same as last year except for our warmup games and the fact that we need to sing in masks at all times."
Rehearsing during COVID-19 is drastically different than rehearsing during the normal school year.
"It's definitely been so much different from past years," Jaimes said. "In our warmup games we cannot touch at all so games like tag, which are super fun, are out. It's also really hard to see where we need to be placed on the stage.  Being so far from each other is definitely a challenge."
Mackenzie is lucky enough to have her ensemble to perform in person. The other ensembles will also be performing, but in a mix of pre-recorded videos and virtual appearances. The hope is that soon all ensembles will be able to perform on stage together, but for now, it's amazing that they can even meet in person during these challenging times.
While Godspell is a very important play, it is not the only one being performed this year. The Freshman Ensemble is also rehearsing for a digital performance.
"The freshmen ensemble has created a safe place where I'm free to express myself through acting," freshman Isabel Diab said. "Each rehearsal has taught me so much about drama, and I've been able to form some amazing relationships through this experience".
During the pandemic, it has been hard to make new connections with other students, especially for the freshman who have not met most of their classmates. In a time where it is very difficult for groups to congregate together, it is amazing that drama students have the opportunity to rehearse in person and create new relationships.
"Come November, we will be sure to share with the Jesuit Community the way in which we will be presenting Godspell," Ms. Kloser said.  "If none of the metrics for the State of Oregon change between now and then, at least we know that Jesuit students will be able to watch Godspell in recorded format.  We think that whatever way our audience is able to view it that they will find much relevance to the world around them in the songs and parables!  Our goal is to keep Art and Hope alive during this uncertain time!"
About the Contributor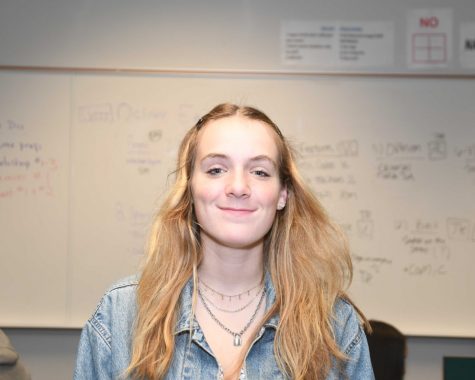 Gwynne Olson, Staff Writer and Social Media Specialist
Gwynne Olson is a junior staff writer for the Jesuit Chronicle. Gwynne is the youngest of two. Brooke, her older sister, is a recent graduate from the...
"A Musical" hits the stage
Jesuit's spring drama production features the newly released musical "Something Rotten", a comedic and historical story made contemporary. 
Set in the late 16th century, "Something Rotten" follows the storyline of two brothers, Nick and Nigel Bottom. 
They write plays together, but have trouble getting themselves off the ground due to their fierce competition, Shakespeare. Their minds troubled, the Bottom brothers seek help from a fortune teller, who tells them that musicals will be popular, but 500 years in the future. 
Because musicals are ahead of their time, Nick and Nigel's musical doesn't gain much traction. Returning to the soothsayer, they ask what Shakespeare's greatest play will be. The fortune teller, who isn't that accurate, tells the brothers that it will be 'Omelet,' instead of 'Hamlet'.
Nick and Nigel then desperately try to create 'Omelet' the musical, not knowing that Shakespeare would actually create 'Hamlet'.
Drama directors Elaine Kloser and Jeff Hall chose "Something Rotten" as the winter musical due to its seamless weaving together of the historical timeline of the 1500s and pops of comedy. 
"The history of musical theater is charted throughout [the musical]," Kloser said. "But at the same time, it's very irreverent and fun with all that stuff," Hall added.  
While working with her students, Kloser notices a special relation between them and the storyline. 
"For theater people it really tells a story, and we love that for the students who are involved. They can really find things in it that are personal to them and their theater experience."
Junior Nathan Hasbrook, who plays Nick Bottom, describes one of the hardest parts of the musical, learning the dances.  
"The hardest part for me is definitely the dancing, because I've never really done tap dancing before this year. [I've] kind of grown into it, but it's a challenge," Hasbrook said. 
Senior Danna Awad, cast as Portia, an art-loving Puritan, explains her time commitment to the musical. They rehearse six times a week for about three hours a day, and as the weeks draw closer to opening night, those rehearsals turn into six to eight hours. 
"The hardest part is definitely the time commitment, but it's really fun because you can be around the same people and get really close to them," Awad stated. 
Kloser and Hall also utilize new technology while constructing the backdrops. Because Something Rotten is set in around ten different locations, the use of a projector benefits them greatly. A company down in California reached out to Jesuit a couple of months ago to build customized projections for this musical, and Kloser and Hall are excited to work with them. 
About the Contributor
Rosa Madden, Alumni 2019-2020






Rosa Madden, a junior at Jesuit High School, is taking her first year of journalism this year. She's excited to write articles for the paper...