Phones vs. Flex Period Rules
Flex periods have been a huge addition to the Jesuit schedule. On Tuesdays and Thursdays, students have a free period to do whatever they want for 45 minutes.
One of the biggest and most controversial rules is that students cannot be on their phones during the free period.
Many students have different opinions on the issue and have offered their opinions on the rule. 
"People just stand in the cafeteria and do nothing for 40 minutes, if we have a free period I feel like we should be able to use our phones. It would make people actually do something," said Senior Jake Cardwell.
There are many places to go during Flex and the new Hollman Student Center is a very popular place to go. 
Students also might need to contact their family while they are in school. Having phones during Flex period gives students the opportunity to do so. 
"I think they should allow phones in certain areas, like in Knight lobby or in Mary's Way, but I don't think they should allow it everywhere on campus. It would impact some students in positive ways, being able to connect with people and have fun. Some students would use their phones in a negative way, taking it away from the school community and getting too caught up on their phones instead of socializing with others around campus," said Senior Jonathan Hotchkiss.
Great points by Jonathan, as he considers balance as the best option. 
In his eyes, phones outside the classroom would work. 
Senior Turner Dischinger had a different perspective than other students. 
"If we had phones during flex, no one would talk to each other," said Dischinger. 
Turner is completely on the other side of the spectrum than Jake when it comes to the idea of having phones during flex.
He is certain that phones during flex will not work because he says he has seen students getting their phones taken away for things that they should not be doing. 
3 great points from 3 different students. 
What are your thoughts on the flex period phone rule?
About the Contributor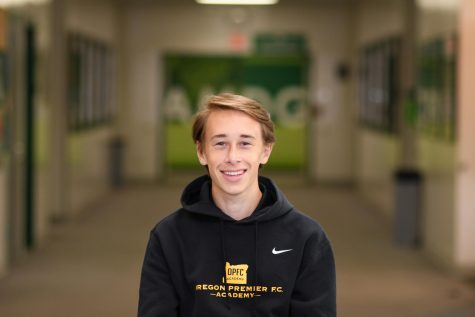 Henry Hess, Staff Writer
Hello my name is Henry Hess. I am a senior at Jesuit High School. I was born in Boston, Massachusetts and have lived in Portland for 15 years now. I have played soccer since I was 2 years old and the sport is still my passion today. I play on the varsity team here at Jesuit and play for a club team called Oregon Premier Football Club. In my free time, I like to make and watch films, ski and travel with my family. I am an intern for my dad's company, Jumpturn Consulting. I live with my dad, John, my mom, Jennifer, my sister, Adelaide, and my black lab, Gordie. My sister is a freshman at Northwest Academy. I am taking Journalism this year to improve my writing skills and write and research about current events and sports.