SPONGEBOB Makes a Splash
The Jesuit Drama Program released its latest production, A SPONGEBOB MUSICAL earlier this month. Running from February 24 to March 6, the production had a total of 9 performances. Over 100 students participated in the show, ranging from actors, technicians, and costume makers.
Actors hailed the show as a return to theatrical normalcy after the COVID-19 pandemic. Senior James Miller, starring as Patrick, praised the show's larger audience sizes.
"Before, in productions like Godspell, we had a very limited audience," Miller said. "Now, we're able to have a [full] audience again. We've been able to pack the audiences this year with All Together Now and Men on Boats, and we're trying to do it now while still making sure everyone is safe."
Since the COVID-10 pandemic, audience sizes have been heavily limited. Today, restrictions are still in place with a limited audience size, social distancing, and mandatory masking for audiences.
Actor and freshman Melanie Rosales Del Cid praised the show for it's depth.
"I think Spongebob is bringing a really elevated and sophisticated, yet funny form of theater that we haven't been able to do in our past productions because of COVID," said Del Cid.
The show had a number of new and unique technical elements, with the addition of new moving lights and an increased use of projections. Stage Manager and senior Carter Ptak praised the tech theater team and theater community for their dedication to the show.
"We've been making sure all the actors were on the set and knowing their lines, and trying to integrate the technical elements without disrupting them," Ptak said. "We've had to build the set, hang new curtains, and set our sound and lighting up. The key crew and cast have put a ton of work into the show, with most spending around 30 hours in the past two weeks just getting everything set up."
"Our [The theater program] theme this year is diving in. We've dove right back into live theater," said James. "Jeff and Elaine chose the perfect show for that. The story of SPONGEBOB has a lot of links towards what our community and country is going through today."
About the Writer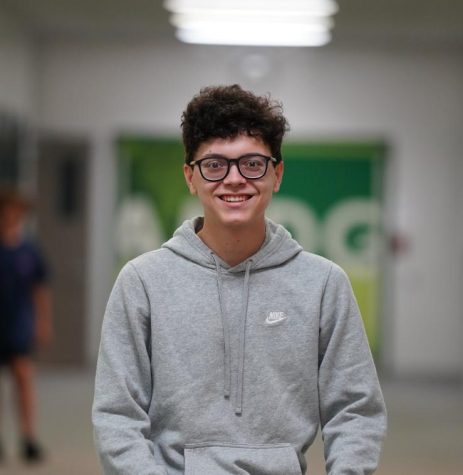 David Reynaud, Staff Writer
A senior at Jesuit High School,
David Reynaud
strives to document the overlooked students at Jesuit. His writing focuses on history, drama, and more. In addition to working at the Jesuit Chronicle, is a member of Jesuit's Chess Team. His favorite media outlets are
Vice, The New York Times, Vox, and the Jesuit Chronicle
. David spends his free time reading, playing games with friends, and listening to podcasts. David hopes to improve his writing skills, and major in Education at University of Oregon, and pursue a career in teaching.