Ruth Bader Ginsburg, Champion of Women
Ruth Bader Ginsburg, an American lawyer, jurist and associate justice of the U.S. Supreme Court died September 18th as a result of implications of metastatic pancreatic cancer. She was 87 years old.
    "It's one of those deaths where you know [that] when you talk to your kids, you're gonna tell them 'Oh, I remember when that person died, I was in high school,'" junior Vanessa Auth said. "It's one of those events you're always going to remember."
    Justice Ginsburg began a career in law as one of nine female students in her class at Harvard Law, later transferring to Columbia University Law School where she graduated at the top of her class. 
Justice Ginsburg was known to many as a champion of women, making her mark in American politics as the second female justice to serve on the Supreme Court. She was an outspoken advocate for women's rights and spent much of her career fighting for gender equality, arguing six gender discrimination cases before a male dominated Supreme Court and winning five of them.
"She's done so much great work for a lot of people, but especially for women's rights," French teacher Ms. Schmidt said. "She's done some really amazing and radical work over her career, so I think it's a pretty big loss for our country."
The legal legacy of Ruth Bader Ginsburg can be traced back to her work as the founder and leader of the ACLU's Women's Rights Project in 1972, which took part in almost 300 gender discrimination cases nationwide.
    "She obviously went through a lot, and went against some really tough [opponents] that people didn't think she should," junior Hannah Noguchi said. "And I think that is very inspirational." 
    Following her death, many Jesuit students spoke out on social media to share how Justice Ginsburg had inspired them.
    "She was the embodiment of strength to me," junior Sophie Schmidt said. "Just because of everything she fought for and all the adversity she faced to get where she was."
    Justice Ginsburg's impact can be seen throughout many aspects of modern American life, specifically rulings related to equity, gender and women's rights. 
    "No matter what side of the aisle you were on, you knew that RBG was someone who fought for the rights of Americans and wasn't going to back down," junior Vanessa Auth said. 
    With the departure of a Supreme Court Justice, Republican senators are taking this opportunity to appoint a new justice, signaling plans to begin a confirmation process before November's Presidential election. Judiciary Chairman Lindsey Graham has begun to outline how the committee will handle this nomination, and has said that the committee plans to hold three days of hearing for the Supreme Court nominee in October. With only 29 days until the election, this may be the quickest confirmation in history.
About the Contributor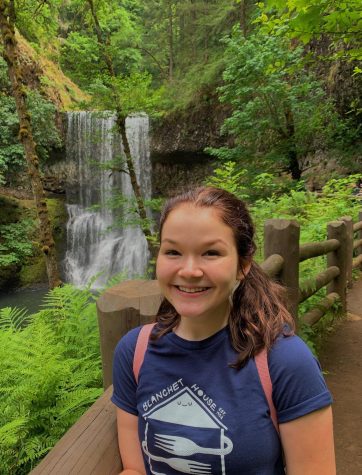 Chase Kerman, Staff Writer
Chase Kerman, a junior at Jesuit High School, is excited to explore Journalism and grow as a writer in her first year taking the class. At Jesuit, Chase is very involved in the drama program, the Jesuit Ambassadors and is also a representative for Student Government. In addition to performing at Jesuit, Chase spends time volunteering as a Student Ambassador at Blanchet House or goofing around at Northwest Children's Theater (her favorite place!) as an actor and member of the Interns NW program. She is very passionate about politics on a national and local level, social justice, and government. Chase hopes to shed some light on more controversial topics at Jesuit, and to inspire her peers to learn about current events because politics are cool!