An Interview with Mr. Clarke on Santa Clarke
In light of the beginning of the Food Drive and holiday season, I had the opportunity to talk with Campus Minister Don Clarke on Jesuit High School's favorite holiday figure, Santa Clarke. Although the Jesuit student body will not be able to experience Santa Clarke's joyous presence in person through the traditional Food Drive assembly, Clarke speaks on how his close friend, Santa Clarke, will continue spreading the spirit of giving and love this December.
Crespo: What is Santa Clarke's daily routine?
Clarke: Everyday he gets up, comes out his hair and his beard, practices his "ho, ho, ho's" for a while, then he practices carrying a bag around and works on going down chimneys. He checks in with toys being made, and then looks in on different people as they are collecting food for the Food Drive.
Crespo: How is Santa Clarke going to spread the holiday spirit to the student body this December despite not being able to see them in person?
Clarke: I hope we get to see the student body on Dec. 12 when it's the drive-by for the Christmas lights. I think Santa Clarke will be there. I talk to him regularly, everyday. I heard that he was on the video for the Food Drive assembly. He also does a couple of other things. He helps with a couple of different parishes around the area and different groups that need a Santa Claus, so he shows up there as well. His most favorite thing is seeing the students. I think when he broke into the Knight Center [in the assembly video] and there were no students there, that was very, very disheartening for Santa Clarke.
Crespo: What does Santa Clarke love about the holiday season? 
Clarke: [He] loves the generosity of people. I think it just kinda goes in the back of their brain like, "I gotta do the Food Drive stuff, I gotta do the food drive stuff," and then when they finally bring in stuff…they see what the whole community can do. The smiles are usually a little bit deeper than usual when people see what happens when the Food Drive shows up.
Crespo: What are your thoughts on Dr. Fauci's statement that Santa Clarke is immune to the Coronavirus?
Clarke: I think that it is pretty self-evident that he is immune to the coronavirus and therefore can go to all different kinds of places. But as you saw in the video, Santa Clarke has his own specially designed face mask by Mrs. Claus that is candy cane-ish and everything. He won't catch it because he will wear a face mask all the time and after every house, he cleans his hands and makes sure everything is all antiseptic. I appreciate that Dr. Fauci said that you don't have to worry about Santa Clarke this year.
Crespo: What is your favorite type of Christmas cookie?
Clarke: There is a former principal, her name is Mrs. Satterberg, and she heard one time that I like shortbread cookies, so every year, even after she retired, she still makes me shortbread cookies. So it would be Mrs. Satterberg's shortbread cookies that are my favorite Christmas cookies. (Mr. Clarke speaks for Santa Clarke in this regard too, obviously.)
Crespo: What spirited and uplifting message do you want to send to the student body during the holidays?
Clarke: There are so many different things that talk about what the real meaning of Christmas is, and I will say that up at the North pole [Santa Clarke] watches Hallmark Christmas movies. They always talk about Christmas as love, and I think the greatest love that we as humanity have been able to experience, is the gift of God's presence in the world, certainly, through the presence of Jesus Christ, but through the beliefs of so many faithful [people] that want to be good, and that's faiths of all different kinds. I think that is where the meaning of Christmas is. And I think that if we want to have a Christmas that goes a long time, then we figure out exactly what it means to love and show acts of kindness and to cherish one another. When that happens, Christmas is unbelievable.
Crespo: Thank you so much for meeting with me Mr. Clarke. 
Clarke: Thank you for asking.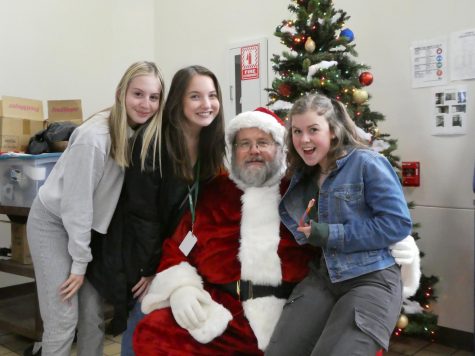 About the Contributor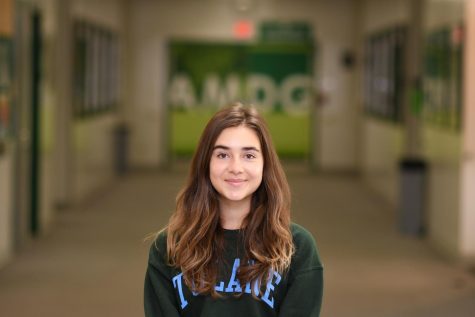 Isabel Crespo, Editor-in-Chief
Isabel Crespo is editor-in-chief for the Jesuit Chronicle. She is a senior at Jesuit High School and is excited to pursue her passion for writing on a deeper level through her second year in Journalism class. In 11th grade, she served as the junior executive editor and podcast manager and covered general news, diversity, technology, features, and opinion pieces. Essentially, for the past year she has extended what began as a simple pastime to a career-oriented goal that she intends to pursue in college and beyond. Her favorite things to write about are ethical issues, fashion, music, education, Gen Z, and advocating for mental health awareness. Some of Isabel's favorite mainstream media platforms are The New York Times, The Washington Post, and Fareed's Global Briefing through CNN. Outside of the classroom, Isabel enjoys competing in tennis, hiking, traveling, and spending time with family and friends. A fun fact about her is that she is half Ecuadorian and a quarter Chilean with experience living abroad for a summer in Ecuador.